2021 JAGUAR XF P300 TEST DRIVE
2021 JAGUAR XF P300 TEST DRIVE BY CAR CRITIC STEVE HAMMES
2021 Jaguar XF P300 R-Dynamic SE AWD
Raise your hand if you want a Jaguar sedan?  Not many of you?  Ok, so the XF is probably not your first choice when shopping the British brand but there's something sneaky good going on with this top-of-the line R-Dynamic model that I think you should now.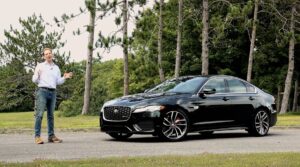 If you've been following my Jaguar videos of late then you already know that by 2025 the British automaker plans on starting over, kicking their supercharged engines– and other fossil fuel burners – to the curb paving the way for an electric future.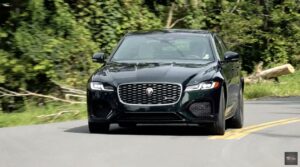 And even if you have been paying attention, you may have missed that this XF – a midsize sedan – is the final 4-door car Jaguar offers with the XE and XJ having already departed.  Yep; SUVs and EVs are the name of the game for the leaper these days BUT the slow-selling XF – we're talking less than 100 per month – has been updated for 2021 with simplified choices: now just one engine with 2 tunes in the 4-door bodystyle.  High-performance variants, wagons and diesels have left the building.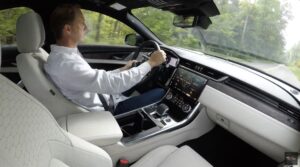 But I'm going to give you some reasons why this updated XF – particularly this R-Dynamic model – shouldn't completely be ignored.  First off, with a starting MSRP of $45,145 including destination this is one the least expensive ways to get into a Jaguar.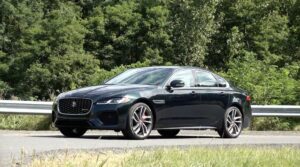 Secondly, just like their best-selling F-PACE, the XF has been given the once over this year with a thoroughly updated cabin almost identical to that found in the SUV.  And lastly, despite that a 4—cylinder turbo is the only engine left on the menu, this XF P300 with the optional Dynamic Handling Package achieves sleeper status with its sinewy backroad moves.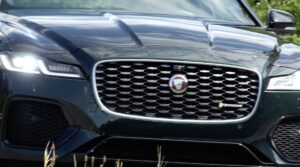 As it sits, this car is priced at $62,695.  That gets you the 296 horsepower, 295 pound-feet of torque 2.0-liter turbo, all-wheel drive, 20" wheels, British Racing Green paint and just about every option Jaguar offers.  But it's the $1,350 Dynamic Handling Package you've got to have in order to get that friskiness you want.  Now, keep in mind this is an understated sedan with a priority on quiet comfort but with these configurable, adaptive dampers that monitor body movements 100 times per second, a double wishbone front suspension and a torque vectoring all-wheel drive system there is a lovably soft ride here and increased agility that makes for a very pleasurable driving experience.  Now, none of this is exactly new for 2021 as you might remember this model as the former 30t 300 SPORT.  But this spec is new for me as my last XF test was of a supercharged V6 and though this car is more engaging than I had imagined I really do I miss that engine.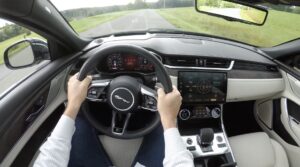 This car has really confounded me because at first I didn't' feel like it adequately met my Jaguar criteria of being sexy, ultra-luxurious and truly performance oriented.  But as the week has worn on and the roads have opened up I'm realizing there's a stealthy handling machine here that just needs some coaxing to come out.  For a car without summer tires, the XF is glued to the road, leaning on its adaptive dynamics and torque vectoring all-wheel drive system to keep it hooked up at all times and a willing participant in some very emphatic back road driving.  But you've got to keep the revs up by using the paddles otherwise the turbo takes too long to build momentum – more power would be welcome – and speaking of revs, they really hang here after you let off the throttle which can be disconcerting during performance driving.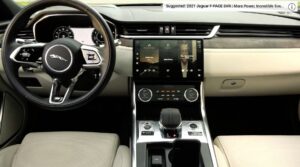 So even though the XF doesn't stimulate the senses in all of the ways a Jaguar should, there is a sports sedan in here for those willing to explore its capabilities.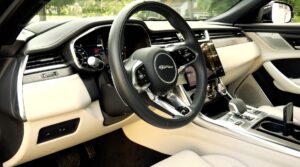 The cabin looks much richer now with improved materials and greater attention to detail.  This color combo really works for me and the wood is beautiful.  The sumptuously comfortable sport seats offer adjustable side bolsters for road hugging maneuvers and there's a new rotary controller for the drive settings.  Displays and graphics look modern and fresh, there's a digital rear view mirror, soft close doors, a nice head-up display, and I absolutely love the updated Activity Key.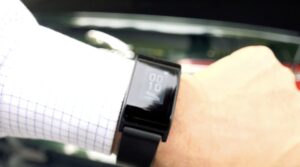 As a runner, I can lock the keys in the car and wear this watch instead which can handle all of the fob's operations.  The rear seats are suitably spacious for 2 more with some sculpting to hold passengers in place and a couple of USB-C ports.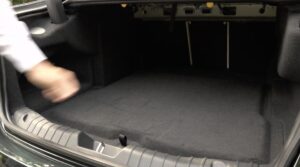 Likewise, the trunk is cut wide and spacious enough for longer getaways.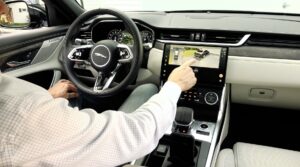 Pivi Pro: you've seen it in my last 2 Jaguar videos and it's the much improved upon successor to their old InControl Touch system that was behind the 8 ball from day one.  It uses its own power source for faster start-up and is laid out in a more simplified manner making it easier to find what you're looking for.  It also joins other luxury European cars with ask and receive voice commands: but as you can see, it's much slower to react though still useful.  Wireless Apple CarPlay and Android Auto?  No.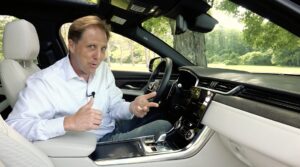 There is a cool slot for your phone so you can tether inside the center console while the wireless charger is up here and includes a signal booster.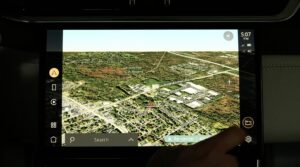 The camera views are awesome and you can spin them around to see exactly what you want, the navi mapping is satellite-based and is also displayed in front of the driver if so desired, and the optional Meridian Surround Sound system elevates sound clarity though I'd love to see a couple of off-screen audio control knobs.  Also, I don't love the action of the steering wheel buttons…the presses are inconsistent.  And as I stated in my F-PACE review, the new shifter is clumsy when shifting from reverse into drive.  
As for driver assistance, adaptive cruise control is the highlight and it's a $1,200 option.  There's also a gesture controlled roof blind when you want to show off.  The features are strong and there's a chill vibe coming from this car that I really like.  And with a 488 mile driving range on 25mpg, it's a solid touring car.  
For about 8 grand less than a comparable Mercedes E-Class with more exclusivity, the XF is worth a look and hey, you can't get 20" wheels or green paint on the Benz.  
2021 JAGUAR XF P300 TEST DRIVE BY CAR CRITIC STEVE HAMMES  |  TESTDRIVENOW 2021(c)
Tagged with:
2021
,
4-dr sedan
,
AWD
,
Jaguar
,
P300
,
R-Dynamic
,
reviews
,
SE
,
steve hammes
,
test drive
,
XF