2023 HYUNDAI PALISADE TEST DRIVE
2023 HYUNDAI PALISADE TEST DRIVE AND VIDEO CAR REVIEW
2023 Hyundai Palisade Calligraphy AWD
When the Palisade arrived for the 2020 model year it immediately catapulted Hyundai into a higher atmosphere; any residual, cheap car stigma was cast away once and for all.  Along with its corporate counterpart the Kia Telluride, the Palisade has upended the 3-row crossover segment with a combination of bold styling, overabundance of features and hard-to-believe pricing.  Now in its 4th year of production, Hyundai has given the Palisade the once-over focusing on technology updates and styling tweaks.  
HYUNDAI'S SECRET SAUCE
The Palisade is offered in 5 trim levels in either front- or all-wheel drive with a starting MSRP of $36,545.  In its second model year Hyundai introduced the luxurious Calligraphy trim and that's the Palisade I'm driving this week, bursting with every goodie the company stocks.  How then does Hyundai price it at $52,470 with all-wheel drive?  They know exactly where to invest the money.  If this SUV wore a luxury badge, and it could, the sticker could easily read $15,000 more.  The Palisade Calligraphy hits the high notes in terms of comfort and convenience features, some not even found on SUVs with luxury marquees, like Remote Smart Parking Assist that allows the Palisade to be directed into and out of tight spots from outside the vehicle by using buttons on the key fob – new for 2023.  Hyundai has concentrated on creating wow moments like this to emphasize the Palisade's bargain pricing and it works; it's the secret sauce Hyundai Kia has been using for years to attract shoppers.
SIGNING WITH CALLIGRAPHY
Since their introduction, the Telluride's more butch styling has given it a visual advantage but the Palisade's new front end is greatly enhanced by a chiseled, wider, more rugged grille and vertical lighting structure.  Other nips and tucks to the profile and rear body further its attractiveness.  The original's styling was a little overeager while this one exudes an elegant confidence.  The new 20-inch wheel design progresses that narrative.  
Highlighting the Palisade Calligraphy's new features:
Larger infotainment touchscreen
Rearview camera mirror
Enhanced USB-C ports and quicker wireless device charging
Phone as a key now includes iPhone in addition to Android
Improved voice control
Wi-Fi hotspot
New gauge cluster and electronics interface
Massaging driver's seat
Heated 3rd row seats
Advanced Highway Driving Assist II with lane change assistance.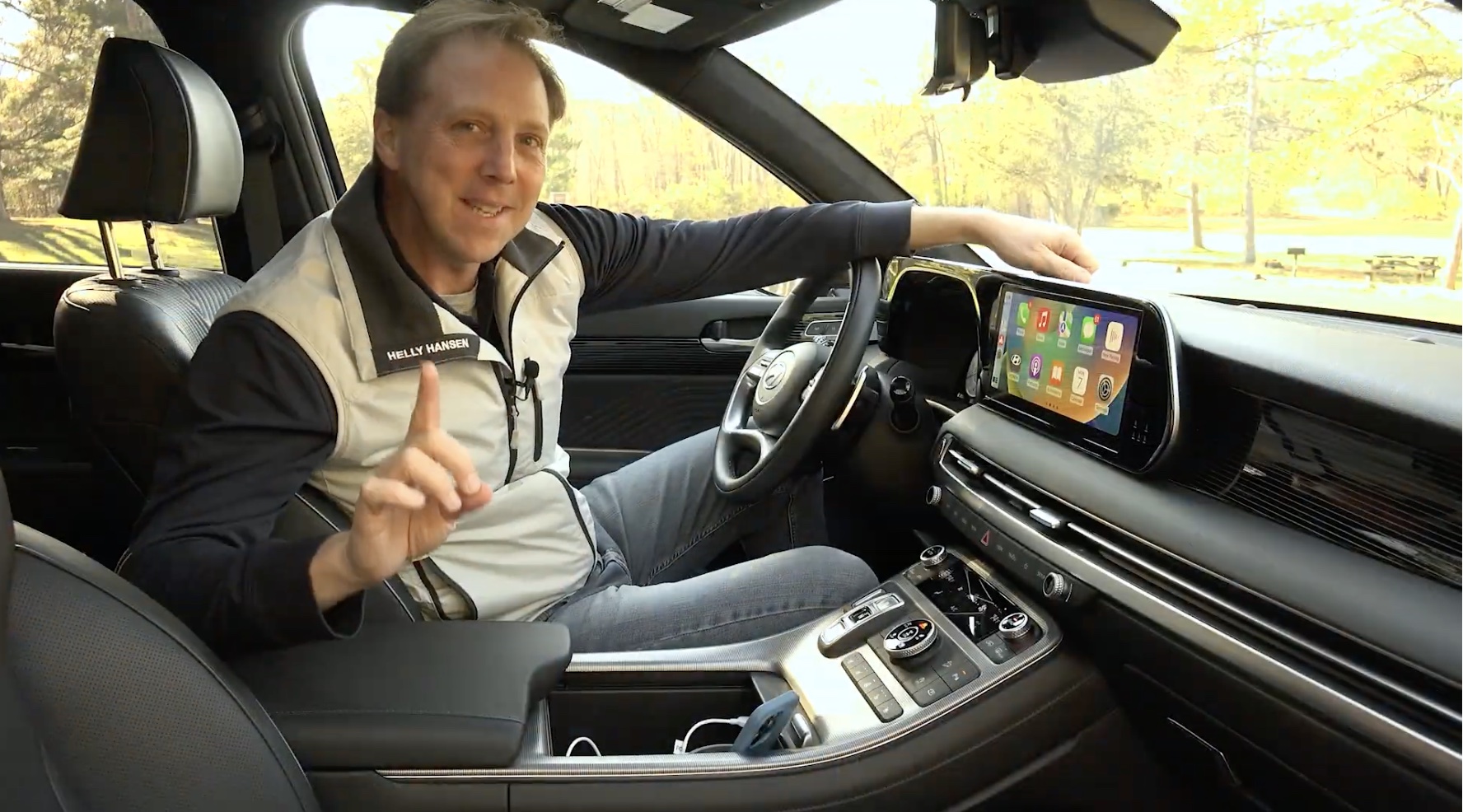 BIG SHOT FEATURES ON A BUDGET
The rear door glass is now acoustic laminated for a quieter cabin but at the cost of what appears to be a hazy film on the windows.  And then there are little things that make big impressions like the 2nd row armrests which can be adjusted at various angles a la Land Rover, and the wing-out headrests above reminiscent of Bentley.  
And when you draw a Calligraphy, there are soft, Nappa leather seats, heated and cooled 1st and 2nd row seats, 64 colors of ambient cabin lighting, driver's seat bolsters that automatically adjust depending upon speed and drive mode, and touch-type temperature controls.  The feeling of being in a high-priced SUV is convincing and prescient.  
PERFECTLY SIZED
Eight-passenger seating is only available on the lowest 2 trims so this one has 2nd row captain's chairs for accommodating a maximum of 7.  The overall sizing couldn't be more perfect with long travel, slide and recline rear seats and power reclining 3rd row seats.  Accessing those farthest back seats is super easy too with multiple one-touch activation points on the captain's chairs to contort them out of the way.  The dual panel sunroof bathes the cabin and its impeccably stitched black leather with a light airiness.  
Without lifting a finger or kicking a foot, the Palisade's rear hatch opens simply on approach.  The cargo area is not only generously sized and widely cut but both rows of rear seats can be electronically controlled for easy configurations.  There's no need to slide the 2nd row forward beforehand either; there's enough room regardless.  
STILL NO WIRELESS PHONE PROJECTION
No one does the electronics user interface better than Hyundai.  Not only is it intuitive but it's so smart.  For instance, the head-up display integrates your smartphone's mapping into the windshield projection – most OEMs don't.  The only aspect that Hyundai continues to get wrong is the absence of wireless phone projection on their highest-level navigation units.  So even though there's a wireless charge pad in a covered area in the center console what's the point if you still need to connect via a cable?  
MIDDLING DRIVE
In order to keep the Palisade's price so surprisingly low Hyundai had to skirt some expenses and that's most evident in the drive, itself.  The 3.8-liter V6 carries over unchanged and though its output of 291-horsepower and 262 pound-feet of torque is adequate the same luxurious lacquer applied to the rest of the vehicle is somewhat missing here.  With elevated expectations induced by the Palisade's grandeur, life behind the wheel seems middling.  Aggressive gearing and a touchy accelerator pedal can make for clumsy takeoffs.  Depending upon the drive mode – for instance Smart which automatically adjusts vehicle parameters to the driving style – the transmission sometimes stutters as if it's having a difficult time deciding which gear is best.  And though the suspension includes a frequency sensing valve to reduce rough road impacts, driving the Palisade on gravel roads and dirt trails feels too brittle.  A Tow Mode has been added to the numerous dial selections on the center console intended to optimize acceleration.  It complements the standard trailer sway control and an auto-leveling rear suspension.  Capacity is maxed at 5,000 pounds. There is a Sport mode but it's superfluous other than for holding the gears when on the backroads. So, the drive and ride are okay – perfectly acceptable but unspectacular though the cabin is very quiet.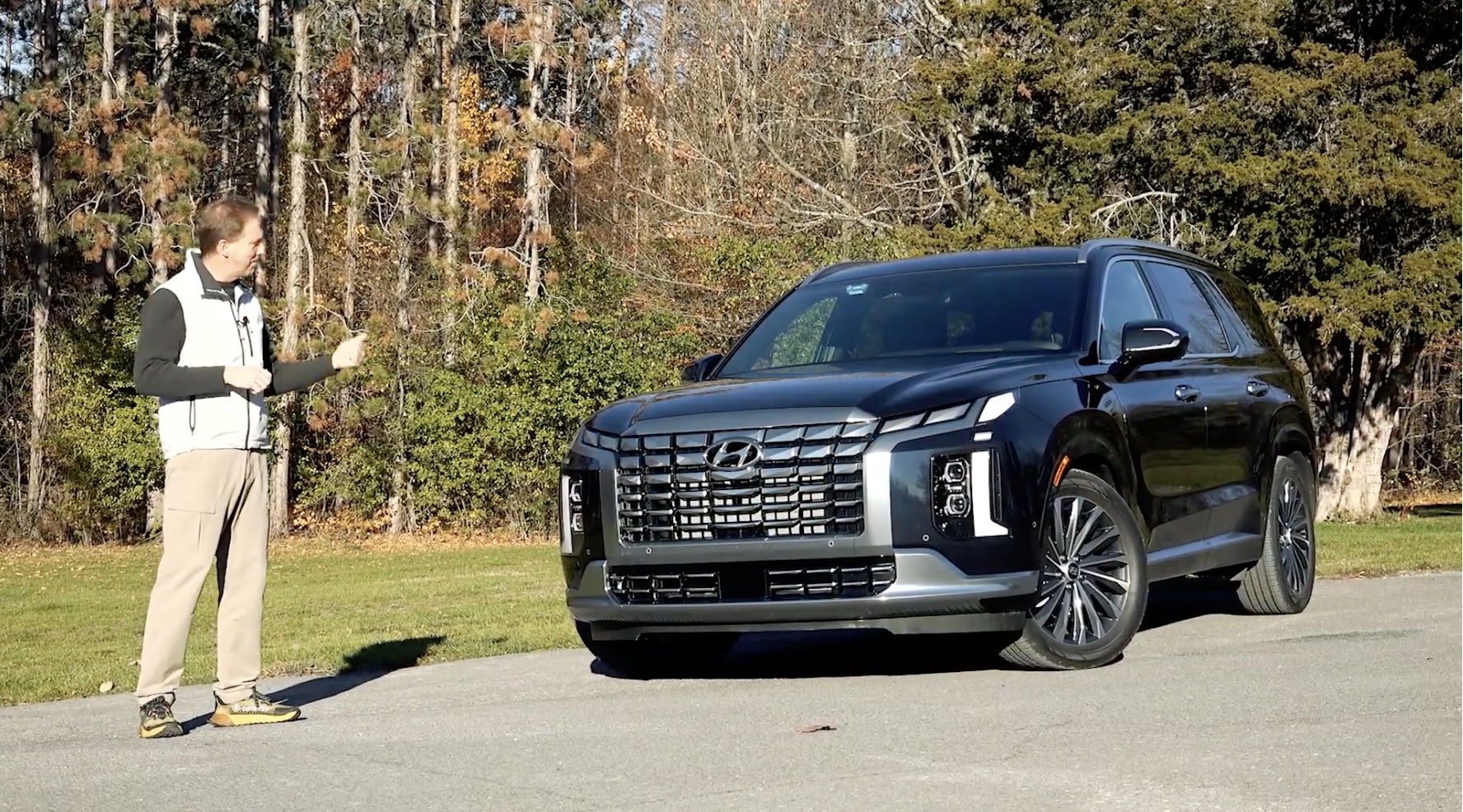 THE VALUE PROPOSITION
There are some heavy hitters in this segment most notably the Toyota Highlander and Ford Explorer but dollar for dollar the Palisade can't be beat – a value play like only Hyundai can deliver.  
2023 HYUNDAI PALISADE TEST DRIVE AND VIDEO CAR REVIEW  |  TESTDRIVENOW.COM 2023(c)