2021 LAND ROVER DEFENDER 90 TEST DRIVE
2021 LAND ROVER DEFENDER 90 TEST DRIVE BY CAR CRITIC STEVE HAMMES
2021 Land Rover Defender 90 First Edition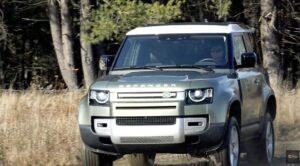 It was a year ago this month that I had my first go-around with the new Land Rover Defender; an exceptional SUV deserving of its countless accolades.  But that one was the bigger Defender 110 with 4 doors.  This week I'm driving the 2-door Defender 90; a model whose appeal is a bit perplexing.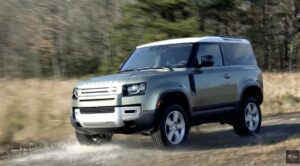 While everyone continues to go goo-goo gaga over the elusive Ford Bronco I, myself, would take a Defender any day of the week.  Check their resumes and you'll find the off-road metrics to be very similar.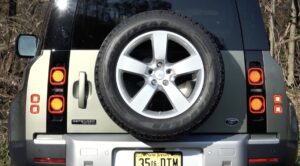 But this Defender is exponentially more polished and prestigious; satisfying on multiple levels, both on- and off-road.  And this is the Defender the hardcore 4X4 crowd most desires.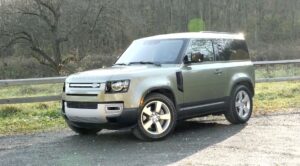 Pricing for the newly offered base 2022 Defender 90 starts at $49,050 including destination – erasing the previous model year's premium over the 4-door model.  It's 17" shorter so changing directions in a tight spot is child's play; the turning circle is reduced by 5' as compared to that of the 110.  The shrunken wheelbase also improves the ramp breakover angle by 3 degrees.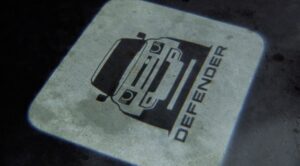 Otherwise off-road dimensions between the 2-door and 4-door models are nearly identical.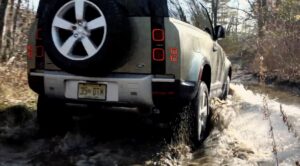 If you're truly going to use your Defender for frequent off-roading then this shorter 90 model will hold the greatest appeal because it's easier to maneuver and has a higher breakover angle so you'd be less likely to get high-centered.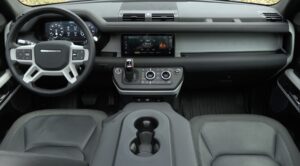 But there are also a lot of tradeoffs to choosing the 2-door with the obvious one being access to the rear seats.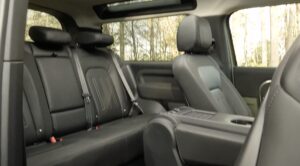 And then of course you lose bigtime cargo room not to mention that this one carries a higher starting price.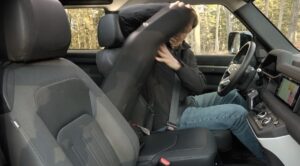 This tester is a long-since sold out 2021 First Edition which came exclusively with this front jump seat technically providing seating for up to 6.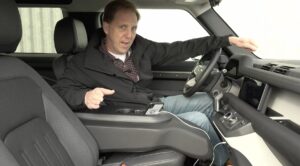 But if you think this is ridiculous you can save yourself $900 and get a real center console otherwise there's really no place to secure your stuff.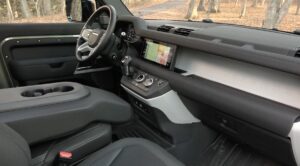 The rubber flooring and chunky, purpose-built design of the cabin meld with upscale features such as the combo of leather and textile seating surfaces and numerous creature comforts such as the very cool folding fabric roof that's perfect for fair weather excursions.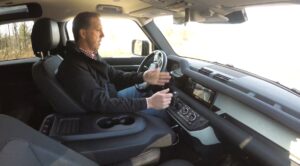 But I've tried sitting in this jump seat and it's basically impossible. When folded down it provides a place to hold your phone and 2 USB-C ports but as an iPhone user I've been connecting down here to the sole USB-A port meaning the cup holder has been my phone holder, that is until something very exciting happened during my loan…an over the air update for the PiviPro infotainment system which included wireless CarPlay.  Very nice.  No wireless charging in here though but that has become standard for 2022.  The placement of the shifter also makes accessing this screen a little tricky.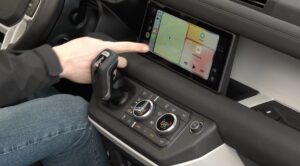 I also wish the driver display was more customizable…it looks like it is but it's pretty much smoke and mirrors.       
But more to the point, as an SUV you'd feel comfortable taking just about anywhere; the Defender 90 is a standout.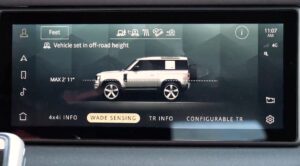 With Terrain Response and its numerous drive programs, adjustable air suspension, 4-low gearing and a wade sensing feature that can depict the depth of water you're traversing while automatically recirculating the cabin air to keep away muddy smells and humidity, the Defender is as smart as it is masterful.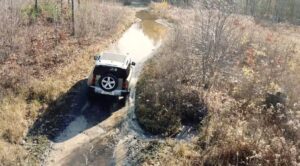 Capable of pushing through nearly 3' of water and taking on 45 degree slopes, the Defender's 11.5" of upper end ground clearance affords the driver a commanding view of the surroundings, aided by awesome camera selections.  Do note however that the Defender 110 can be optioned with Terrain Response 2 – an upgraded version that can automatically recognize the surface underneath and configure the vehicle accordingly – while locking center and rear differentials are optionally reserved for the 6-cylinder 4-door, as well.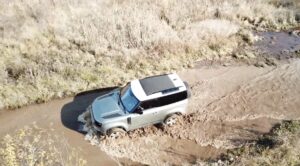 It's a beast for sure but the best part is how seamlessly the Defender transitions from trail to tarmac.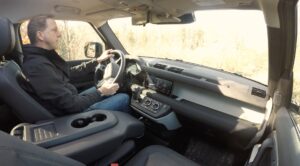 You can get the 90 with either the turbo-4 or this robust turbocharged inline-6 producing 395 horsepower and 406 pound-feet of torque.  It's very quick capable of reaching 60mph in only 5.7 seconds and the best part – it's as smooth if not smoother than any other Land Rover.  Just because this is their most capable SUV doesn't mean they sacrificed the drive which is exceptional in every way with the optional air suspension providing a super soft but never sloppy ride.  Even on the optional off-road tires and with the short wheelbase the 90 is quiet and well-planted.  And you'll love the small turning radius.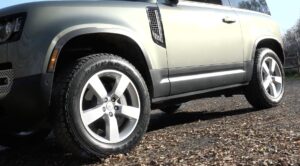 This mild-hybrid engine utilizes a 48-volt electrical system to power an electric supercharger as well as capture stopping power and storing it in a small lithium-ion battery for long period start/stop engine functionality.   And the 8-speed auto is as smooth as they come.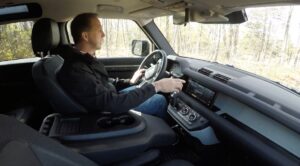 Gas mileage is rated at 17mpg city/22mpg highway and the same 19mpg in combined driving as the 4-cylinder engine.  That's 2mpg better than a comparable Bronco with a driving range nearly 100 miles longer…though this one needs premium gas.  You feel that small wheelbase beneath you as you turn on a dime but from both a power and precision standpoint this is a beautiful drive.  Towing is also rated at an impressive 8,200 pounds.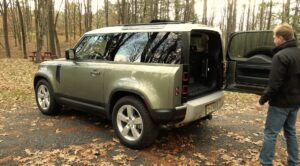 The rear is accessed via one-touch power sliding seats on both sides so it's fairly easy to get back here and feels surprisingly spacious all around.  But the cargo area is definitely compromised both in size and its cut not allowing for flat hauling.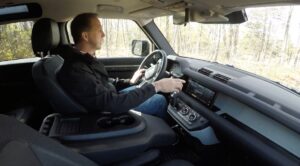 There are controls for the air springs however so loading this tall SUV isn't a struggle.  Land Rover offers dozens of very cool accessories for the Defender but this 2021 First Edition has none of them which makes it feel a little plain, with the only options being a tow hitch receiver and the off-road tires.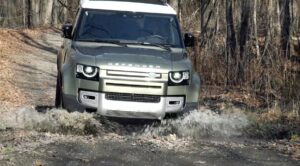 MSRP of this one is $66,475 which means very little because it's sold out.  So for the 2022 model year there are 8 Defender 90 trims ranging from just under $50,000 all the way to a V8-powered Carpathian Edition for more than twice that.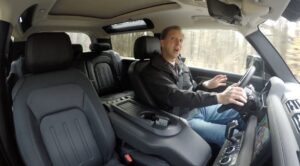 With its toy-like looks, supreme drivability and off-road awesomeness, the Defender 90 is as solid as it gets…but most will be better off with the 110.      
2021 LAND ROVER DEFENDER 90 TEST DRIVE BY CAR CRITIC STEVE HAMMES  | TESTDRIVENOW 2021(c)
Tagged with:
2021
,
4X4
,
bronco
,
defender
,
defender 90
,
Land Rover
,
latest video
,
off road
,
reviews
,
steve hammes
,
SUV
,
test drive