2022 MITSUBISHI OUTLANDER TEST DRIVE
2022 MITSUBISHI OUTLANDER TEST DRIVE BY CAR CRITIC STEVE HAMMES
Unlike Isuzu and Suzuki who pulled out of the US market years ago, Mitsubishi has somehow been able to hang on as a small Japanese automaker with vacillating interest in selling cars here.  But now that they are part of the Renault Nissan alliance we should expect to see more competitive products in Mitsu showrooms starting with this Nissan Rogue-based, all-new 2022 Outlander.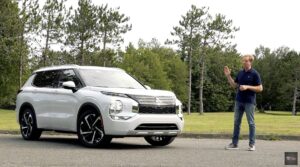 The 10-year old compact-sized Outlander Sport is still far and away Mitsu's best-seller but it's this bigger Outlander – which has nothing in common with the Sport – that wears the flagship mantle, even available as plug-in hybrid way before that sort of thing was fashionable.  It's done very well for Mitsubishi and for its next act it leans on Alliance partner Nissan for its bones and just about everything else.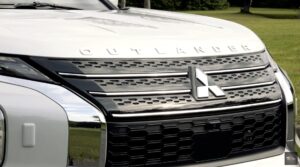 For all intents and purposes, this is the Nissan Rogue with cooler styling and a minuscule 3rd row. This fully loaded SEL Touring trim with all-wheel drive is priced about $1,500 less than the Rogue Platinum I tested and comes with a better warranty.  And while the Rogue did away with its Slid-N-Recline 2nd row seat, the Outlander does both of those things.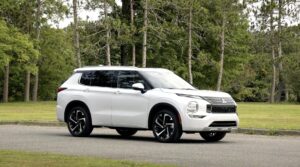 There's more people space in here than before as this Outlander is 2" wider than the previous model.  Though the engine is slightly larger than the 2020 model's standard 4-cylinder motor, gas mileage remains the same at 26mpg though with a smaller driving range of 377 miles.  But this Outlander's story is really about improved quality, greater breadth of features and its newfound appeal.  The design is a grand slam for Mitsu, here in the upcharge Diamond White paint looking tough yet elegant, sporty yet functional.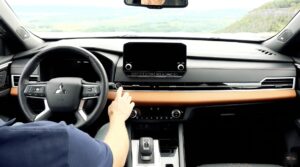 Having already driven the new Rogue earlier this year, the Mitsu experience is almost identical.  This SEL with Touring Package is the Rogue Platinum and as such is very well-appointed with the only glaring omissions being a height-adjustable passenger seat and Homelink garage door opener.  Otherwise, it feels as though Mitsubishi is more than living up to their end of the $38,590 bargain.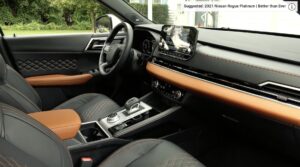 This is undoubtedly the highest level of quality and depth of amenities ever seen in one of their vehicles even though there's very little in here that distinguishes it a Mitsu other than the cool graphics and logo projection.  There is a standard 3rd row that Nissan doesn't offer but it's one of those you would want to use sparingly because this vehicle is just not that big.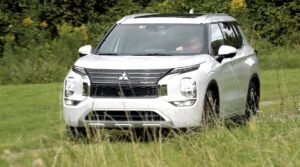 The styling is the real standout Mitsu feature and it's alluring enough to pull people out of the Nissan showroom.  But, this one is a little heavier and the engine was already pushed to its limits so the Outlander feels like a dog under full throttle acceleration – there is really nothing there.  But I am averaging 27 mpg.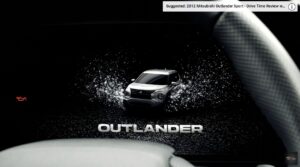 It's a shame the V6 or at least V6-like power has been shelved because the Outlander undoubtedly needs more.  But the CVT is really good and not at all a concern.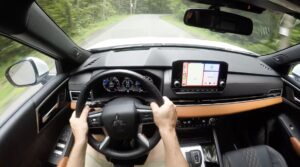 The 2.5-liter-backed powertrain is smooth but underwhelming at only 181 horsepower and 181 pound-feet of torque.  20" wheels and all-wheel drive are standard on this trim and with Gravel, Snow and Mud off-road drive modes and hill decent control, I've pushed this Outlander and its 8.4" of ground clearance onto some medium grade trails to see how it plays in the wild.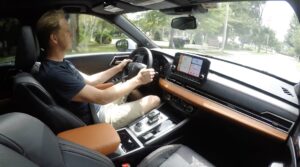 The dial makes setting it up easy and there are some additional off-road tools and gauges to aid in confidence, such as the multi-view camera system.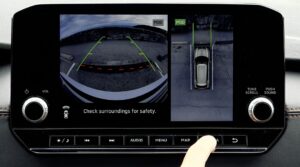 The Super All-Wheel Control System as Mitsu calls it has been upgraded with brake-based torque vectoring which works both on- and off-road to improve control and drivability.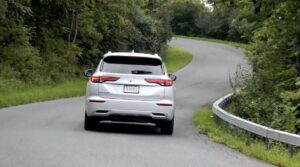 This setup also pushes some power to the rear wheels upon take off for a more legitimate SUV feel.  So feel free to push the boundaries a little bit with this one – it feels like it can handle it.  Towing is rated at only 2,000 pounds but there is Trailer Stability Assist.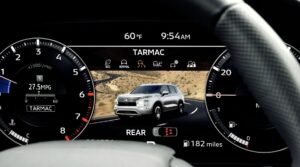 Other than the lack of power which only becomes an issue when you really step on it the Outlander is a very nice drive with steering that feels more connected and handling with higher fidelity than this class of vehicle is usually concerned about while cabin quietness and Nissan's zero gravity seats up the premium comfort quotient. And when you're ready to get off the pavement these drive modes add a layer of confidence that give it a real SUV feel. But a turbo here would do wonders.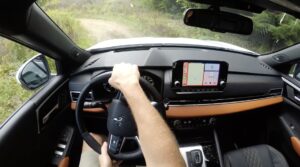 I'd also appreciate some dampers that could alleviate some of the suspension's impact harshness, otherwise the ride is smooth and under control.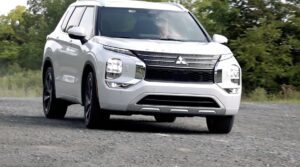 If you're familiar with Mitsus than this interior is shocking…in a good way.  This Touring trim benefits from higher-quality leather in attractive Saddle Tan and Black with quilting details.  There's a heated steering wheel, a big head-up display, a 10-speaker Bose sound system, a panoramic roof and sunshades on the rear windows.  There's even wireless CarPlay and a conveniently located charging pad.  Android users still have to tether.  And Nissan's system is solid with very simple touchscreen controls.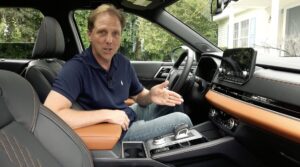 As for driver tech, this is basically ProPilot Assist with a little switch on the right side of the wheel for adaptive cruise control with stop and go which is also linked to the navi for smoother and safer control.  It's all here: auto high beams, auto hold, lane departure this, collision avoidance that…Nissan does this very robustly.  There's also a hands-free liftgate for the significantly longer cargo compartment with both rows of seats folded.  The opening is also much wider.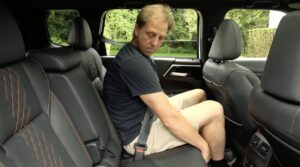 The 3rd row seats are to be used on an emergency basis only and you've got to love that Mitu retained their medieval-looking paddles which double as headrests that stow under the floor until needed.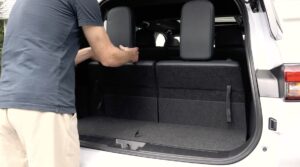 There are also levers back here for dropping the 2nd row leading to midsize SUV cargo room.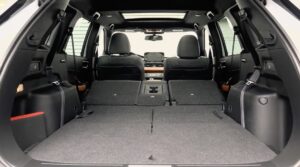 It's a great looking cabin with lots of space.  Only a closer inspection reveals some cheapness here and there that reminds you of Mitsus of the past.  All told the Outlander is a solid choice in the not so compact SUV segment as long as you don't have a lead foot and will do well for Mitsu's U.S. aspirations.
2022 MITSUBISHI OUTLANDER TEST DRIVE BY CAR CRITIC STEVE HAMMES  |  TESTDRIVENOW 2021(c)          
Tagged with:
2022
,
3rd-row
,
best selling
,
Car Critic
,
COMPACT SUV
,
latest video
,
Mitsubishi
,
Outlander
,
reviews
,
road test
,
SEL
,
small suv
,
steve hammes
,
test drive