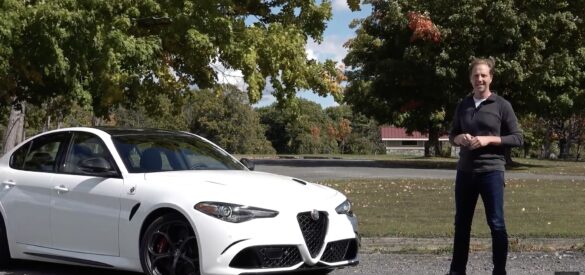 2020 Alfa Romeo Giulia Quadrifoglio Test Drive By Car Critic Steve Hammes.
Petite, powerful & pretty. The most lusted after car in its class.
So this Giulia is pretty much what you imagine a racy, Italian sedan to be: bold, boisterous and perhaps, a little high maintenance. New for 2020 there's an improved touchscreen infotainment system with Apple CarPlay, Android Auto and enhanced performance pages, a host of connectivity features including WiFi and a mobile app that allows you to control certain car functions, the addition of modern driver assistance features such as the semi-autonomous highway assist and traffic jam assist which do some of the driving for you in select situations, a center console with larger cupholders and increased storage, a wireless charge pad and an updated carbon fiber steering wheel design.  It's not a major update by any stretch but it does address the Giulia's most pronounced shortcomings making it a more complete luxury sports car.  You're not getting the immersive, light, sound, smell and graphics show the Germans are flaunting these days but you are getting enough high-end convenience, comfort and safety features to make this much more of an attractive buy.  Plus, this car drives like it was born to dominate.  Close your eyes and listen to it go by and you might think it's race day at the track.