2022 JEEP GRAND CHEROKEE 4xe TEST DRIVE
2022 JEEP GRAND CHEROKEE 4xe TEST DRIVE FOR TOP SPEED BY STEVE HAMMES
2022 Jeep Grand Cherokee Trailhawk 4xe
Following the launch of the all-new, 3-row Grand Cherokee L and 5-passsenger Grand Cherokee is a variant that combines the model's legendary 4-wheel drive prowess with the serenity of electric drive – the Grand Cherokee 4xe.  Jeep even offers this plug-in hybrid powertrain on its off-road focused Trailhawk trim.  With all-terrain tires and 11" of ground clearance, the Trailhawk 4xe is a truly capable SUV with a greener side.  
PLUG-IN HYBRID BENEFITS
In a pecking order that starts with fossil-fueled and ends with all-electric, the plug-in hybrid resides in the penultimate position giving EV phobic shoppers a softer landing spot.  Range anxiety doesn't exist here because the gas engine serves as a security blanket.  Though this Trailhawk 4xe can't top the 506 miles of driving range provided by the Grand Cherokee V6, it's still rated at a healthy 470 miles, the first 25 of which can be gasoline-free. A 17-kWh lithium-ion battery underneath the floor stores the electricity which can be summoned to assist the turbocharged engine or to power the vehicle outright.  With a full-charged battery – a process that can take as little as 2-3 hours at 240V – the 4xe's traction motor and its 134 horsepower and 195 pound-feet of torque handle propulsion duties up to the point where your right foot commands more than can be delivered.  At that time or when the battery's state of charge is less than 1% the Grand Cherokee becomes a traditional gas-electric hybrid.  And because it uses a smaller, second electric motor as a generator in place of a conventional alternator the engine start-stop system can operate for longer and more seamlessly to improve efficiency.  
SAVE THE ELECTRIC FOR LATER
The Grand Cherokee 4xe's fuel economy is estimated at 56 MPGe which is an equivalent to that of vehicle without a plug.  But this number is highly subjective depending upon usage.  If kept charged and trips are short, an owner may use very little gas whereas travel beyond 25 miles will diminish efficiency.  One of the coolest 4xe features is eSave – a driver selectable mode that won't unleash the electrons until called upon.  For instance, driving to the trailhead can be the responsibility of the turbo-4, reserving the electric motor to provide nearly silent off-roading.   And that's the 4xe's most novel characteristic – leaving the blacktop behind and enjoying the solitude afforded by electric motoring.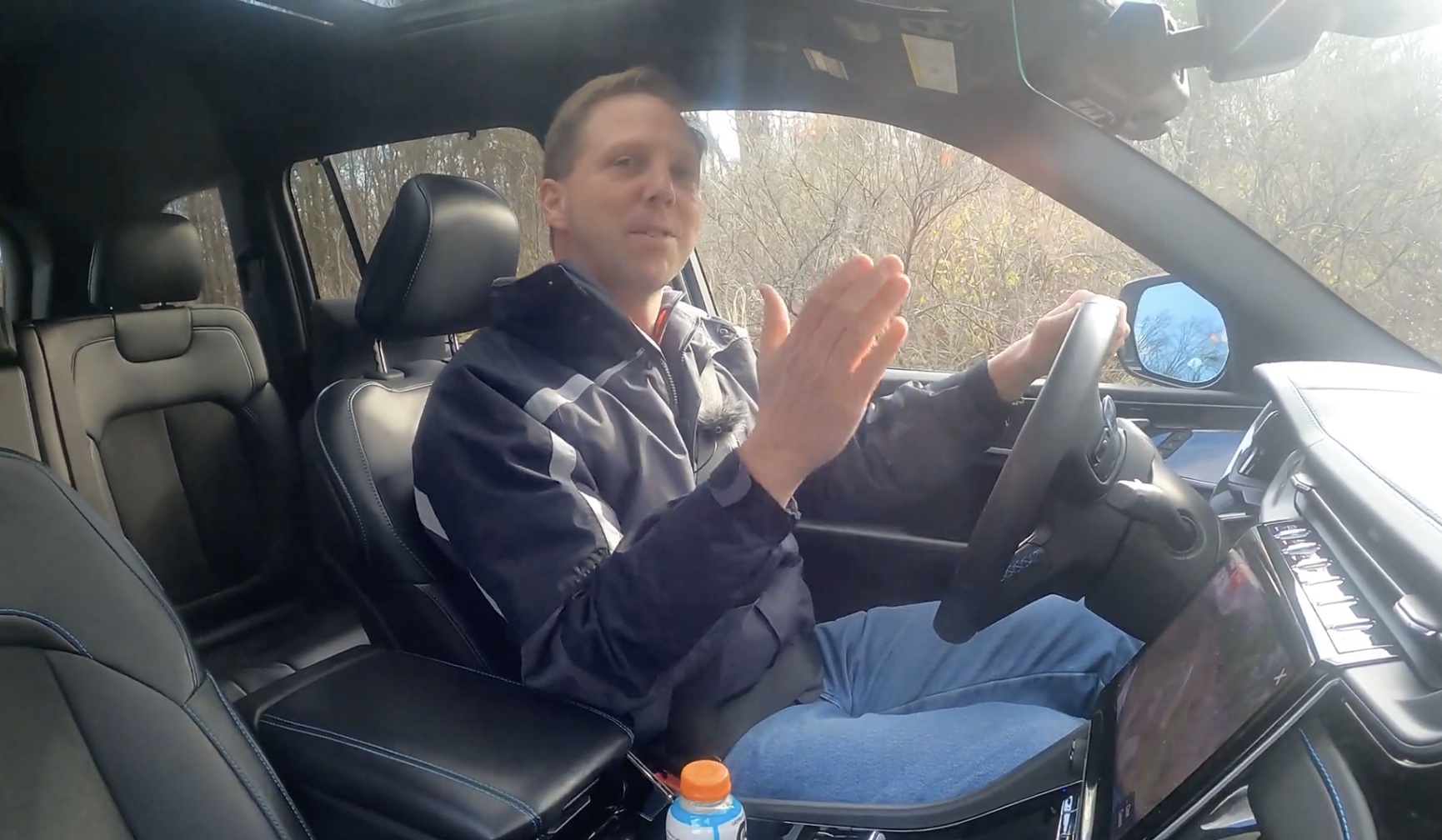 A SERIOUS TRAILHAWK 
The Trailhawk is the Grand Cherokee to have if you're serious about going farther.  Most importantly, it includes a 4-corner, driver selectable air suspension, Jeep's best 4-wheel drive system with a limited slip differential, sway bar disconnect for greater wheel articulation, and Goodyear Wrangler Territory all-terrain tires.  Selec-Speed Control compliments the five Selec-Terrain settings acting as a slow-speed cruise control for low gear grunt work.  If you think it can't ford water, think again – the high-voltage components are heavily protected allowing the 4xe to troll through up to two feet.  Pertinent controls for the 4X4 goodies are easily accessed on the center console while the in-depth off-road pages on the touchscreen are brilliant – Chrysler does these sorts of electronics interactions better than any other.  
SUPER SMART AND EASY TO USE 
Taking this Grand Cherokee down some of my favorite trails proves Jeep's excellence in all areas of going off pavement.  Power folding side mirrors, a 360-degree camera with a forward-facing trail view and dummy-proof driver assistance features make for a stress-free day in the mud and over the rocks – the Trailhawk feels overly qualified for what I've been throwing at it.  There's even a rear back-up camera washer, a head-up display and a breadcrumbs feature in the navigation system allowing a trail to be left behind in order to guide you out of the woods once the fun is over.  It's all brilliantly executed, visually appealing and intuitive.  Because the 4xe uses a regenerative braking system which generates power for the high-voltage battery there's a real feeling of one-pedal drive when Max Regen is selected on the dash – release the accelerator and the vehicle slows as if the brakes were being applied, just like in a full EV.  
A TURBOCHARGED WET BLANKET
The 4xe's default drive setting is Hybrid but Electric and eSave are also available as long as the battery has enough charge.  A depiction of the energy flow can be accessed on the touchscreen.  But just like any plug-in hybrid, the drive is most satisfying when the gas engine is sitting it out.  The 2.0-liter turbo produces 270 horsepower and 295 pound-feet of torque on its own but its NVH levels are prominent enough to be felt through the steering wheel and though regular unleaded is acceptable Jeep recommends premium for optimum fuel economy and performance.  Combined with the added output of the electric motor integrated with the 8-speed automatic transmission, total system horsepower is 375 with an impressive 470 pound-feet of torque.  The 4xe does feel lively off the line but it's also about 500 pounds heavier than the Grand Cherokee V8 and its towing capacity is reduced from 7,200 pounds to 6,000 pounds.  
AIR RIDE AND LUXURIOUSLY EQUIPPED
Ride quality on the air springs is super cushy and the cabin noise level is hushed despite some din from the knobby tires.  With the ability to raise and lower the body in 5 stages or automatically operated based upon speed and drive mode, this is one highly flexible SUV.  Equipped with the Luxury Tech Group III, a dual-pane panoramic sunroof and Rear Seat Video Group I this is Wagoner-level extravagant.  Base MSRP of the Trailhawk 4xe is $67,055 while this one checks-in at an eye-opening $74,960.  That's big bucks no matter how you cut it – for that price it wouldn't be crazy to expect a fully electric Grand Cherokee.
Offsetting the sticker shock is a roster of high-end features, including:
Night Vision with Pedestrian and Animal Detection
A second, smaller touchscreen in front of the passenger seat with access to Amazon Fire TV for Auto and to many of the controls found on the main 10-inch screen
Nappa Leather seats
Massaging Seats
Quad-zone climate control
Modern, seatback video screens for rear passengers with access to Amazon TV.

 
WAIT UNTIL 2025?  
Painted in Baltic Gray with a cool Trailhawk hood graphic and signature blue accents inside and out, I love the build of this Trailhawk 4xe.  It's got the tough Jeep look and the goods to back it up.  The new Grand Cherokee is offered in a number of trim levels with 4-, 6- and 8-cylinder power not to mention the 3-row L models.  While Jeep readies all-electric variants of every SUV it sells – expected by 2025 – the Grand Cherokee 4xe and Wrangler 4xe convincingly whet the EV appetite.      
  2022 JEEP GRAND CHEROKEE TEST DRIVE  |  TESTDRIVENOW.COM 2023(c)                    
Tagged with:
2022
,
4xe
,
car reviews
,
Grand Cherokee
,
Jeep
,
latest video
,
road test
,
steve hammes
,
test drive
,
TOP SPEED
,
Trailhawk