2023 HONDA HR-V TEST DRIVE
2023 HONDA HR-V TEST DRIVE FOR TOP SPEED BY STEVE HAMMES
2023 Honda HR-V AWD EX-L
Scared off by runaway new car prices?  There's good reason – the average transaction price remains over $48,000!  But don't fear; the lower end of the market is stashing some good stuff that may be flying under your radar.  Take Honda's lineup, for instance.  The all-new HR-V retains its sub-$30,000 starting price while more convincingly playing the role of a small SUV.    
BIGGER FROM THE OUTSIDE, LESS SO INSIDE
From outside it's considerably longer and wider than before but that doesn't actually translate to huge volume increases inside.  Many of the interior dimensions are similar to the first-generation model; cargo room with the rear seats folded has actually decreased.  So, it must be a mirage of sorts because from the driver's seat this HR-V feels much larger all around even though passenger volume has increased by just 1 cubic-foot.      
THE CONSPICUOUS GRILLE ERA CONTINUES
The new front-end design is undoubtedly the most controversial styling cue, reminiscent of the grouper-like grille on the unsightly Ford Escape.  But it's growing on me with each day; this unusual but captivating Nordic Forest Pearl paint certainly helps matters – a $395 option.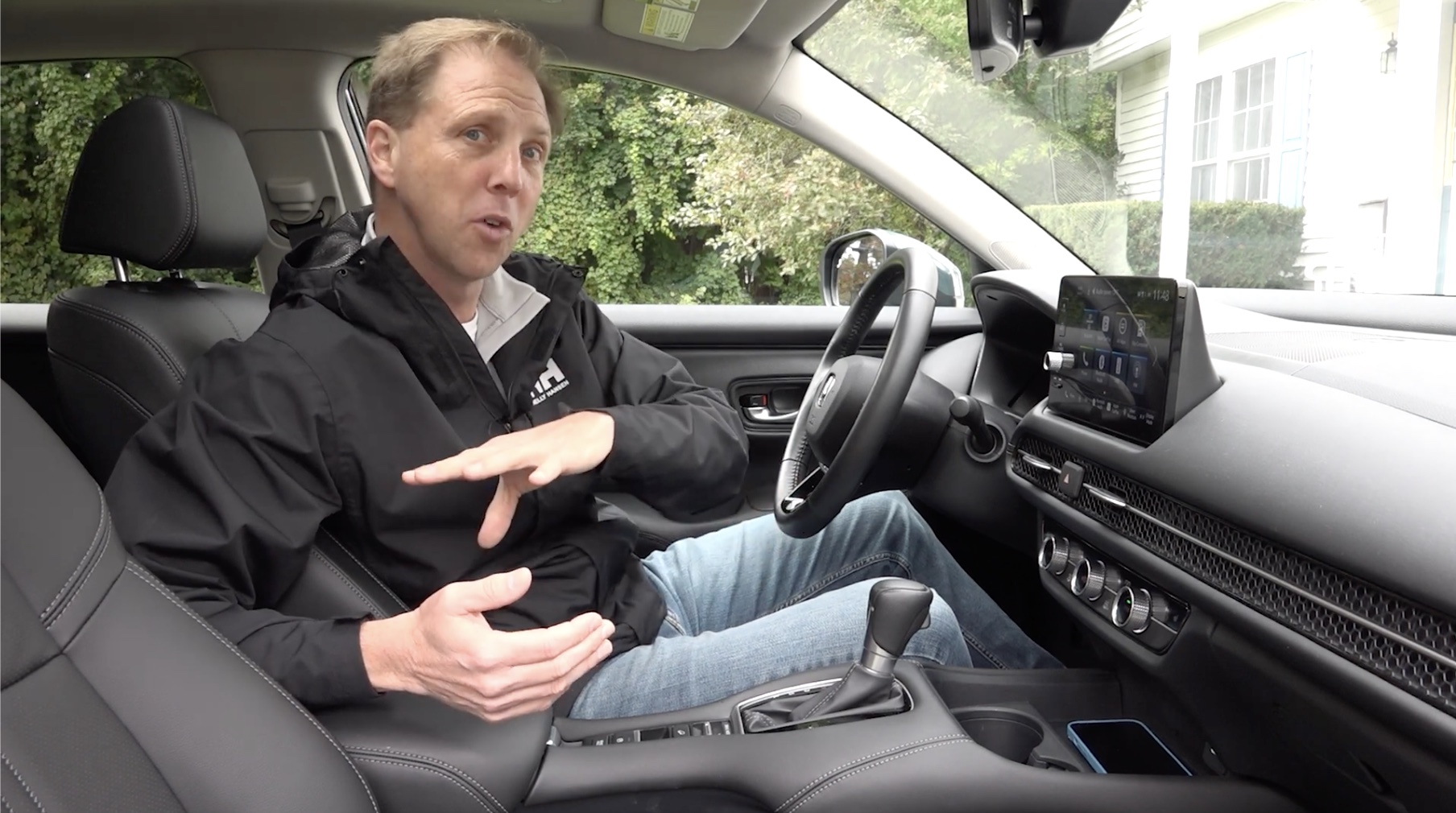 CHOOSE EX-L FOR ALL THE GOODIES
Previously available in 4 trims, the HR-V is now offered in 3 flavors: LX, Sport and EX-L – each with an all-wheel drive option starting at $24,895 including destination. Honda predicts the volume model will be the HR-V Sport, priced from near $27,000.  But the one I'm driving this week is the HR-V with all of the goodies – the AWD EX-L (L is for leather) – including these exclusive features: 
A moonroof

 

Dual zone climate control
Auto dimming rearview mirror
LED cabin lighting
A power driver's seat
The biggest 9" touchscreen with an 8-speaker audio system
Satellite and HD radio
a wireless phone charger
and front and rear parking sensors.

 
COST-CUTTING MEASURES
At $30,590 as-tested, Honda isn't holding back…at least not too much.  Start snooping around though and you'll find wafer-thin floormats, no height-adjustment for the passenger seat, no rear center armrest or anything else back there for that matter, just one seatback pocket, and the discreet use of some hard, unbecoming plastics.  There's no built-in navigation either, though if you project your phone onto the touchscreen – and yes, it is a wireless connection – map guidance is integrated into the driver display's left pod; a very nice touch.  It's also not the quietest cabin in the world but it is comfy and welcoming with a slightly elevated, more SUV-like seating position and excellent driver visibility.    
A MORE PREMIUM CABIN
There's a greater focus on front seat occupants with additional room for them.  Honda's research must've told them that rear seats passengers in an HR-V are a rarity – head and shoulder room has decreased in the back.  One aspect that's a given though: this cabin feels far more premium – like a Civic with 7" of ground clearance.  
ROOM FOR YOUR STUFF
HR-V owners want versatility and under the manually operated hatch is more standard space than before – meaning with the seats upright.  There's also some divided storage under the floor.  So, it may be possible to skip the optional roof rack and bike attachment; just throw it in the back.  Honda also sells attachments for kayaks, surfboards and skis, roof boxes, and even a tent that sleeps 6.  But the optional HPD decal and badge – short for Honda Performance Development- seem like false advertising but go for it if you're feeling frisky.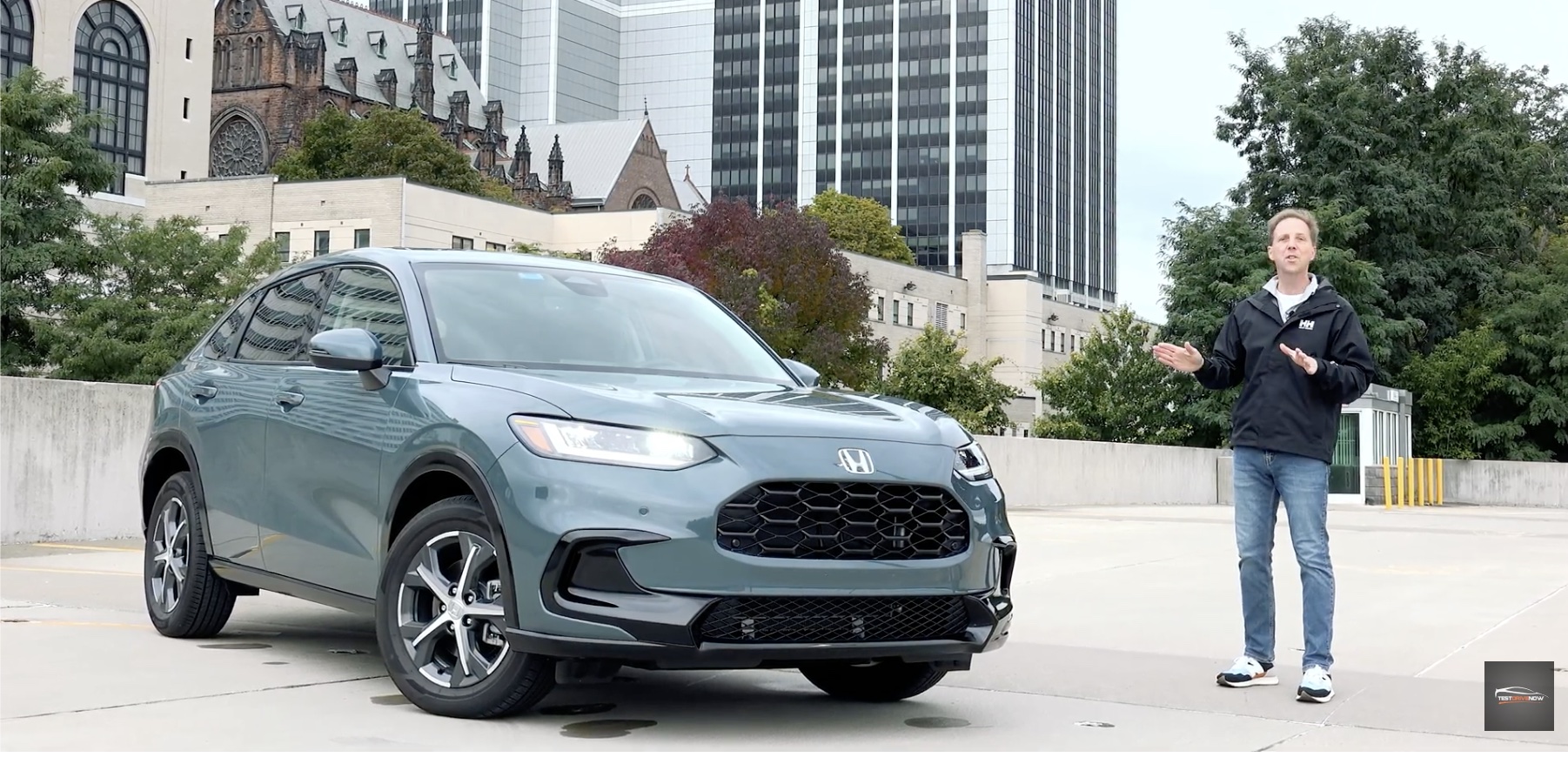 30 MPG – ONLY ON THE HIGHWAY
I'm disappointed by the HR-V's mileage.  Yes; Honda introduces a larger 2.0-liter engine so there's some much-needed additional power – though not much.  But with a modest 158 horsepower achieving 30 mpg should be a reasonable expectation no matter how and where the HR-V is driven yet the EPA rates it at only 25 mpg in city driving, 30 mpg on the highway. With 138 pound-feet of torque it is noticeable in the way it more confidently steps off but I really do miss the manual transmission which was discontinued following the 2018 model year – it breathed life into this car.  The CVT carries over as the sole transmission and the only way to beat the continuously variable blues – on country roads, unnecessary around town – is to shift into Sport. Otherwise, the HR-V moans its way up inclines.  
DRIVING RICH, POWER POOR
For 90% of prospective HR-V owners I really don't believe the drive is dissuasive and while running errands and during steady state cruising the HR-V's performance is largely inoffensive.  The new platform feels tight and eager to please with Honda's typically excellent steering feel making me wish for more power from the Civic's turbo and a set of less eco-minded tires.  Ride quality also exhibits the same sophistication with a Civic-like sumptuousness.  The Econ mode will test just about anyone's patience though with its barely-there throttle response so use judiciously.  To round out the selections, Snow mode provides greater control during winter driving where the all-wheel drive system can now apportion more torque to the rear axle. Hill decent control – a first for a Honda SUV – seems a bit superfluous but it's here nevertheless.  
DRIVERS GET AN ASSIST
Driver-assistive technology is high across the board, regardless of trim such as adaptive cruise control with low-speed follow and lane keeping – perfect for traffic jams, traffic sign recognition and auto high beams.  HR-V Sport trims and higher also receive real blind spot detection – no more camera-based Lane Watch from Honda – and rear cross traffic alert. And because the EX-L has sonar sensors in addition to the front-facing camera it is the only trim with Low-Speed Braking Control so no more backing into other cars in the grocery store parking lot.  
MAKING FRIENDS WITH THE RIGHT CUSTOMER
It's not perfect but the HR-V is perfect for the right buyer, offering a total SUV experience without breaking the bank.
2023 HONDA HR-V TEST DRIVE  |  TESTDRIVENOW 2023(c)