2021 FORD BRONCO WILDTRAK TEST DRIVE
2021 FORD BRONCO WILDTRAK TEST DRIVE BY CAR CRITIC STEVE HAMMES
Resurrecting a storied nameplate can sometimes be a hit – like the Dodge Challenger – or a flop – think Dodge Dart.  But I'm not sure any such resurrection has been as hyped as this one.  After a 25-year absence the Bronco has returned, including a first-ever 4-door model for a modern take on a heritage of toughness.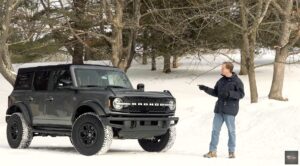 Choosing the Bronco that's right for you can be a little daunting.  With 6 trim levels in 2- or 4-doors, 2 engine and 2 transmission options and 6 roof variations Ford is letting you have your cake and eat it, too.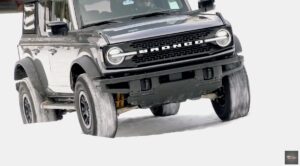 Now, telling you that the base model has an MSRP of under $31,000 is as meaningless as an insurance company purporting to be on your side.  The Bronco is a highly coveted model in short supply that is currently the target of market adjusted pricing.  With $11,000 in options the sticker on this one reads $61,975 but in reality the transaction price could be considerably more.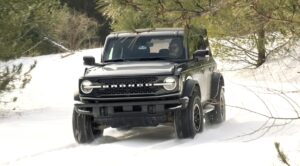 This here is the Bronco Wildtrak – the most expensive Bronco – designed for high-speed, all-out dessert runs…a terrain type foreign to my area.  Instead, I've got a freshly fallen 3" sleet bomb with some snow on top.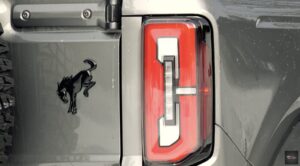 This is the only Bronco which comes standard with the Sasquatch Package taking ground clearance to 11 ½" through long-travel Bilstein shocks and 35" mud tires mounted to 17" beadlock-capable wheels. There's a higher final drive ratio delivering more torque to the ground and it also possesses a nearly 2" wider track.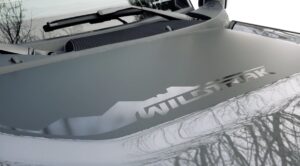 The Wildtrak also comes standard with the more powerful 2.7-liter twin-turbo V6 rated at 315 horsepower and 405 pound-feet of torque on regular unleaded – 330 horsepower and 415 pound-feet of torque if you feed it premium.  A 10-speed auto is the only available transmission on Wildtrak, rated at 17mpg.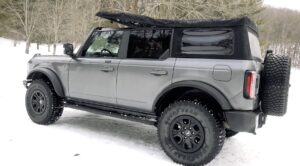 This one is also optioned with Dual Tops: a Carbonized Gray removable hard roof with a sound deadening headliner which was left at the shop and – the way it was delivered to me – with a retractable full soft top.  Removing the standard fog lamps on this tester is the optional Ford Performance Heavy Duty front bumper which includes upgraded front steel bash plates.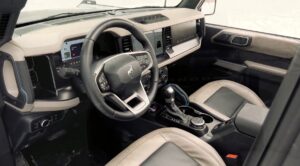 Other notable extras on this Bronco include leather-trimmed vinyl seats, a 2" hitch receiver for max towing of 3,500 pounds and the most lavishly equipped Lux Package which essentially turns this Bronco's interior into that of a well-stocked Explorer's.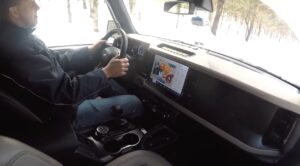 So color me impressed.  After such a long wait and abundant hype, I wasn't sure the Bronco could live up to expectations but I can see now why it took Ford so long to bring it to market…they have sweated all of the details here and the vast amount of configurations and available accessories exemplifies that.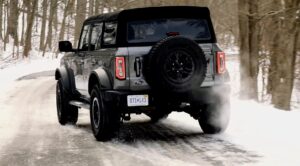 Whether you just want the off-road vibe or truly desire an SUV to conquer all terrains, there's a Bronco for that.  Now, because it's snowy and icy here the high-speed off-road nature of the Wildtrak hasn't really come into play, but churning through this stuff which isn't as easy as it looks due to the thick ice underneath has proven to be no match for these wide, maximum traction Wrangler Territory tires with a wrap-around shoulder design for added grip in deep snow.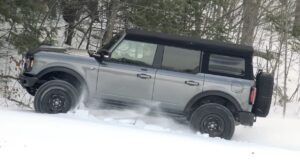 And with this more advanced 4X4 system choosing which wheels are in play could not be easier.  There's even an "auto" setting, perfect for changing road conditions.  The dial that encircles these buttons is how you access the G.O.A.T. modes.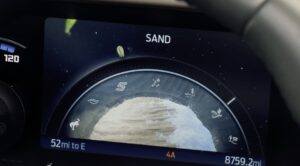 Short for Goes Over Any Type of Terrain, these 7 drive modes are preprogrammed setups for easy navigation over whatever lies beneath.  So for instance, choose Baja mode for high-speed off-road driving, and the Bronco's throttle response is optimized for better response and torque delivery while automatically switching into 4-high.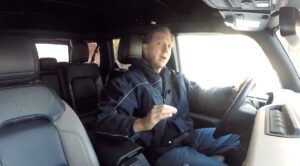 But for me, it's been Slippery and Sand modes where I've been spending most of my time, perfect for the various depths of snow I'm encountering.   And though I haven't needed them thankfully, there are lockers on the front and rear axles if you get stuck.  In the middle of the dial is the button for Trail Control – allowing you to use just your right foot to control off-road speed…like one-pedal driving in a Mustang Mach-E. You can also set a desired speed for cruise control on the trail.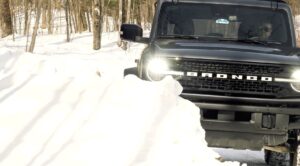 This tester is actually optioned with 2 tops but it came to me with only the soft top so it's pretty loud in here as opposed to the hard top with the sound deadening headliner.  But the on-road drive is really tight…none of that wandering you get in a Wrangler Rubicon, super torquey and considering its purpose-built nature a ride quality you can live with on an everyday basis.  I like the controls in here too…conveniently placed and easy to engage for whatever it is you're driving over.  And with the added options it's far more luxuriously equipped than you'd ever imagine…from the hottest heated seats on the market to radar cruise control with lane keeping.  It's really an amazing build by Ford.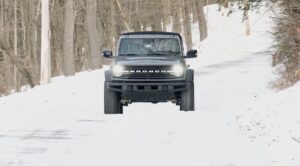 But with its fully independent suspension I'm equally as impressed with the Bronco as a daily driver…when in Normal mode just doing normal things.  The engine is really energetic and it's relaxed in its drive without being at all sloppy.  Now, you sit up high in here so don't forgo the tube steps, you'll likely need them to climb in and with a relatively short windshield you find yourself scrunching down to see stop lights. But it is comfortable.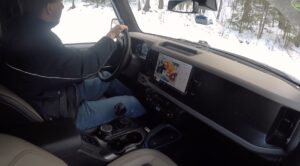 The SYNC 4 system with wireless phone projection and wireless charge pad is excellent and easy to use, there's a B&O sound system in here, the driver display is detailed, the rear seats are spacious with a small degree of recline and sit high, theater style for excellent forward visibility…this is far more comfortable and lavishly equipped than I ever imagined going in.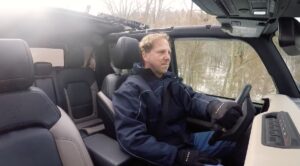 From exciting start-up animations to the many camera views including a 360 degree and a front–facing trail cam, there's nothing missing in here.  There's even zone lighting for the exterior LEDs.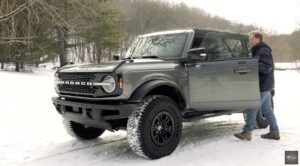 Getting into the cargo area is assisted by a feature letting you lift the roof a little for easier access and the rear seats fold down for a long, wide space in which you could take an open-air nap. The only real criticism I have, and it's a common theme among many Fords recently – these plastics they're using just come across as a little cheap and not very durable.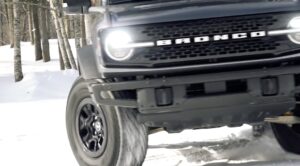 I'm not exactly sure which Bronco I would choose – a 2-door, 7-speed might be fun – but this one here would certainly be high on my list.  Now, go find one for MSRP and enjoy the outdoors.  
2021 FORD BRONCO WILDTRAK TEST DRIVE BY CAR CRITIC STEVE HAMMES  | TESTDRIVENOW 2022(c)