2021 MERCEDES-BENZ S580 TEST DRIVE
2021 MERCEDES-BENZ S580 TEST DRIVE BY CAR CRITIC STEVE HAMMES
During the pandemic drivers engaged in riskier behaviors resulting in the highest traffic fatality rate in 15 years.   Extreme speeding, drugs and alcohol, not to mention our society's out-of-control incivility problem were all contributing factors.  And here's the really bad news: post-lockdown things aren't getting much better.  So why on earth would I start my new S-Class review on such a downer?  Well, because cars like this can do an amazing job of ameliorating most of that frantic behavior we're assaulted by each time we go out for a drive nowadays.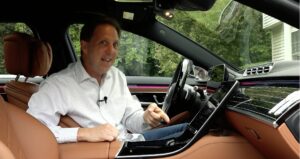 And what Mercedes has done here is crafted a luxury car for modern times where driving takes a back seat to feeling safe, secure and oh so spoiled.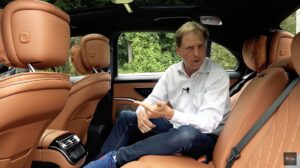 With a starting MSRP well into 6 figures, I'm fully aware that very few can afford this kind of sanctuary but for those of you who can peace and solitude are yours.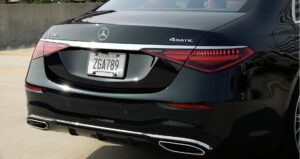 The S-Class has seemingly forever been the benchmark luxury car; the centerpiece of Mercedes' innovations and this all-new model continues those tenets in abundance.  Its tech-forward cabin girds you with eye candy, the ride is luxury personified and safety, as always, is prioritized.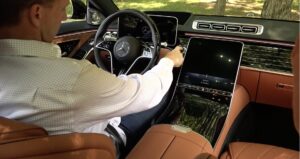 The features are futuristic and extravagance is everywhere to be found.  For example, this is a car that is able to suggest onboard fitness or wellness programs based upon vehicle and trip data, even factoring in your sleep quality and stress levels via your smartwatch.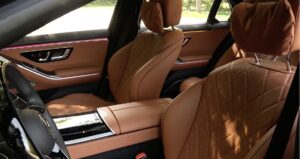 And 3D sound is so yesterday so the S-Class offers a 4D audio experience with bass resonators in the seats that can be individually controlled.  10 massage programs and seat kinetics can improve spinal health.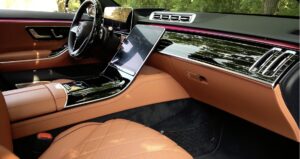 The extremely wide head-up display appears as though it's 32 feet down the road and uses augmented reality that projects navigation instructions with dynamic guidance.  3D mapping has been around for years but in here it's truly a 3D experience just without the funny-looking glasses.  Unfortunately, the camera doesn't capture it but as you move your head the 3D effect stays with you.  And if you take climate control seriously, the S-Class uses 2 solar sensors, a misting sensor for humidity and automatic air recirculation when approaching a tunnel combined with 2 new fragrances and air ionization.  So I think you get the point; this is first-class, boutique, bespoke…whatever words you want to use for a highly-personalized, grandiose, pampered experience.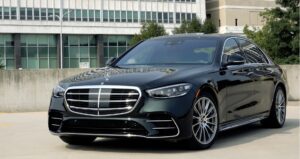 To begin, there are 2 S-Class models; the 6-cylinder-powered S500 and this here, the V8 biturbo S580 – both with a standard 9-speed transmission and all-wheel drive.  And taking advantage of its 48 volt, as opposed to a 12 volt, electrical architecture there's an integrated motor that can harness electricity for a boost of power – an additional 184 pound-feet of torque that Mercedes calls EQ Boost.  Beyond that, an additional 21 pound-feet is available for quick bursts of maximum acceleration.  496 horsepower and 516 pound-feet of torque is the maximum output of this engine alone leading to sports car-like quickness.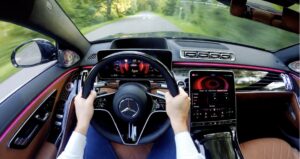 Zero-to-60mph here takes only 4.4 seconds with a little burble of goodness to go with it.  The air springs with continuously adjustable shock absorbing at each wheel creates situationally-appropriate suspension tuning from comfort to Sport+ but always isolating the occupants from any harshness.  In its default setting, there's a beautiful floaty sensation as you head down the road.  And this is all without the new E-ACTIVE BODY CONTROL feature which replaces the previously available MAGIC BODY CONTROL when it becomes available next year.  This will take it to an even higher level of intelligent suspension.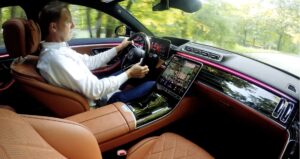 Driving the S-Class can be a little overwhelming at first simply because there is just so much visual stimulation but once you begin to focus in on the enormous head-up display you start to tune a lot of this other stuff out. And then you can begin to focus in on comfort settings and treating your ears to the most spectacular audio experience that they have ever had.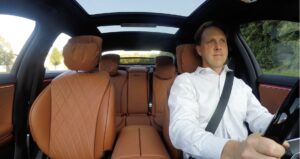 As for the rest of the drive, it's pretty much as you would expect; there's a very sumptuous, Bentley-esque ride quality, there is abundant power and connected driver controls. It's very peaceful when you want it to be and then magnificently sporty when you're ready for that. But if there's one area that could still use a little more work it's in city driving where the process of slowing down and stopping and starting again repeatedly just isn't as smooth as it ought to be. 
The extended stop/start system afforded by the mild-hybrid powertrain is fine; it's just that the brakes and transmission seem to lose some finesse at low speeds.  In general, the brake pedal is a little spongy.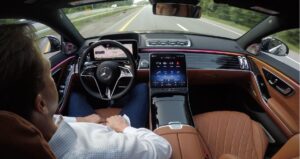 And perhaps my biggest disappointment with the drive itself is its lack of autonomy.  How on earth does Mercedes not have a real hands-free driving system ready for this generation S-Class when Cadillac has been doing it beautifully since 2018?  Distronic still requires, at the very least, a touch of the wheel when admonished – a feature you can find in cars costing $100,000 less than this one.  At least it can perform automated lane changes replete with excellent graphical depictions in the head-up display but as a technology leader this has to be embarrassing for Mercedes.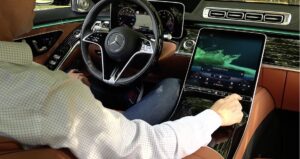 From the wildest head up display that I have ever seen to real 3D map displays this S-Class takes modernity and customization to entirely new levels. But with so much to play with you may have noticed there are actually fewer buttons than ever before.  So, how difficult is it really to accomplish whatever it is you're seeking to do? Well, this second-gen touchscreen interface is now way more intuitive and it's faster which really helps but what I'm finding truly works best are the natural speech voice commands: hey Mercedes, open the sunshade.  See how easy that is? And these voice commands work on just about everything inside of the cabin. Hey Mercedes, start the well-being program.  And then at night…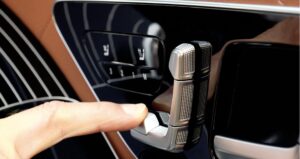 The LEDs are amazing!  This is next level ambient lighting and it's active meaning it's integrated into the driving systems and even the climate controls.  It is mind-blowing so taking this out at night just elevates the experience to crazy-ville.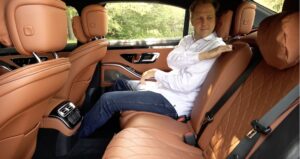 And check out these rear seats.  The pillow headrests, the legroom, the heated and cooled power seats with memory, the sunshades, the separate moonroof, the gorgeous grilles to the 30-speaker Burmester surround sound system that has to be heard to be believed; certainly not shabby and a great place for the chauffeured.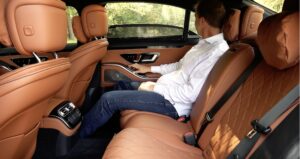 But as much as I love this car I can't help but to think back to my high school history teacher who would always cite the 50' cereal aisle at the grocery store and ask, is this progress?  In other words, the amount of personalization options here, though impressive, often seem superfluous – like they did it just because they could.  Sometimes more choices aren't always better. And never mind these blinking sensors; they're only visible to the camera. 
The one area where Mercedes simplified things is in the amount of builds available.  The S-Class can be had in 3 lines, from least expensive to most there's Luxury, AMG and Executive.  This is the slightly more athletic-looking AMG Line in Emerald Green with 20" AMG wheels, all-season tires, the $6,700 audio system, the Warmth and Comfort Package, the 3D Technology Package, and the turning radius reducing rear axle steering for an as-tested price of $138,530.  As stupid as this sounds, that actually seems like a good deal.  And with a 22 gallon tank and 20mpg, you can drive a very long time between fill-ups.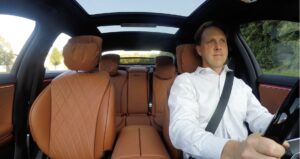 Everything here is just about perfect with the exception of the aforementioned criticisms concerning the lack of slow speed smoothness and absence of hands-free driving and I'd throw in the slightly larger but narrow trunk into that group, as well.  And if this isn't enough – and I haven't even shown you everything –  there's a more opulent S 580 Maybach variant priced from $185,000 and a V12-powered Mercedes-Maybach S 680 is scheduled to arrive next year.     
2021 MERCEDES-BENZ S580 TEST DRIVE BY CAR CRITIC STEVE HAMMES  |  TESTDRIVENOW 2021(c)     
Tagged with:
2021
,
4-MATIC
,
AMG
,
Car Critic
,
Luxury
,
luxury sedan
,
Mercedes-Benz
,
reviews
,
road test
,
S-Class
,
S580
,
steve hammes
,
test drive