2021 JEEP GRAND CHEROKEE L OVERLAND
2021 JEEP GRAND CHEROKEE L OVERLAND TEST DRIVE BY CAR CRITIC STEVE HAMMES
Not long ago, before every manufacturer offered one, if your family drove an SUV it was likely either a Ford Explorer or a Jeep Grand Cherokee.  And over the past 3 decades the Grand Cherokee has advanced to the position of the flagship Jeep, with some trim levels so powerful and opulent that their price tags can rise above $100,000.  But never has there been a Grand Cherokee big enough for a 3rd row.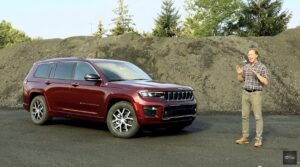 Enter the all-new 2021 Jeep Grand Cherokee L with 7-passenger seating.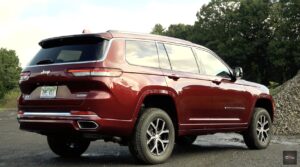 Chrysler, Dodge and Jeep have accomplished the seemingly impossible: letting decades pass before completely redesigning their vehicles while still maintaining their appeal and popularity.  Toyota tries but doesn't do it nearly as well.  Take for example the outgoing 2-row Grand Cherokee.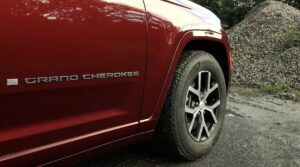 Last redesigned 10 years ago and born from the troubled Daimler days, it's departing as a sales success, trailing only the much newer Wrangler in volume.  But as we await its replacement, due later this year, Jeep is coming in first with its bigger 3-row variant – the Grand Cherokee L.  It now rides atop an Italian-born, rear- or all-wheel drive unibody architecture reducing weight and improving refinement.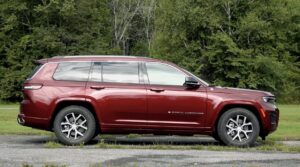 This well-equipped 4X4 Overland model sneaks in at under 5,000 pounds – only 32 pounds more than the current 2-row Overland.  And that lightweighting combined with the more intelligent, fully independent suspension lend to a drive that's more controlled and premium in its moves.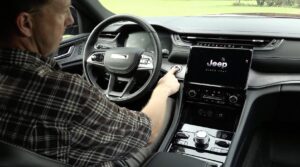 And because comfort and capability is the name of the game in the family-sized SUV segment Jeep has targeted those areas, upgrading the air suspension with a dual tank design more quickly raising and lowering the body, adding adaptive dampers that continuously adjust to road conditions, and enhancing noise cancelling measures. 
There're new manners here that everyone can feel.  And even though this Overland model is slotted below the more bougie Summit and Summit Reserve trims, it's very well-appointed with softer leather seating, massage programs, the upsized 10" infotainment screen, a 19-speaker audio system, night vision, head-up display, power-folding seats and quad-zone climate control.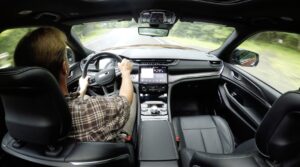 So this one won't leave you wanting and comes in fully optioned at $63,915.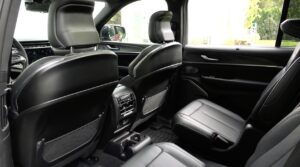 About $40,000 gets you into the Grand Cherokee L with 6 trims available, all with optional 4-wheel drive except Summit Reserve where that is standard.  Another option is a V8, but only on Overland and higher.  Otherwise, your Grand Cherokee L will have Pentastar power – a 293 horsepower 3.6-liter V6 capable of 260 pound-feet of torque.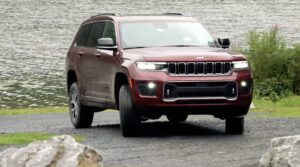 This engine has been a Chrysler workhorse for years but  on paper it looks a little deficient when compared with the direct-injection turbo-4 in the Ford Explorer which generates more power and delivers better fuel economy via a transmission with 2 more gears.  Here, Jeeps uses a smooth engine stop-start system and front axle disconnect to eke out 21mpg on regular but it can tow more than Explorer, rated at 6,200 pounds and boasts a nearly 500 mile driving range.  That being said, the don't-call-me-a-HEMI V8 has been on my mind.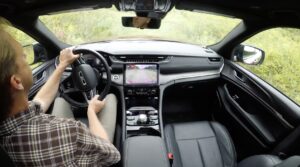 I've put a lot of miles on this one so I've got some interesting takeaways about its drive. For one, the air springs and the new architecture give it the most refined ride it's ever had. It's really well composed and even without the V8 there's enough power here to feel confident in all situations. But on the Highway the transmission feels rough, downshifting with a thud, and the steering assist is crude snapping the wheel as opposed to gently coaxing it. But the least appealing attribute are the crude sounds from the Pentastar. It's as if engineers felt like they had to make it sporty sounding but instead it's just gruff. And because I'm only getting 20mpg here I'd try and reach for the Hemi if I could.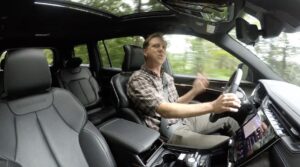 The 8-speed auto isn't entirely right and infringes upon the Grand Cherokee L's premium aspirations.  I imagine the 360 horsepower V8 would help and it can tow a thousand pounds more but 17mpg on midgrade gas might be too much to take.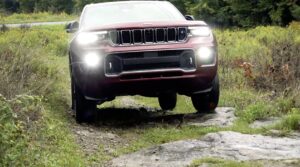 But let's turn our attention to what a Jeep is known for – going off the beaten path.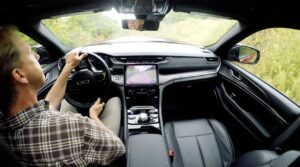 The optional Off-Road Group adds smaller but more aggressive off-road tires and steel skid plates.  And with the Quadra-Lift air springs fully raised giving you nearly 11" of ground clearance this one can ford 2' of water.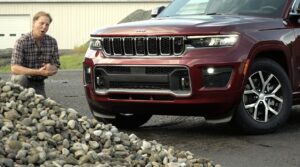 This Overland has the best 4WD system called Quadra-Drive II and includes a low gear set for plodding along the trail and a limited slip differential at the rear to direct the power more precisely between the wheels.  It's a reactive system meaning it needs to detect wheel slip before distributing engine torque though Jeep says in some cases it can also preemptively react to eliminate tire slip.  It works in conjunction with the easy to use Selec-Terrain system with 5 modes which coordinates up to 6 different powertrain characteristics, providing optimized calibrations for the terrain type.  So choose Mud for instance and the suspension jumps to the Off-Road 1 setting adding 1.6" of height.  Need more?  Off-road 2 brings an additional 2.4" of height.  And like the performance pages seen in high performance Dodge models, this one has off-road pages.  They're very cool and Chrysler does this sort of thing particularly well. There's also great camera coverage with a front-facing trial cam and a surround view BUT Jeep goofed by not taking this button off the screen…in parking situations it doesn't stay on once you shift out of reverse and it's buried in here so it can be maddening to find when needed.  Nevertheless, this trail-rated Jeep feels very at ease out here.  Just power fold the mirrors in and you're ready to go.  The approach and departure angles are impressive for a big SUV when the body is all jacked up.         
When you think of off-roading a Jeep you conjure up a Wrangler, right? But there are certainly other Trail Rated Jeeps worthy of muddy fun and despite its size this is one of them. We've had a lot of rain around here lately so this moderate trail is pretty muddy but so far the Grand Cherokee hasn't even broken a sweat.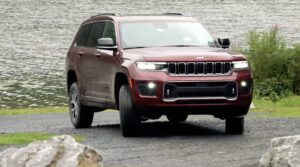 These light all-terrain tires do a nice job both on-and off-road and there's also hill decent control for going down steep grades such as this.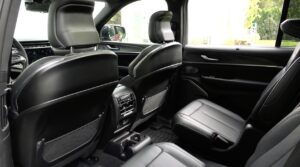 As for the cabin, I like the look of this black Nappa leather and dark wood and it's uncluttered in its appearance.  The controls are simple to understand and the creature comforts are robust.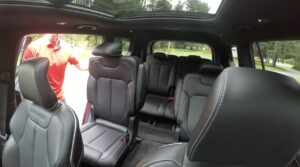 There's really nothing missing here; wireless phone projection, charge pad, a fam cam for checking in on the kids, a digital rear view mirror, heated and ventilated front seats, heated steering wheel, a little bit of ambient lighting, and all of the driver assistance stuff.  But the front seats lack some cushioning and on the highway it's not as quiet in here as I was expecting.  
UConnect 5 is a good infotainment system but it's not as easy as it used to be and it's no longer the industry benchmark. Having just experienced Pivi Pro and MBUX, this feels slow and the navigation voice commands are completely overmatched. And I've always wanted a McIntosh stereo system but as you probably know they're prohibitively expensive so I was excited to see an automotive application here. But I have to say it's several rungs down from those high-end Burmester and AKG systems.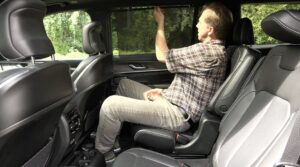 And that's the problem…this thing is dial-up slow despite the fact that it's packed with lots of good features.  And why don't these needles move on the McIntosh app?  Am I doing something wrong here?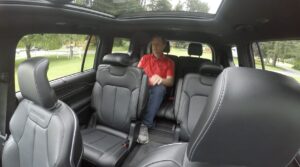 As for spaciousness and 3rd row access…both are great.  This isn't a Lexus RX350L situation where the 3rd row is a complete joke…this is legit adult capable and the seats articulate easily out of the way for clear access or you could just cut through the middle.  The hands-free hatch opens with a clunk but reveals lots of room and one touch power folding 2nd and 3rd row seats.  And if you activate it, the air springs auto lower when you get out so loading cargo is easier.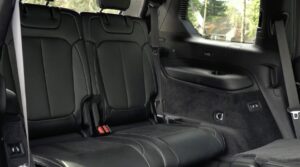 The 2nd row seats afford lots of configurable people space and include manual window shades so 6 people could all be very comfortable in here.   But between the hatch, the engine and the Quadra-lift this thing is always making some sort of noise…knocking down its premium appeal just a bit.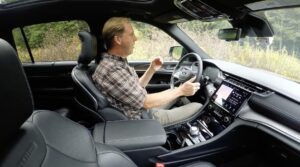 I like but don't love the Grand Cherokee L – at least as configured here.  A little more polish and a tweak here and there could make it great or perhaps that's where the upcoming Grand Wagoner picks up the slack.  
2021 JEEP GRAND CHEROKEE L OVERLAND TEST DRIVE BY STEVE HAMMES |  TESTDRIVENOW 2021(c)
Tagged with:
2021
,
3rd-row
,
7-PASSENGER
,
flagship
,
Grand Cherokee
,
Jeep
,
L
,
latest video
,
Overland
,
reviews
,
road test
,
steve hammes
,
test drive