2022 SUBARU BRZ TEST DRIVE
2022 SUBARU BRZ TEST DRIVE BY CAR CRITIC STEVE HAMMES
2022 Subaru BRZ Limited
People love their Subarus because they're great in the snow; you hear it all the time.  But this isn't one of them.  It's the only Subaru without all-wheel drive and Mother Nature has not played along this week.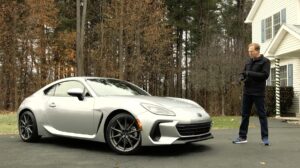 This is the all-new 2nd generation BRZ with a stick shift and summer tires.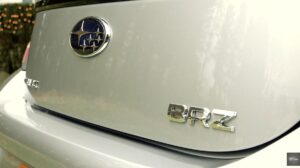 One of the main reasons you would want to spend an extra $2,500 on this top trim BRZ Limited is to get these 18" Michelin Pilot Sport 4 tires – an exceptional set of rubber for a performance car.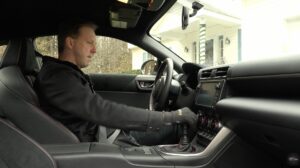 But after a mild start to the fall here in Upstate New York the weather took a decidedly colder turn as soon as Mr. BRZ arrived.  But I have to say, for tires not meant to be driven in conditions such as these they have performed remarkably well allowing me to still experience the upper crust of fun this car was designed to deliver.  
With their over 15-year alliance growing stronger by the day, the BRZ is a jointly developed car with Toyota who themselves market it as the GR86. The 4-cylinder Boxer engine: Subaru.  The fuel system: Toyota.  All-wheel drive?  Nowhere to be found.  Rallyists like Akio (AH-kee-o) Toyoda himself wax poetic about Subaru's hallmark AWD system but it's not desired here.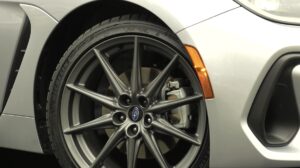 The BRZ is a forthright, real-wheel drive sports car – the kind that's pictured on the endangered species list, 6-speed manual and all.  It sits knee-high to a grasshopper, weighs less than a battery from a Hummer EV and doesn't require a trust fund to acquire.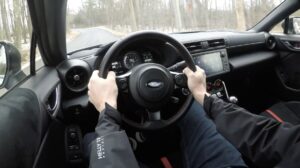 Priced from under $30,000 the BRZ is the kind of car every frugal-minded driving enthusiast would love to have in their stable.  I'm not sure you'd want it as your only ride but for those special times when you're driving not just to get somewhere but rather for the drive itself, the BRZ is a very satisfying choice.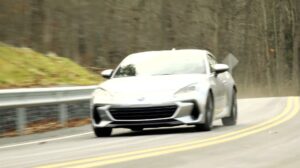 What you need to know is that this BRZ is a major step forward.  The central tenets of the car are the same but this one's just a lot better.  How so?  Unlike the previous BRZ, this one actually feels fast and that's huge because the old car certainly did not.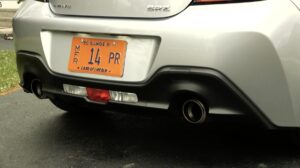 And then there's the cabin – a complete afterthought before – this BRZ presents as uncomplicated but not bargain basement. For $30 grand this is as pure as driving excitement gets – the anti-crossover SUV if you will.  Its purpose is still singular, just taken to the next level of appeal.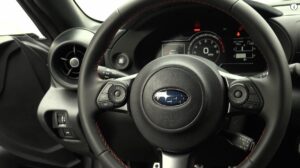 Oh, yeah; this is good.  Really good.  The bigger engine, more power, enhanced sound, increased precision – this BRZ has achieved full maturation without diluting the fun.  I was never a huge fan of the old car but this one, properly equipped with the manual, is a stroke of genius.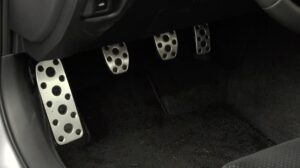 With a naturally aspirated 228 horsepower and 184 pound-feet of torque peaking at 3,700 RPM, this high-revving 2.4-liter 4-cylinder flexes its muscles with excitable acceleration more readily available throughout the gears all while treating you to racy, appealing sounds.  That particular visceral component is left inside however as out here the BRZ just kind of smoothly purrs as it goes by.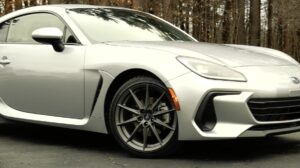 Even with less than ideal road conditions, the Pilot Sports have mostly hooked up surprisingly well, benefiting from the car's Torsen limited slip and an even lower center of gravity than before.  The car turns in beautifully and now has the power to make the next step fun; powering out of the corners.  Zero-to-60mph has improved to close to 6 seconds.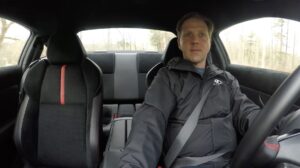 The shifter isn't vague in its action, the clutch is easy to modulate and the gears synchronize smoothly making this BRZ easier to drive in everyday traffic.  And though I haven't had much opportunity to try the Track setting with its more hands-off approach to traction and stability control, the BRZ allows the driver to exactly determine the level of electronic intervention.  And then these manually adjustable sport seats snug you in place but aren't intrusive while the ride comfort is nicely balanced for a sports car without ever feeling punishing.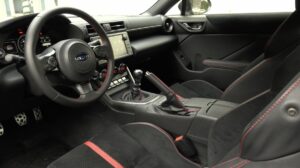 As for the cabin – what used to be a complete afterthought is now much more respectable.  The Limited's inclusion of leather and suede heated seats with red accents classes the place up and the Starlink touchscreen without navigation is basic but not half bad and supports phone integration via USB.  The 8-speaker sound system doesn't carry a brand name but does have good customization features but you're going to have to crank it up…the BRZ isn't quiet inside and with the salt and gravel pinging off the aerodynamically enhanced underbody it can be quite noisy.  As for Subaru's fancy Eyesight system if you want adaptive cruise, lane keep assist and the like you'll have to opt for the automatic transmission which in this case I would strongly urge against because this is the kind of car that truly benefits from that kind of driver involvement a stick shift provides. But this car still gives you blind-spot detection with rear-cross traffic alert.  There's also some performance gauges with which to play and a change to a tachometer-focused display when in Track mode.  You do leave some MPGs on the table choosing the manual however, as the days of rowing your own gears to improve fuel economy are long gone.  It also wants premium gas to help it achieve 22mpg in combined driving though I beat that number this week.  But if you do a fair amount of highway driving you'll wish for a 7th gear here to knock down the RPMs another notch.  Oh, and yes, there are rear seats and no don't subject anyone – even kids to them.  There are no headrests and it's completely claustrophobic.  They do fold down though and Subaru claims a mountain bike will fit in here…I, myself, find that hard to believe but I didn't' try so I'll have to take their word for it.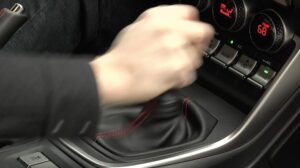 Including destination the MSRP of this car is $31,455.  It doesn't look like much and that's perhaps the BRZ's biggest letdown – I could use some more visual pop for sure – but this is a darn good car for people who still care about driving. 
  2022 SUBARU BRZ TEST DRIVE BY CAR CRITIC STEVE HAMMES  |  TESTDRIVENOW 2021(c)