2022 CHEVROLET TAHOE RST TEST DRIVE
2022 CHEVROLET TAHOE RST TEST DRIVE BY CAR CRITIC STEVE HAMMES
4 years ago Chevy introduced Rally Sport Truck versions of their big boys; the Tahoe and Suburban.  I drove the smaller of the two back then and discovered an $80,000 brute that didn't quite live up to expectations.  But Chevy has revived it for this new generation SUV and for this year reintroduces the big 6.2 V8.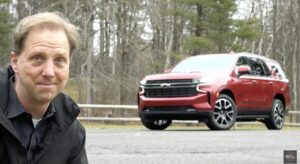 This is the 2022 Tahoe RST and the drive is phenomenal.  
When the Tahoe was redesigned for the 2021 model year it got even bigger but more importantly a whole lot more sophisticated.  It went from primitive to polished thanks in large part to a new independent rear suspension and a new chassis delivering a much improved upon level of ride and handling.  But the top trim High Country model was the only way you could get the 420 horsepower EcoTec3 V8…until now.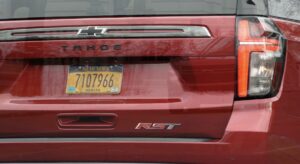 For this year if you want the 6.2 it's optionally available on the 3 trims just below High Country; RST, Z71 and Premier leaving just the LS and LT out of the party.  And it really makes the most sense here on the RST considering this is the sporty model with its numerous blackout treatments, 22" wheels and Victory Red accents on the Jet Black leather seats.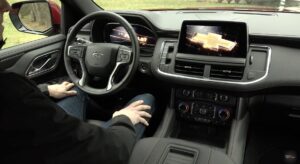 Unlike the 2018 RST I tested this one no longer offers the side-exit Borla exhaust but a richer sounding cat-back upgrade is available as are Brembo front brakes but they're not cheap…choosing those options add nearly $5,800 to the price.  Chevy bundles the 6.2 V8, dual tip exhaust and Magnetic Ride Control in what they call the Sport Performance Package priced at $3,815.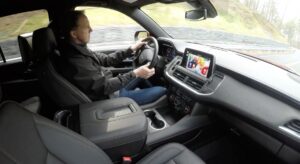 The MRC system reads the road every millisecond to deliver real-time damping and more precise body control – it's an absolute must-have on any Tahoe, providing an exceptionally smooth and luxurious ride.  Even without the air suspension on my last Tahoe High Country tester, this Magnetic Ride Control RST is off the charts good at graceful, big SUV motoring.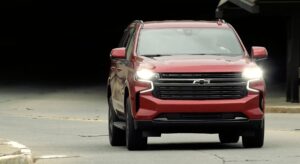 It's almost hard to believe how great this drives.  Not only is the 6.2 powerful but it's also refined and smooth…and thirsty, unfortunately.  But the centerpiece of the RST's luxury level drive is Magnetic Ride Control…holy smokes.  Even on 22s the ride is buttery smooth and never sloppy or truck-like.  Whether you're taking a long trip with it…which I've done, or driving around town, this is very Range Rover-like in its vault-like quietness and supreme ride quality.  Exceptional in every way.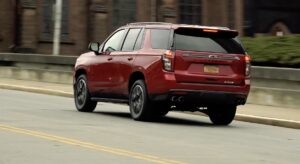 The 10-speed auto is standard across the board and the fuel economy between this and the standard 5.3 V8 is identical…but here's the rub; this one is fed premium gas while the other only needs regular.  Either way 16mpg is going to sting when you fill that 24 gallon tank.  Also, due to the chip shortage, most Tahoes built since this past summer are not equipped with Automatic Start/Stop so there's a $50 credit on this one's Monroney.  With the optional Max Trailering Package, which this one doesn't have, towing capacity is 8,100 pounds – 100 pounds less than with the 5.3 but the 6.2's 460 pound-feet of torque is a huge advantage.  
For year 2 the Tahoe receives a larger, configurable gauge cluster on LT trims and above…very nice…and there's been a change over here as well.  As opposed to simply projecting your phone onto the screen Google is now built-in so there's no phone needed to access Google Assistant, Google Maps and Google Play though wireless projection for both Google and Apple devices is still available.  I'm not a big Google guy so this makes no impression on me but it does allow for simple voice commands to control vehicle functions.  I always test a vehicle's voice commands by first simply asking it to find my favorite sat radio station.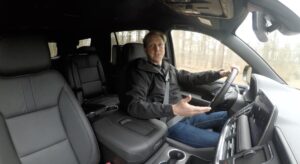 You can now choose various themes and configure the pods to display whatever info you want and it's also the area where the 4 drive modes are selected: Normal, Sport, Off-Road and Towing.  The dial is over here along with the Auto, 4 High and 2-wheel drive settings and looky here: just above is a 360 degree camera button…now moved off the touchscreen for easier activation.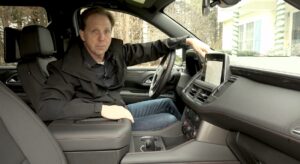 And yes, Google Assistant has responded dutifully to other commands of mine so it adds value but in whole I don't love the Google takeover of the screen.  I thought the previous version worked just fine.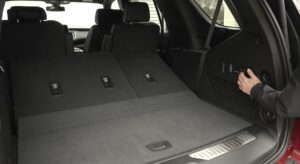 But unlike in the High Country where I was highly critical of the cabin I feel like it presents much more appropriately here in the RST where the textured dash surfaces and red stitching combined with the aforementioned model year upgrades better covey the sporty, upscale persona.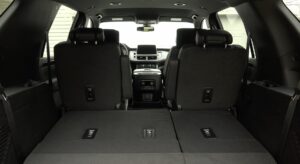 The RST 4WD starts at $66,810 and checks in here at $72,995 with the Luxury Package including items such as heated 2nd row seats, power folding 3rd row seats that act swiftly,  additional switches to create a flat load floor by dropping the 2nd row seats, a heated steering wheel, the 360 degree camera and important safety features including Lane Change Alert with Side Blind Zone Alert and Rear Cross Traffic Alert. 
But why on earth can't you get Adaptive Cruise Control on this model and worse yet Chevy tricks you into thinking it's here with this following distance indicator and gap setting…no one else puts this button here unless smart cruise is onboard making this a little dangerous.  The Rear Seat Media system is a nice get for kids who wish to stay connected beyond their small handheld screen, and the power sliding center console with  large drawer adds big time convenience and storage.  And normally this would have a bench seat here for $370 there are buckets which slide and recline as well as articulate easily for 3rd row access.  To see more on this and the much improved upon 3rd row check out my High Country review by clicking the link up above.  The biggest available option this tester doesn't have is a panoramic sunroof.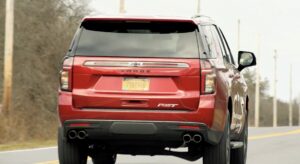 With a 0-to-60mph time of under 6 seconds, big boss styling, and a boatload of available creature comforts and safety features the Tahoe RST is a luxury SUV with a bit of attitude though not a true performance SUV; a nice option to have nevertheless.
2022 CHEVROLET TAHOE RST TEST DRIVE  |  TESTDRIVENOW 2021(c)   
Tagged with:
2022
,
Car Critic
,
Chevrolet
,
Chevy
,
large suv
,
latest video
,
reviews
,
road test
,
RST
,
steve hammes
,
tahoe
,
test drive