2021 MAZDA CX-30 TURBO TEST DRIVE
2021 MAZDA CX-30 TURBO TEST DRIVE BY CAR CRITIC STEVE HAMMES
The CX-30: a tweener from Mazda that immediately became their most compelling model.  But who doesn't like a little more power, right?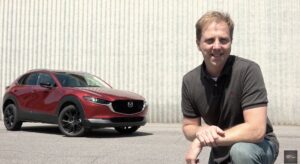 Well, that's exactly what Mazda has delivered here with the new CX-30 Turbo; a car that'll take you back to the Zoom-Zoom days.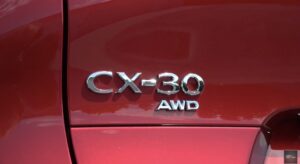 With a starting MSRP of $31,225 including destination, the new 2021 CX-30 2.5 Turbo is capable of a robust 320 pound-feet of torque, offers a notable 8" of ground clearance, standard all-wheel drive replete with an off-road setting and is stylized with premium craftsmanship.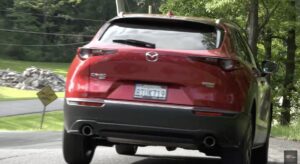 Despite the big power bump, gas mileage drops only 1mpg to 25mpg in mixed driving but there's a caveat concerning the engine's impressive output – the full 250 horsepower and 320 pound-feet are achieved using 93 octane.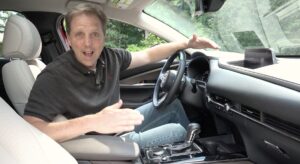 If you can live with 227 horsepower and 310 pound-feet of torque, 87 is just fine.  For you tech geeks, Mazda's Dynamic Pressure Turbo takes a unique approach to building boost. Instead of downsizing the engine for the turbo model as is typical among most manufacturers, Mazda keeps the 2.5-liter displacement the same and employs a different cylinder head and distinctive exhaust header design to expedite gas flow to the turbo with the goal of reducing lag.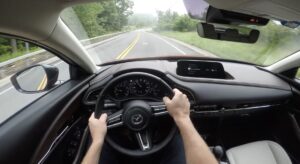 Floor it from a standstill and there's still a brief pause before acceleration builds, lopping about 2 seconds off its 0-to-60mph run – down to an even 6 seconds.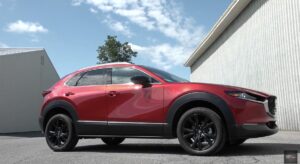 But it's in the midrange during backroad driving where the added power seems most prevalent.  Mazda's still stuck in the 6-speed automatic world but in Sport mode, the CX-30 gets after it pretty good with structural enhancements to the rear differential and a slightly stiffer suspension tune to better support the heavier engine.  Though the rear end of the new 3s use a rudimentary torsion beam it doesn't inhibit a fun drive here and with other features such as Torque Vectoring Control Plus there's a sense of effortless handling and a solid connectedness to the road.  This is also true off-road where the CX-30's reactive all-wheel drive system will initially push the power to the rear wheels with Off-Road Traction Assist engaged and then transfer it to the wheels that need it most, even if one or two tires are off the ground.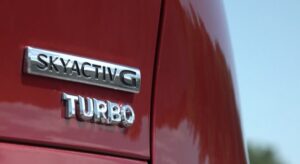 Adding the turbo simply makes a good car even better.  It's just a higher level of fun we used to expect from every Mazda with a real willingness to pull and an agile chassis.  Now, it's all still coated in that Skyactiv programming which replaces the raw, organic nature of a hot-hatch but if you're looking for a little more spice from your small crossover the CX-30 will certainly do the trick.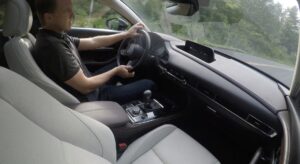 This CX-30 with the Premium Plus Package is as high as you can take it.  In this sultry Soul Red with the white/brown leather interior combo it has a near Volvo-level presence.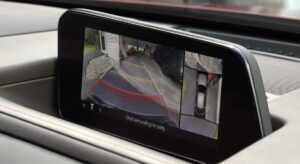 And for the $36,000 asking price Mazda isn't holding back much; there are adaptive LED front lights, a power liftgate, a heated steering wheel, a 360 degree camera with higher resolution, navigation and sat radio, a sharp head-up display with traffic sign recognition, and a host of new driver assistance features such as traffic jam assist that will help with the driving below 40mph, auto high beams, and rear cross traffic alert with brake support.  It's a complete package that leaves you wanting for very little.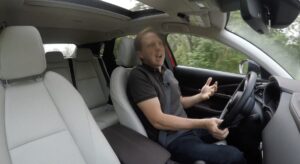 Like I said in my previous CX-30 review this car seems to be sized just right with enough passenger and cargo space to not feel prohibitively small.  And there's a premium touch to what Mazda has done in here with cabin quietness to match.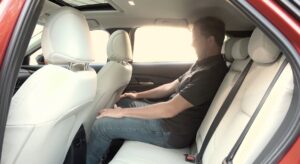 Very comfortable seats, a + sounding Bose audio system, and enough thoughtful features should keep you happy.  Now, on the downside there's this non-touchscreen infotainment system, no wireless phone charging, no wireless phone projection and no power passenger seat.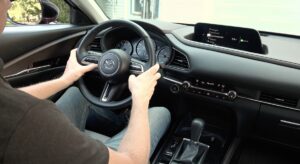 I don't like screens that only have dial control but that's how Mazda rolls.  You can also use speech commands that actually work pretty well.  And the sizing of this car hits a sweet spot for younger shoppers.  Oh, yeah I did end up with a flat.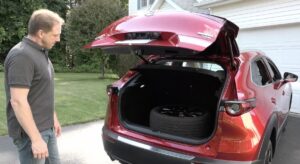 And yes, it was my fault.  So I got to try out the jack and taking out the Bose subwoofer to get to the spare…all very easy.  The rear seats drop flat for expanded cargo room and when it's time for people transport there's enough room back here to not feel tight but accoutrements are next to nil.  I do like the look both inside and out.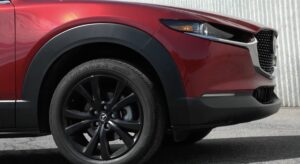 On the 18" black wheels it has a tough, sporty, elegant thing going on that really works. 
Though the CX-5 is Mazda's runaway sales champ the CX-30 has already moved into the number 2 spot selling at a rate similar to that of all of their traditional cars combined, and it's easy to see why.      
2021 MAZDA CX-30 TURBO TEST DRIVE BY CAR CRITIC STEVE HAMMES  |  TESTDRIVENOW 2021(c)