Jaguar XF & F-PACE/Land Rover Defender 90
2021 Jaguar XF & F-PACE/Land Rover Defender 90 TEST DRIVE BY CAR CRITIC STEVE HAMMES
As Jaguar and Land Rover set their sights on an all-electric future there's still business to take care of here in the present.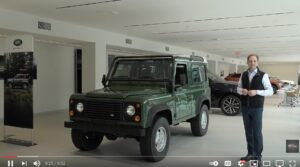 Hi, I'm Steve Hammes from Drive Time coming to you from JLR North American headquarters here in Mahwah, New Jersey.  And today I'm getting some seat time in the refreshed Jaguar XF sedan, F-PACE SUV and the all-new Land Rover Defender 90. 
Under new leadership, Jaguar Land Rover is being reimagined.  Starting in 2025, the goal is to turn Jaguar into an all-electric luxury brand while Land Rover is scheduled to debut 6 pure EVs beginning in 2024 culminating with all JLR vehicles being available in full electric form by 2030.  And distinction between the 2 brands will be much stronger than it is now.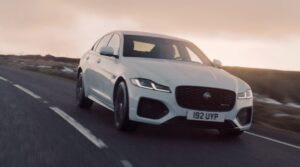 (XF) As the brand marches towards electrification the XF is the only sedan that Jaguar still offers.  They primarily sell SUVs now.  But for the 2021 model year Jaguar has made it easier on their consumers by lowering the number of derivatives of this car and the price.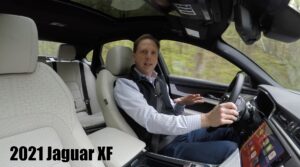 To say the XF sells in small numbers would be an understatement.  We're talking less than 100 per month and it's unlikely these model year updates are going to help much.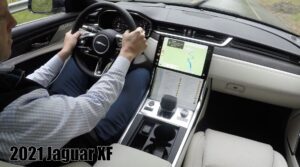 But areas of concern have been addressed, such as the new Pivi Pro infotainment system with its curved touchscreen and over the air updates – a huge upgrade over the previous screen which wasn't even competitive when new.  Still no wireless phone projection however though I'm told it is coming.  The interior features a greater attention to detail, higher quality touchpoints and a focus on quietness. 
As compared to the previous XF, everything but the glove box has been redesigned.  There's new seating with updated colors, a sportier drive selector and Active Noise Cancellation.  It's now offered in 3 configurations starting at $45,045 including destination, representing a rather large decrease in price.  There's the XF P250 S RWD, the P250 SE RWD and the one I'm driving; the P300 R-DYNAMIC SE AWD.  So while the number of possible builds goes from 10 to 3 simplifying choices, Jaguar's naming methodology is more confusing than ever. 
(XF) Now this is kind of funny but not unprecedented because this actually happened to me one time before on another Jaguar shoot many years ago out in California.  But this time I am on my way on the prescribed drive route to a lake and this friendly police officer here just told me that they have closed this road temporarily for a car commercial shoot.  I don't know the brand yet but we should see it soon.  
This is the model with a more performance-focused look and is equipped here with the Dynamic Handling Package with adaptive damping to complement the torque vectoring all-wheel drive and 8-speed auto with paddle shifters.  MSRP as tested is $62,295.     
(XF) I never did get to see what car commercial they were shooting on this road but I can see why they chose it.  It is beautiful, it is windy it is wet today but with the all-wheel drive here and this turbocharged, nearly 300 horsepower 4-cylinder engine in the Dynamic mode it is a pretty exciting drive.  
Still, it faces an uphill battle in the midsize luxury sedan segment – BUT, that's a segment consumers are leaving in droves anyhow.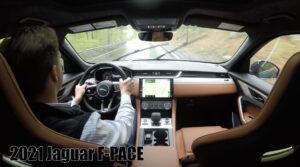 (F-PACE) Next up on today's drive is the 2021 F-PACE; that is Jaguar's mid-size SUV which has been thoroughly freshened this year, as well.  And if this interior looks familiar to you it's because it's very similar to the XF I was just in.  But unlike that car which had a turbo-4 this one has the straight turbo-6.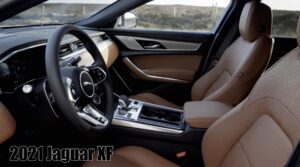 This is the brand's sales leader and it's not even close.  And new this year is the aforementioned, more luxurious cabin, a freshening of the front and rear end styling, and a big powertrain shakeup.  The diesel died a couple of years ago and now it's the supercharged V6 to get the axe.  Now, you've got the turbo-4 as the base engine and 2 mild hybrids…the P340 S which runs with a turbo- and electrically supercharged inline 6 and the one I'm driving, the P400 R-Dynamic S.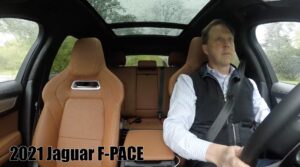 (F-PACE) Far more relevant and exciting to drive is the F-PACE equipped here with 395 horsepower and over 400 pound-feet of torque.  Now, from the outside everything from the a-pillar forward has been updated and just like the XF the number of derivatives offered have has been reduced from 12 to 5 to simplify the buying process.  And even though the XFR has been discontinued the F-PACE SVR lives on if you would rather a supercharged V8.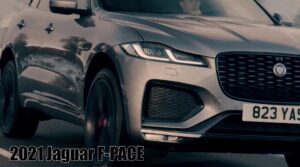 With a 48-volt lithium-ion battery storing energy generated when slowing and braking and then using it to assist the engine and provide smoother start/stop operation, this new arraignment achieves significantly better highway fuel economy, a 17% improvement, and 2mpg overall in in combined driving.  This F-PACE will put away 60mph in 5 seconds flat, a tenth of a second quicker than before.  The new F-PACE chassis has been updated to support the introduction of the new electrified engines as well as enabling the latest JaguarDrive Control with adaptive dynamics and new Auto Vehicle Hold feature.  In addition to the same cabin updates the XF has received, the F-APCE also gets an optional air ionization system that captures ultra-fine particles and 2nd gen wearable Activity Key.  Pricing starts at $51,145.  All-wheel drive is standard.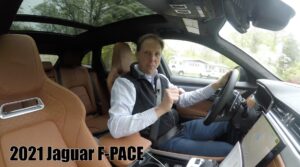 (F-PACE) I've drive a bunch of F-PACEs through the years but I've never really grown attached to them but I have to say that I'm really enjoying the driving dynamics of this R model.  But at over $82,000 I'm not so sure.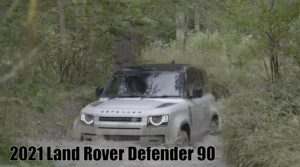 (Defender 90) And last up for me today is the new Defender 90.  This is the 2-door Defender following the 110 – the 4-door – which went on sale last year.  And as Land Rover describes it, this is the one meant for you.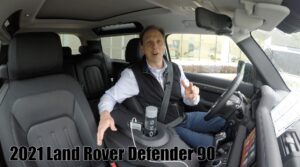 With a shorter wheelbase and a lower price, you can think of the new 90 as more of a coupe experience.  And you certainly don't see many SUVs without rear doors anymore.  With a starting MSRP of $47,125 including destination, the 90 is $4,400 less than the 110 yet the rear seat room is almost identical.  It's in the cargo area where it loses space. Its 31 degree breakover angle is also the best.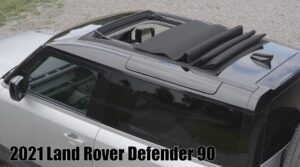 (Defender 90) Unfortunately there won't be any off-roading today but on these windy passes here in northern New Jersey I can tell you the 90 feels even more nimble on-road than the 110 does.  It's a beautiful drive so don't think of the Defender as a one trick pony that's meant for off-roading because out here it feels just as good.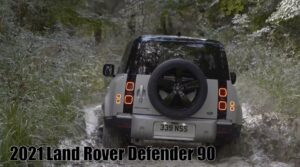 There are 5 trims with 2 different powertrains starting with 2.0-liter turbo-4 making 296 horsepower and here, in this Defender 90 First Edition, the 3.0-liter turbocharged inline 6 with electric assist.  With 395 horsepower and 406 pound-feet of torque, this is the quickest Defender with a 0-to-60mph time of 5.7 seconds with max towing of over 8,200 pounds.  This well-equipped model I'm driving stickers at $66,475 and nets 19mpg on premium and the accessories offered are nearly endless.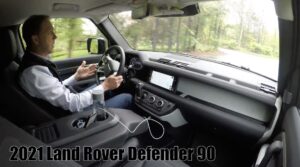 (Defender 90) This is definitely my favorite test drive of the day.  You know I'm a big Defender fan if you've watched my 100 review and this one just seems a little cooler.  It also has some improved off-road chops and even this optional middle seat up here so you could seat 6.  It is a spectacular vehicle both off- and on-road.
And if you're wondering, the 2022 model year offers a familiar 3rd engine to the Defender 90 and 110 lineup – the 5.0-liter supercharged V8 – with a starting price of near $100,000.  
2021 Jaguar XF & F-PACE/Land Rover Defender 90 TEST DRIVE |  TESTDRIVENOW 2021(c)