2022 SUBARU OUTBACK WILDERNESS
2022 SUBARU OUTBACK WILDERNESS TEST DRIVE BY CAR CRITIC STEVE HAMMES
This is the coolest thing Subaru has done in a long, long time. They've taken their very versatile but somewhat dorky-looking wagon and it turned it into jacked-up adventure SUV with a personality.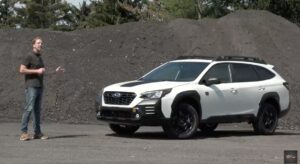 This is the new 2022 Outback Wilderness.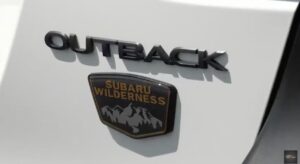 Subaru is a lot of things but cool generally isn't one of them.  So this new Wilderness model is a breath of fresh air.  The Outback is a very versatile wagon but the Wilderness takes it to a SEMA-like, concept car level and leverages the brand's excellent all-wheel drive system in a more exciting way.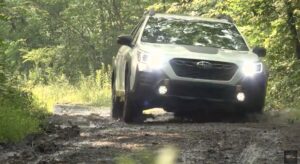 With off-road vehicles super-hot, every automaker wants a Jeep to sell, so to speak, and this is now Subaru's.  It slots in at the top of the Outback's 7 trim offerings and receives the most powerful engine – the 2.4-liter turbo-4 producing 260 horsepower and a healthy 277 pound-feet of torque – considerably more twisting force than a Jeep Cherokee Trailhawk.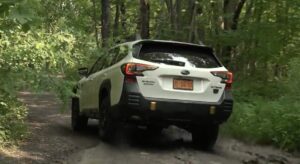 The Indiana-built Outback Wilderness has a starting MSRP of $38,120 including destination and checks in here at $39,965 with the only package available, adding a moonroof, this large multimedia screen with navigation and Reverse Automatic Braking which stops the car to avoid a rear collision.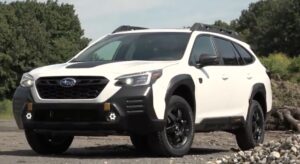 Nine-and-a-half inches of ground clearance, off-road tuned suspension, all-terrain tires, front skid plate and more advanced all-wheel drive control is complimented by the car's extremely cool looks that Subaru absolutely nailed.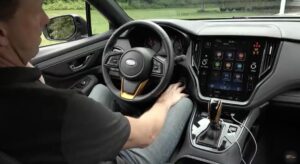 I love this combination of Crystal White Pearl, matte black hood decal and copper-colored accents.  There are also unique front and rear bumpers, larger body cladding over the wheel arches, and hex-designed LED fog lights.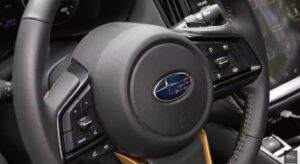 The roof rack has also been upgraded and is capable of supporting one of those neat roof tents.  When you see first see it, it looks kind of crazy because it sits so high on smallish 17" wheels and projects so much bigger than a normal Outback.  But all of this really works and draws positive attention.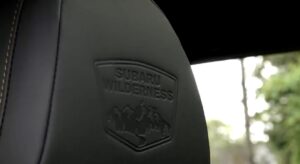 The Wilderness treatment continues inside with seats wrapped in a water repellant material called StarTex with the logo embossed into the headrests.  The cooper color is used in the stitching and as an accent, the headliner is darker and Gunmetal Grey replaces the chrome touchpoints.  And then there are these sweet-looking all-weather floor mats with logo, the rear seatback is also wrapped in waterproof material and the waterproof cargo tray is the perfect place for muddy shoes.  Kudos to Subaru for taking the Wilderness theme as far as they did and not cheesing out.  They really hit this package out of the park.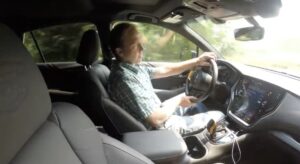 When you sit in the driver's seat you feel like you're behind the wheel of a real SUV.  The added lift also makes it a perfect height for getting in and out.  With the boxer engine facilitating Subaru's signature symmetrical all-wheel drive system and a set of Geolander tires, I knew the Wilderness would feel great out here in the mud, rocks and ruts and it has – like everything I've been throwing at it is a piece of cake.  Deep water, technical trails – it's all good.  Just choose an X Mode for the terrain you're traversing and the electronics trigger the appropriate wheel torque distribution, CVT gearing and automatic hill decent control for confident driving.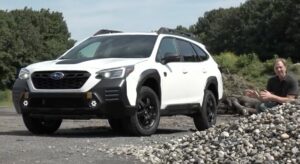 Once you hit speeds over 25mph it automatically switches back to normal with no stopping required.  I just wish it has its own real buttons to engage it – they're up here in a not so prevalent spot on the screen.  An off-road driving page compliments the Snow/Dirt and Deep Snow/Mud modes.  And though there's only one skid plate in the front a differential guard is available as an accessory.  Speaking of which, there are 73 accessories available here covering pets to bikes and everything in between.  You can even get a CD player if you wish.  But all of the enjoyment I've found off-road and in this Outback's design gets a wet blanket thrown on it by the transmission.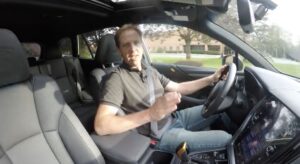 So there's an unfortunate conclusion to the Outback Wilderness story and it centers around the CVT. Short for continuously variable transmission it has no actual gears and is a favorite of Subaru both because it can deliver better MPGs and it costs less to produce. And there are some really good CVT applications out there and then there's this. I'm surprised by how much this one degrades the drive. It's really a killer on country roads where the accelerator constantly needs to be pressed to find any usable power leading to an on/off driving experience that no one would want. It's aggravating and you might miss it on your quickie test drive around the dealership.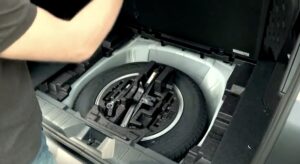 It's sad because it feels like you're driving around in Eco mode except there isn't one and there's also no Sport mode to combat the feeling of lifelessness – the only way to fight it is to use the paddle shifters.  The manual mode faux gearing here is a little more aggressive than in the XT models with a shorter final drive ratio but man – if Subaru gave this thing even a 6-speed auto with normal programming it would make a world of difference.  This one is focused on fuel economy which drops down from 23mpg city/30mpg highway on the regular model to 22 city/26 highway here, still on regular unleaded.  On the bright side, the longer travel suspension makes for a stellar ride quality no matter what road you're on.  It's also luxury-level quiet inside.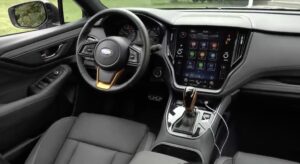 And it's really big.  You forget how much space is in an Outback until you start to play with its cargo area with and rear seat configurations, replete with seat levers.  Having enough room is not a problem and the rear seats even recline.  It's so cool too how Subaru uses these triangles both inside and out to help you locate tow points and tie downs.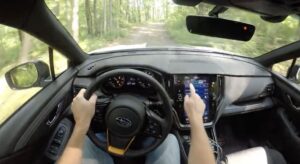 And I haven't felt as assaulted by safety tech in here as I recall – the StarLink system is how you turn features on and off, like lane departure warning and lane keep assist which in Subaru's case can drive me nuts.  It's not very good at its job.  I'd also appreciate a full 360 degree camera here as opposed to the 180 degree front view monitor, especially when off-roading. Steering response LED headlamps with high beam assist are also a nice get.   The sound system is above and beyond – check out all of these unique settings to draw the most out of compressed music and in general the Starlink system is a good one but you guessed it – no wireless phone projection and no standard wireless charging pad – this little space is tight anyway but I hate how the USB cable gets in the way.  For under $40,000 this feels really well stocked and super smart – I can see why owner's fall in love with the user friendliness.  But somehow we need to convince Subaru to reprogram the CVT otherwise proceed with caution.           
2022 SUBARU OUTBACK WILDERNESS TEST DRIVE BY CAR CRITIC STEVE HAMMES  | TESTDRIVENOW 2021(c)
Tagged with:
2022
,
cross over
,
latest video
,
off road
,
outback
,
outdoor
,
reviews
,
road test
,
small suv
,
steve hammes
,
Subaru
,
test drive
,
Wagon
,
WILDERNESS