2020 Hyundai Palisade Review
2020 Hyundai Palisade Review by Auto Critic Steve Hammes
Remember the Veracruz?  That was Hyundai's first attempt at an upscale 3-row crossover. And now look how far they've come; this is the first-ever 2020 Palisade.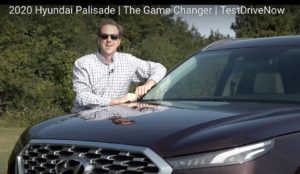 Hyundai-Kia has a new 1-2 SUV punch that is shaking up the status quo.  For a couple of vehicles that have just recently launched, sales are impressive.
The Hyundai Palisade and Kia Telluride have arrived with impeccable timing to disrupt the 3-row segment with a winning combination of fresh styling, lots of room and robust features at a bargain price.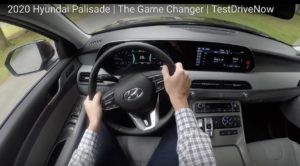 A base, front-drive Palisade can be acquired from the low $30ks while a range-topping Limited with AWD checks in at $47,500.
In my over 2 decades of test-driving Hyundais I don't recall them ever sending me a model that wasn't their highest trim level. But that's not the case here. This is the Palisade SEL – the mid-trim- and the amount of features per dollar here is remarkably strong.  I mean, this is definitely going to give their competitors some heartburn.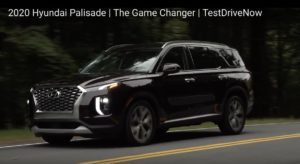 If this SUV had a luxury badge it would cost at least 60 grand but instead it checks in at only $43,205 exemplifying Hyundai's more-for-less mantra.  The cabin looks and feels especially rich, it's impeccably conceived and the features are off the charts.  Things like an auto-leveling rear suspension, complete suite of innovative safety features, and power folding 3rdrow seats with a recline function are items you don't normally nab without purchasing the highest trim level at a much higher price. The SEL receives almost all of the conveniences of the Limited model with just a few notable exceptions; a heads-up display, surround view monitor and panoramic roof all of which are exclusive to the top dog.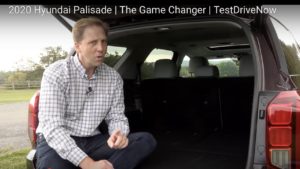 Hands-free liftgates can be, well, handy.  But while most automakers require a kicking motion underneath the rear bumper Hyundai has gone their own way.  With their vehicles you simply need to be in close proximity to the liftgate for it to open.  A method, I, much prefer.
Do you know what Hyundai does really, really well? Ergonomics.  Not only have they long since had one of, if not the best, infotainment system on the market but the way they lay out their buttons and controls is just so simple and intuitive it makes using their vehicles that much more pleasurable.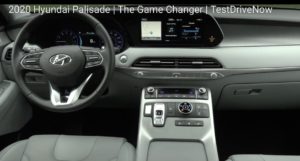 This touchscreen is the best and it's within easy reach of the driver – no need to mess around with touchpads or rotary controllers – and it's packed with great features like this one called Driver Talk – a variation of Honda's breakthrough system – that allows those in the front to make sure their message is heard by those in the back.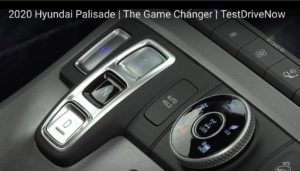 There's also a quiet mode that can be initiated so as not to disturb those who are sleeping.  And the sound system is mighty impressive so that might come in handy.  And whereas other automakers are always looking for ways to save a dime, Hyundai gives you the little things too like LED interior lighting, a quality headliner, and rear window sunshades.  The wireless charge pad is concealed within the spacious center console with cool cupholder rings and the instrument cluster is also very high-end.  The only oddity is that there is no sunglasses holder up above – just a conversation mirror.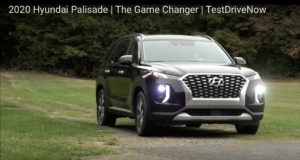 The Palisade may play in the midsize segment but it really feels more like a large SUV from within here.  Second row legroom bests competitors like Pilot, Pathfinder and Explorer, the 3rdrow is also large for its class and – the kids are going to love this – there are 7 USB ports throughout.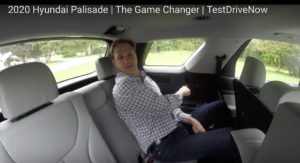 It's big and functionality is high.  The 2ndrow seats slide and recline.  There's a button that moves them out of the way to access the 3rdrow.  And these way back seats are adult usable and feature power recline and a cool vent design with different settings to make sure no one gets car sick.  All very impressive.  And then the cargo area has a nice, deep storage area under the floor and lots of room in total no matter how you configure it.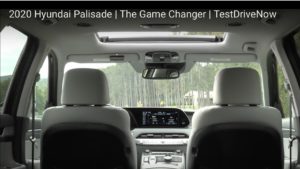 From behind the wheel, the 3.8 V6 and 8-speed auto provide very smooth operation and satisfactory power delivery of 291 horsepower and 262 pound-feet of torque.  And the drive mode system is brilliantly easy and smart with an actual smart setting that automatically adjusts all vital systems to suit your current driving style.  An all-wheel drive lock mode is also a nice get if things get tricky in the snow or out on the trial.  It's not the quietest cabin in the world but it's suitable and the ride quality tends to be just a tad harsher than I prefer.  I averaged nearly 26mpg which is remarkably good besting the EPA estimate of 21mpg by a wide margin.  All told, it's a pleasant drive with enough precision built into the controls to imbue it with a luxury persona.  And this is how you do a push button shifter – simple.  Towing is maxed at 5,000 pounds.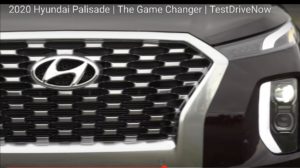 Now, I will say that I much prefer the look of the Telluride – the Palisade's grille does nothing for me.  And with them being so similar I'd probably lean Kia though this Sierra Burgundy paint is killer.
Either way, Hyundai is going to sell a lot of these. It's a stellar product at an even better price.
Tagged with:
all-road
,
auto critic
,
AWD
,
DTwithSteve Hammes
,
Hyundai
,
Kia
,
large suv
,
LUXURY SUV
,
Palisade
,
reviews
,
road test
,
SUV
,
Telluride
,
test drive
,
top picks