2019 Honda Passport Elite Review
2019 Honda Passport Elite Review By Auto Critic Steve Hammes
Honda's all-new Passport went on sale earlier this year to slot in below the Pilot as the brand's 2-row, legitimate off-road SUV.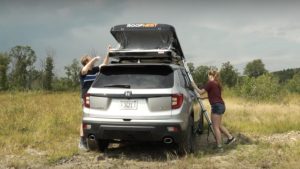 But the one they sent me is up fitted for even more adventure. This one has off-road tires, skid plates, side steps and coolest of all: a rooftop tent.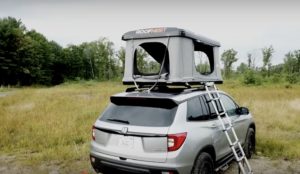 Compared with the 3-row Pilot with which it shares its midsize light-truck platform, the Passport is Honda's more rugged entry with over 8" of ground clearance, a wider track, more aggressive approach and departure angles and 4 all-wheel drive modes to tackle different terrains.  It's powered by an energetic 280 horsepower 3.5-liter V6 and a much improved upon 9-speed automatic transmission.  Pricing starts in the low $30s, slightly more than the Pilot, and is offered in 4 trim levels, the first 3 of which can be specified with 2-wheel drive but what fun would that be?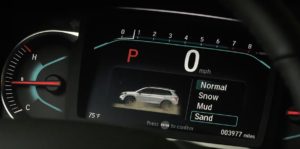 This here is the top-trim Elite model with standard all-wheel drive adding a handful of extras such as ventilated front seats, a heated steering wheel, rain-sensing wipers, a wireless phone charger and gloss black trim. Before the mods this one checks in at $45,268.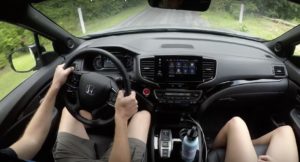 But earlier this year at Overland Expo West Honda showcased the off-road capabilities of their light trucks by equipping a Passport and a Ridgeline with a host of adventure enhancements from Jsport Performance Accessories – an LA-based aftermarket parts manufacturer that specializes in Honda products.  This one I have here is similar to that show truck minus the lift kit, external spare tire holder and additional lighting.  Forgoing the standard 20" wheels, mine is fitted with 18" KMC XD-Series rims with a faux beadlock design, Nitto Terra Grappler all-terrain tires, steel side steps, additional underbody protection, and a tent from Roofnest.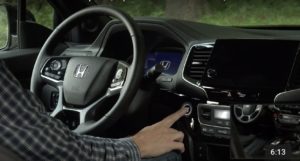 This, of course, is the coolest piece so Maddie and I had to go try it out.  Weighing 130 pounds and mounted quickly to any set of crossbars, the Roofnest Sparrow is designed for small to medium sized cars and pops up as soon as you unbuckle it.  It's waterproof and comes with a lightweight telescoping ladder with specific mounting points…super easy to set up and immediately start enjoying.  The built-in mattress is really comfortable and there's enough room in here to store all your bedding when it's closed.  It retails for $2,595.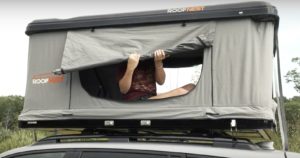 And then later that night in the backyard the girls put the Roofnest through its paces and found it to be a great s'mores eating area and a well-ventilated place to get a good night's rest.  Collapsing it when you're done is a little trickier and most certainly a 2-person job but after my 3rdtime I had it down to a science.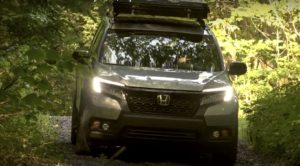 I don't love this concave wheel design because it retains water in the rim but the Terra Grapplers do a fine job of balancing comfort, quietness and off-road performance without getting into one of Nitto's more serious tire options.  These Jsport Pre Run Wheels run $1,495 while the tires add about $900.  The lift kit tacks on an additional 1.5" of ride height at the front and ¾" at the rear but without it these $895 side steps are superfluous.  And rounding out the Jsport enhancements is the $365 skid plate at the front.  All told with crossbars, all-season floor mats and cargo bins this Passport is about $52,000.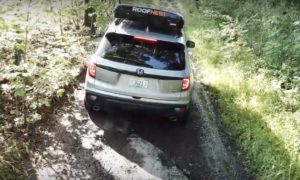 Having an adventure capable vehicle is fun because it allows you to go farther and do more things and for that this Passport is excellent because it maintains its everyday practicality. But I'm not sure I'd want to drive around with this tent on the roof all the time and these tires are a tad noisy but overall not bad…as fitted it's much quieter in here than I would have guessed. Without the lift kit these sidesteps are completely useless and frankly don't even look good so I'd leave them behind on this build. And the only other thing I'd wish for is a factory off-road suspension option that softens this up when the going gets rough.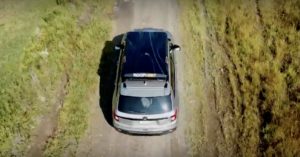 Even on-road I'd prefer a softer tune, otherwise the Passport possesses Honda's hallmark trait of being very user friendly…simple without being rudimentary with comfortable seating and Elite touches such as the 3rdzone climate control, slide and recline rear seats with window shades, and driver assist features such as adaptive cruise control with lane keeping. There's also an oversized center console bin and generous cargo area.  And Honda's i-VTM4 system – their fancy name for torque vectoring all-wheel drive – is vastly underrated.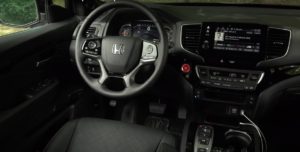 It not only feels great out here with its push button terrain modes but the Agile Handling Assist feature works beautifully on the tarmac providing the Passport with a dialed-in Honda drive.  But I'll reserve final judgement on the Passport's behind-the-wheel nuances when there's not a tent on the roof and smaller off-road tires underneath. I averaged about 21mpg for the week.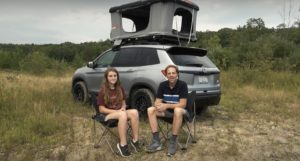 I love the idea of outfitting a Passport with go anywhere goodies and this one is certainly an adventure waiting to happen.
Tagged with:
2 row
,
2019
,
all-new
,
auto critic
,
DTwithSteveHammes
,
Honda
,
off road
,
passport
,
review
,
road test
,
steve hammes
,
SUV
,
test drive