2019 Toyota 86 GT Review By Steve Hammes
2019 Toyota 86 GT Review By Auto Critic Steve Hammes
Scion bid us sayonara in 2016 but some of their models can still be purchased under the Toyota brand including the beloved little FR-S, an affordable rear-drive sports car now called the 86.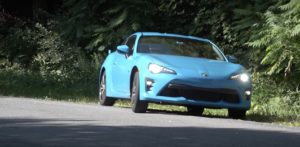 While everyone is drooling over the new Supra, the 86 is over in the corner revving its engine, saying look at me.  I've got your rear-wheel drive fun for half the price!  This is my first spin in this car since Toyota pulled it into their garage and I've been pleasantly surprised by a couple of things; the ride quality has been improved making it more palatable as an everyday driver and after all these years she's looking better than ever.  Though it has its warts, and I'll get to those later, I've had a crazy amount of fun taking this car out of town to the kinds of roads that best serve its purpose; crooked ones.  This is the sole reason this car exists; to provide the driver with the experience we all imagined back when we were playing with Matchboxes.  It's small, light, nimble, noisy and satisfying to shift.  With a very modest 205 horsepower and a skimpy 156 pound-feet of torque peaking way up in the rev range, this is not a stoplight car.  And with a first gear that's a little tricky to engage, it's also not the best car for stick shift newbies.  But with a great set of Michelin summer-use tires, a very mechanical-acting 6-speed manual and a Boxer engine that comes to life the harder you push it, the 86 makes you feel like a kid again and treats the driver to an unflappable, point and shoot sports car drive.  And if you want some tail wagging fun, the 86 includes a 2 stage sport driving mode that backs off the traction and stability controls including turning them off all together.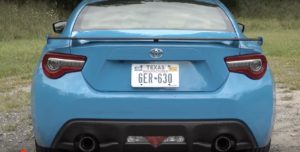 Though torque production is certainly not its strong suit, this Subaru Boxer engine works really well in this application because it keeps the center of gravity low and infuses the 86 with those frisky handling attributes we all love.
Built by Subaru for Toyota, the 86 prefers premium gas but returns a non-sports car-like 24mpg.  But the gears are really closely spaced and it's not until you get into 6ththat the revs really settle into their comfort zone so even though the ride is much more forgiving than I remember, as a commuter car, at least with the stick shift, I'd pass.  An automatic is an option but, c'mon now.  The racy sounds are loud, though not the most pleasing to the ear.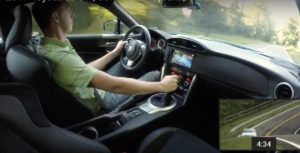 The 86 is all about the drive, which delivers one of the most organic sports car experiences on the market today. As long as you like shifting a lot, you'll love this car. It carves up a road with go-cart-like moves, benefiting from its light weight and quick steering. It doesn't feel slow out here either with excellent throttle response. In many ways it reminds me of a coupe version of the Miata.
At 6'1" I fit comfortably in here but those with broad shoulders will find these sport seats tight towards the top.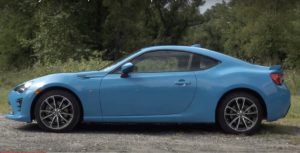 Much like a number of vehicles in Toyota's current lineup, the 86 has been left to age. And not like a fine wine kind of age but more like a rotting piece of meat.  See, much of what you look at and touch in here feels incredibly cheap and outdated. For instance, this clock and this cruise control stalk can be both be found in my 2001 Tacoma.  So, for as fun as this car is to drive this in here is pretty hard to stomach.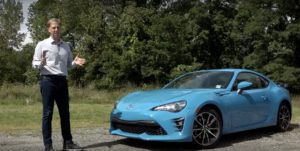 Available in base, GT and new for 2019 TRD Special Edition, the 86 is priced from $27,610 and checks in here, in GT livery with what Toyota calls premium audio with navigation, for $31,904.  Apparently every dime of that goes towards the mechanicals because nothing in here says $30 grand.  Yes there are rear seats; no they're not for humans.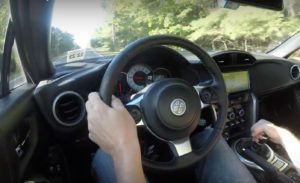 This Neptune Blue example grabs attention and its fun-per-dollar quotient is hard to beat.  But it's really best suited for 2ndcar duty for days when driving is meant to be fun and not a slog.
Tagged with:
2019
,
86
,
auto critic
,
DTwithSteveHammes
,
frS
,
gt86
,
latest video
,
reviews
,
road test
,
Scion
,
sports car
,
supra
,
test drive
,
Toyota