2019 Audi Q8 Review
2019 Audi Q8 Review By Auto Critic Steve Hammes
A recent trend in the luxury SUV segment is to offer a sexier, coupe-like styled variant for those willing to compromise a little utility in favor of a heavier dose of sport. And some of the designs being born are absolutely stunning; for example, the all-new Audi Q8.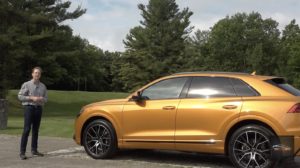 Unlike BMW which has completely fleshed out its SUV lineup from X1 to X7, Audi has some vacancies to fill.  But the upper level of its gas-powered 2-row offerings is now secure with this grandiose Q8.  Priced from just under $70,000, the Q8 has bigtime presence, a meticulously cultivated drive and lots of fresh technology.
Unlike the 3-row Q7 the Q8 is a generously sized 5-seater with impressive towing capabilities. I just love the new proportions, more aggressive stance and this Dragon Orange paint is killer. And having recently tested the new A6 the cabin is completely familiar with the new dual screen touch MMI system that's far more agreeable than its predecessor.
Built upon the same platform that underpins the Q7, Bentley Bentayga and numerous other Volkswagen Group SUVs, the Q8 spans the same distance between the front and rear wheels as the Q7 but checks in a little shorter, a little lower and a little narrower overall.  With the seats folded, the Q8's luggage volume is significantly decreased in exchange for a little more rear seat legroom.  Topping 5,000 pounds it's also a little heavier but with a turbocharged V6 replacing the supercharged engine in the Q7, it's a tad quicker to 60mph, taking 5.6 seconds.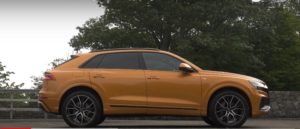 Realquattro all-wheel drive is standard and its notable 7,700 pounds towing capacity is available through the $650 Towing package. And though it may look too pretty for such things, when the Q8 is fitted with the adaptive air suspension there are 2 additional drive select modes; allroad and offroad that provide up to nearly 2" of added ground clearance to get after it on the trail.  Hill decent control and cool off-road monitors complete the Q8's rugged side.  No matter where or how you're driving it, the Q8 is ultra-impressive.
The 3.0-liter engine and 8-speed automatic provide a smooth, quiet, balanced powertrain with 335 horsepower and 369 pound-feet of torque – enough to feel quick and reactive while delivering a respectable 19mpg.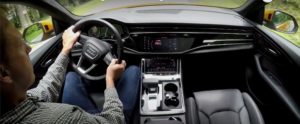 And Drive Select is a great Audi feature to choose pre-programmed driving profiles.  There's actually a bit of Land Rover once you step inside where the power close doors and double paned glass create that hermetically sealed environment with a high perch affording a large and in charge view of the road.  The steering feels quick and perhaps a little twitchy on these oversized tires but the suspension quickly rubs out rough patches while smartly communicating the road to the driver.  You feel it but in a highly engineered, satisfying sort of way. And it handles beautifully, like a large luxury sedan with confident, flat cornering and exact movements through the innovative use of all-wheel steering.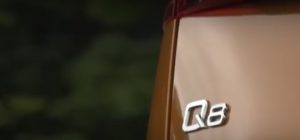 The Q8 has a super-solid, highly sophisticated feel from behind the wheel underpinned by an air suspension and huge 22" wheels. The ride quality is exemplary, the steering quick and precise and the cabin as quiet as a library. It's a very rewarding drive both in terms of comfort and handling. Of course it wouldn't hurt if there was more engine here but I guess that's why the SQ8 is on its way.

There's a 48-volt electrical system on board to provide longer engine-off moments during traffic stops in order to save fuel.  And then there's the new electronics…but I've already acclimated myself to them in the A6 so I was up and running in no time. Mostly, because they're easy.  The touchscreens function like invisible buttons with feedback to your finger and things can be pinched, zoomed and moved in intuitive ways.  You can speak naturally… or use handwriting…and the features are most impressive such as the 3D surround view camera, Google Earth mapping, gorgeous ambient lighting choices and spa-like massaging seat functions.  The cabin is simple yet fortified with tremendous technology including all of the safety bits such as a heads up display and Traffic Jam Assist adaptive cruise control.  I love the convenience of items like wirelessCarPlay and the console-based charge pad…though it vastly limits small storage space.  As for streaming your music, the B&O sound system is mind blowing.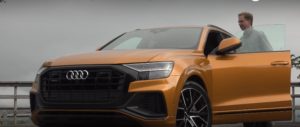 For rear passengers the seats slide and recline for maximum comfort replete with their own touch climate controls.  And then with the air suspension, you can lower the cargo area for greater ease when loading, there's a nifty cargo cover that's actually easy to remove when needed, and though smaller than the Q7, there's more than ample room to haul.  The seats do split fold but only from the 2ndrow where they reassuringly click into place.
With the Year One Package and a host of other equipment groupings this loaded Q8 Prestige stickers for $89,940 and looks incredibly appealing, with black optics and wild LED light animations.  It's a head turner as long as you don't mind Audi's recent penchant for faux exhaust outlets.  And if you can't tell, I want one…I think it's the best of this type currently on the market though I'll be curious what the new BMW X6 has to say about that later this year.
Tagged with:
2019
,
auto critic
,
DTwithSteveHammes
,
latest video
,
Luxury
,
LUXURY SUV
,
Q8
,
reviews
,
road test
,
SUV
,
test drive
,
top of the line