2019 Dodge Challenger Hellcat Redeye
2019 Dodge Challenger Hellcat Redeye Widebody Review By Auto Critic Steve Hammes
Because the Demon was a one and done and the Hellcat only made 707-horsepower, the crazy minds at Dodge SRT have birthed another Hellcat baby – the Redeye – making an outrageous 797 horsepower.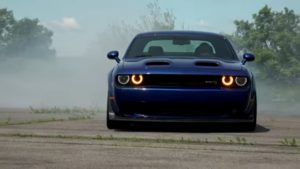 Since its triumphant return over a decade ago, Dodge has done a brilliant job of keeping its retro-styled muscle car relevant without putting it through a complete redesign.  A slew of variants through the years offering more and more power have fueled the Challenger's sales which now exceed the Camaro's.  And I've driven almost all of them but this one is the most over-the-top.  Its name is a mouthful but each part is significant; this is the SRT Hellcat Redeye Widebody…a Demon-possessed supercharged Challenger that ratchets up the Hellcat's output and broadens its stance with high-performance rubber that's over an inch wider.  The new Redeye models go faster capable of a 203mph top speed and a 10.8 second ¼ mile at 131 when equipped with the $6,000 Widebody Package.  Overall, the fender flares add 3.5" to the car's width to fit the 305 Pirellis and there's a Widebody competition suspension for improved handling.  Bottom line – this is now the top dog Challenger and it's every bit as devilish as it sounds.

Take the 6.2-liter HEMI and give it a bigger blower with greater boost, raise the redline to 6,500 RPM, add a second fuel pump to feed it and build it a larger air box and the result is the Redeye's 797 horsepower and 707 pound-feet of torque.
The regular Hellcat sees a power bump this year too, now up to 717 horsepower.  But this high-output version contains a lot of Demon bits like the Power Chiller to lower the intake air temperature and the After-Run Chiller that keeps the supercharger's coolant temperature in check once the engine shuts down.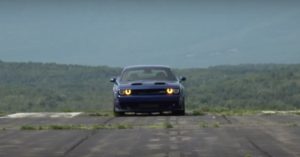 The new dual snorkel hood packs in the air while reducing its intake temperature by 4 degrees and this cool Air Catcher headlamp furthers the flow. An upgraded torque converter for the 8-speed auto does a better job of transmitting the power.  This is a transcendent muscle car with modern engineering that permits it to run casually around town, law-abiding and tame AND then go completely unfettered gonzo at the press of a button.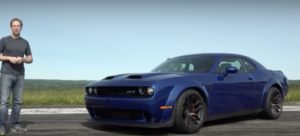 Talk about crazy!  I never thought I'd be driving a factory car with nearly 800 horsepower but if anybody was going to do it, it was going to be Dodge.  After a couple of days of learning what's prudent with this car on public roads, I'm completely comfortable with it now.  And the key to daily driving this beast is the Auto drive mode that tranquilizes the Hellcat to the degree where it feels like a regular HEMI-powered Challenger…even nabbing 16 mpg.  And then when you're ready for something friskier, jump on over to Sport mode and that's where the full power is unlocked and the rear end gets a little slippery.  You can roast these tires all day but it's easy to control and so much fun.  The superhcharger whine, the violently fast shifts the super stiff suspension, this Redeye Widebody is no doubt highly capable but it's still really more of a show-off car…something that brings the shock and awe to the car show.  On a scale of 1-to-10 it's an 11.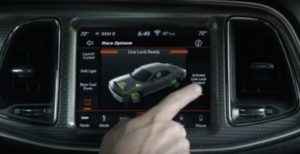 Confident handling is most certainly more attainable here than in the last Hellcat I tested where these ultra-wide tires really dig in and the electric steering is heavily weighted providing constant feedback to the driver.  Remember, the Challenger isn't your typical sports car…it's big so driving it fast is a much different experience.  It not only looks retro but it feels that way too with oversized features and the ability to easily steer the car with your right foot.  There's a line lock feature to clean the rear tires and launch mode to take it down the strip with enhanced control…though it still squirms a little as you stay in it.  It's an exhilarating feeling of sights, sounds and smells that's truly unlike any other.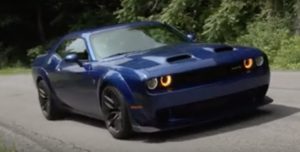 No one does detailed gauges and performance-oriented electronics like Dodge. I mean you can monitor every minute detail of the engine and all of your driving heroics through these deep analytics. It's really impressive. Less so is this cabin…which hasn't changed much over the last decade and is in desperate need of an overhaul.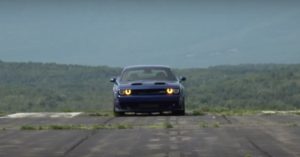 And this car has been optioned with the super soft Laguna leather and lots of other niceties for an as-tested price of $89,105 after starting at about $76,000.  I know you're paying for the power but at least a little more attention in here would be nice.  The best part is the UConnect system that still remains one of the best infotainment setups on the market, containing so much useful information in an easy to use format.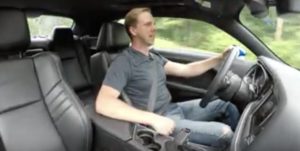 The seats are both surprisingly comfortable and supportive and the driver information display packs the same depth of info as the touchscreen.  The 18-speaker Harman Kardon sound system is a huge disappointment, however.  But besides the splash screen and the tiny bit of red seen in some, not all of the Hellcat logos, I wish there was more Redeye distinction.  How about a grille mounted Hellcat that pulses red when the car is started? And by the way, you can delete the rear seats if you don't need them.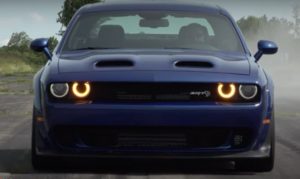 I've loved my week with this car.  It's a great mixture of serious performance and grandstanding theater like the cool names that Dodge gives everything, the Red key that unlocks the car's full potential – they certainly know how to tell a story.    Any red-blooded American car nut would want this Challenger in their garage, just grab the Visine first.
Tagged with:
2019
,
797 hp
,
Challenger
,
dodger
,
DTwithSteveHammes
,
hellcat
,
HEMI
,
latest video
,
Redeye
,
reviews
,
SRT
,
top picks
,
Widebody