2019 Mercedes Benz C 300 Cabriolet
2019 Mercedes Benz C 300 Cabriolet Video Review by Auto Critic Steve Hammes
2019 Mercedes-Benz C 300 4MATIC Cabriolet
It seemed like summer weather would never arrive but it's finally here which means it's convertible season.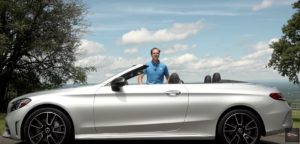 And which brand sells more top down models than any other? That's right; Mercedes. And this one here is one of their most affordable. The refreshed C-Class Cabriolet.
With its launch in the fall of 2016, this is the first convertible based on the compact C-Class – Mercedes' best-selling car.  So now you can get your C-, E- and S-Class in Cabriolet specification.  This soft top is priced from the low $50s and comes in 3 primary flavors – the base C300 with optional all-wheel drive and 2 AMG variants.  For the 2019 model year, the C-Class trio of Sedan, Coupe and Cabriolet receive new front and rear styling, a larger multimedia display, an optional digital instrument cluster and a slightly more powerful 4-cylinder base engine.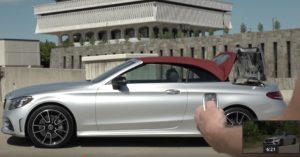 In Iridium Silver with the red top, AMG body styling, blacked out night package, and new intelligent LED headlamps with ULTRA WIDE high beams this is a phenomenal looking drop top.  It has that classic yet sporty Mercedes-Benz appearance that garners a long stare.  And I love convertibles so I'm all in on the C-Class Cab which actually comes with 2 usable rear seats and relatively decent-sized cargo area with a power trunk separator.  When the top is up, carrying capacity can be expanded all the way through the rear seats with switches back here that do the folding.  The soft top is, of course, fully automatic, can be operated from outside the car with the key fob and is multi-layered with an acoustic design to quell ambient noise.  And this is one of those rare convertibles that looks just as good with the top up as it does with it down.  The automatically deploying AIRCAP system in combination with an electric wind blocker knocks down the turbulence, particularly for rear passengers who actually get some legit legroom.  So grab a couple of your friends and go for a ride…no one has to suffer.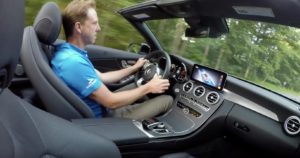 Especially if it's outfitted like this one with all of the goodies to keep you comfortable and entertained.  There are heat-reflecting leather seats with heating and ventilation, the awesome AIRSCARF system with 3 levels that blows a warm stream of air at neck level to keep you warm on chilly days, a specially developed climate control system that knows whether the top is down and blows warmer air onto the driver's hands, a 13-speaker Burmester Sound System, and a 64-color ambient lighting package that creates even more coolness at night.  You sit too low to comfortably hang your arm on the door and the passenger seat belt annoyingly bangs around in the wind without a clip to hold it in place otherwise this luxury-laden example is a great way to go cruising in high style and complete comfort.
As for the powertrain, it's a lackluster disappointment.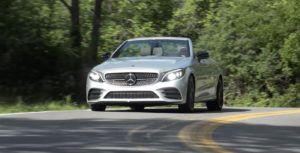 Optioned like this, the C300 Cabrio is a beautiful Benz, even with the top up. But with so much show there's very little go. This base 2.0 liter engine is for those who envision this as their coastal cruiser, a summertime beach runner where the excitement of driving a convertible is focused on the wind in the hair experience. And for that the C300 is a really nice fit. But from a pure driving perspective this is as boring a ride as you'll find from Mercedes. The handling is curvy road worthy but with so little power and no visceral sound this is not a car you'd chose to get the heart rate elevated.
Horsepower is up to 255 this year while the 273 pound-feet of torque remains the same, producing acceleration that's marginally faster to 60mph, taking 6.2 seconds while gas mileage drops by 1 mpg to 24mpg in combined driving.  Mated to a 9-speed auto with paddle shifters the thrill level is low making the multiple drive modes seem especially superfluous.  A rear-biased all-wheel drive system seems somewhat strange here but combined with the selective damping sport suspension and a great set of staggered width Continental summer tires the C300 welcomes a curvy road with flat cornering and retained body rigidity.  The ride quality is boulevard approved.  But it's quiet and underpowered so there's not much joy to be extracted from behind the wheel.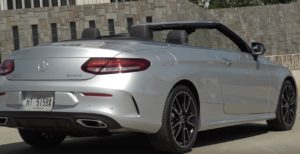 The enhanced interior is quite nice with a heads-up display, a 3-way configurable instrument cluster and a modern infotainment system that isn't touchscreen but is fairly easy to control via new haptic feedback controller, expanded voice commands or these cool little steering wheel touchpads. Some items though, like manual shifting and traction control off are buried in here where they should have their own buttons.  There's also wireless charging but not wireless CarPlay. All told, it's not Audi cool but it's pretty sweet.
And then there are all of the driver assistance features highlighted by a route-based adaptive cruise control system that automatically slows the car in turns and roundabouts.  The Surround View System is also helpful.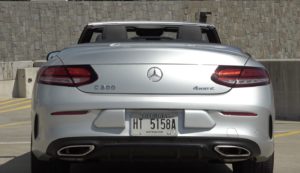 So instead of spending $70,725 on this one I'd step up to the AMG C 43 with its 385hp engine and a starting price in the mid-$60s. And for the real crazies, there's the C 63 S Cabriolet with over 500 horsepower for about $85,000.
Tagged with:
2019
,
4MATIC
,
AMG
,
auto critic
,
C 300
,
C43
,
c63s
,
Cabrio
,
Cabriolet
,
Convertible
,
DTwithSteve Hammes
,
latest video
,
Mercedes-Benz
,
reviews
,
road test
,
test drive