GMC ACADIA 2017 VIDEO REVIEW
GMC ACADIA 2017 VIDEO REVIEW BY AUTO CRITIC STEVE HAMMES
The Acadia has long since been one of my favorite 3-row crossovers delivering big-time spaciousness, an impeccable ride quality and handsome styling. Well the time has finally come for its complete redesign and this all-new 2017 model is bucking the trend by going smaller.
The last time you saw me in an Acadia was 3 years ago when the family and I took this Denali on a very long road trip to Florida where its stellar big crossover attributes shined. I couldn't have been more pleased. Now almost a decade after the original's introduction, an all-new Acadia is here…it's still V6 powered and capable of seating 7 – though not 8 – but the wheelbase has been slashed by over half a foot. It's shorter, narrower and about 700 pounds lighter. Combine that with an updated 3.6-liter engine making more power and the Acadia drives with even more zip, feeling downright fast from a standstill and every push of the accelerator thereafter. The increased 310 horsepower and 271 pound-feet of torque still work through a 6-speed automatic transmission and a new all-wheel drive system with a disconnect mode to save fuel. It's controlled through this new drive mode selector which can effectively disconnect the rear axle from the drive system when the sailing is smooth. Other modes include 4X4, Off Road and Trailer/Tow…for which this Acadia is now rated at 4,000 lbs. max, down from 5,200. The rotary knob can be a bit directionally confusing and there is no graphical depiction of the changing modes in the driver display. Slotted just below this Denali is the new Acadia All Terrain which comes with a more advanced all-wheel drive system for enhanced off-road driving. The optional chassis package is a must have for those seeking the most optimal suspension tune, allowing the Acadia to traverse any surface with complete composure while also benefitting back road driving. It's priced at $1,200 and continuously adjusts the shocks and struts for a beautiful balance of ride and handling. With the reduction in vehicle size and the use of Active Fuel Management to minimize the engine's cylinder use from 6 to 4 when conditions allow, the Acadia Denali AWD picks up 3mpgs, now rated at 18mpg city/25mpg highway with its driving range extended to 440 miles.
Now, to where a 3-row crossover earns its keep; inside. For the driver, the Denali provides the expected range and then some of active safety features utilizing all of its technologies to prevent any sort of possible accident. Flashing lights, sonorous alerts and even a vibrating driver's seat – if danger lurks the Acadia lets you know. Plus, it can automatically keep you in your lane, display a complete surround view of the vehicle and even remind you to check the 2nd row seats before leaving to avoid a child being left behind. Auto high beams, teen driver settings and the safety of OnStar round out the extensive offerings. I was very comfortable behind the wheel during a long road trip and the cabin is appropriately quiet.
The rear seats slide fore and aft, are elevated so you can see above the front seats and come with climate control and heated outboard positions. There are USB ports and a new storage tray and legroom is now more generous. Where you get squeezed is in the 3rd row unless you can convince those in front of you to slide up. Still, it's a usable space with another USB port and can be accessed with one hand. You can also leave a child seat in place when doing so. The dual sunroofs are extra.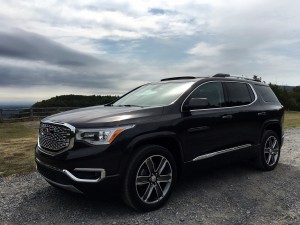 The tech is excellent. GMC's IntilliLink system is very easy to use and supports the latest smartphone connectivity, the Bose sound system is rich and having a fast Wi-Fi connection is very cool.
Where the Acadia shrinks is in cargo capacity…big time. Space behind the 3rd row is halved and max cargo room, aided by 2nd row seats which can be dropped from the back, is down over 35 cubic feet. Due to technical difficulties, the right side doesn't show it here, but the seats do fold flat. There's also a hands-free liftgate but just like in the Caddy I recently tested, its foot activation is temperamental.
The engine feels stronger than ever, its diminished size affords crisper handling and the ride quality is even better than before…and that's saying something. Yet I can't help but wonder if GMC will regret going smaller with the Acadia. Plus, for a Denali trim there are some features which are missing.
Head-up display, power folding mirrors, LED lighting – there are absent goodies which I expected. Plus, I don't view the styling as an improvement – its newfound curves erase much of the previous Acadia's big-time presence.  This one just seems to blend in now.  Priced at $52,185 as-tested, the Acadia Denali continues to be a solid albeit smaller offering that satisfies; different but not necessarily always better.
Tagged with:
2017
,
Acadia
,
auto critic
,
AWD
,
CUV
,
Denali
,
DT with Steve Hammes
,
GMC
,
latest video
,
LUXURY SUV
,
reviews
,
road test
,
steve hammes
,
SUV
,
test drive