2021 Porsche 718 Boxster GTS 4.0 TEST DRIVE
2021 Porsche 718 Boxster GTS 4.0 TEST DRIVE By Car Critic Steve Hammes
Back around the time I first started test driving cars for a living there was a roadster rebirth and the Germans were all in: The Z3, the SLK, the TT and the Boxster ushered in a new era of open air motoring.  But this is the one that had the most desirable drive and now almost a quarter of a century later with a slightly different name and a price tag than can exceed 6 figures, it's still the one to have.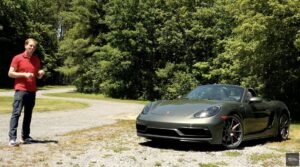 If you're like me, the slog of daily driving is enough to send you to therapy.  It's not fun, you're surrounded by hostiles and more often than not the car is standing still.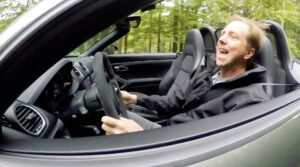 But a cabriolet such as this will adjust your attitude in a heartbeat. Small, nimble, precise and oozing with emotion, the Boxster – with the top down and the 6-speed in your hand – is the perfect antidote to commuting madness.  And this isn't just any Boxster – it's the new GTS, positioned above the S and below the Spyder.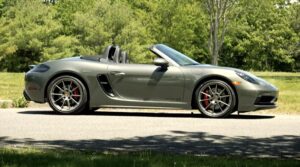 The Boxster was last redesigned 5 years ago at which point the introduction of the turbocharged flat-four spawned a name change to 718 Boxster as a nod to similarly powered Porsche race cars of the 50s and 60s.  And the previous GTS, which took the 2020 model year off, was also powered by a 2.5-liter turbo leading some Porsche aficionados to cry foul.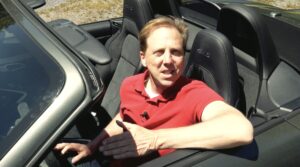 Well, your pleas were answered as this new 718 GTS receives a 4.0-liter naturally aspirated flat-6.  Now, it doesn't make it lighter or any quicker but there's a distinct sound and throttle response here that makes it feel even more Porsche.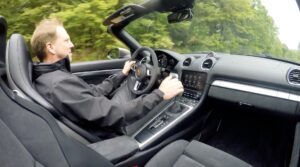 GTS models receive special styling, they're faster and come with a sportier suspension tune YET their drivability remains everyday balanced.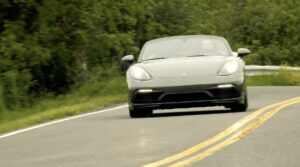 This car sits lower than a standard Boxster, has an adjustable suspension, packs a Sport Exhaust system with a switch for a more vociferous mode, and is fitted with standard sport seats, here with optional 18-way adjustment and power bolsters.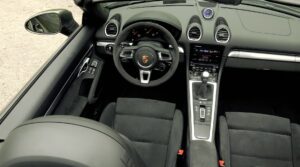 The Sport Chrono package is also standard which includes a Sport setting for the stability management system affording more driver control on a racetrack and Active Drivetrain Mounts which minimize vibrations and reduce adverse movements.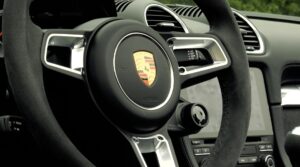 The drive settings themselves are right here on the wheel and include Sport and Sport+.  20" staggered width summer-use tires adhere to the road with amazing grip.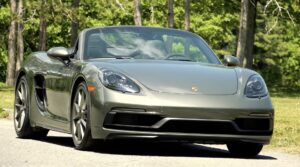 And with a high revving engine, the best 6-speed you'll ever drive and hallmark Porsche precision in the controls the GTS invites vigorous operation but also happily performs serene top down motoring your passenger can also enjoy.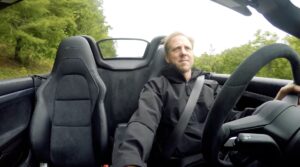 I am not a saves the manuals member – basically because I just don't care that much. But, as I've always said, in the right car I definitely want one and this is one of those cars.  Much like my last experience in the manual 911, I'm reminded here that no one does stick shifts better than Porsche.  This is mechanical brilliance that elevates the driving experience.  So unless you're just not capable, choosing the PDK over this is doing yourself a real disservice.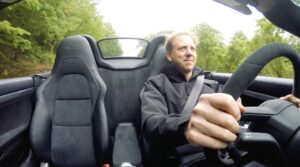 You really do sit low and the seats have enough travel to easily accommodate even those taller than 6'.  The judicious use of Alcantara keeps things warm and fuzzy and that's been welcome this week which has been unseasonably cold…I've even used the heated seats.  And when it rains – and it's done plenty of that – the top is completely power operated and the cabin remains reasonably peaceful.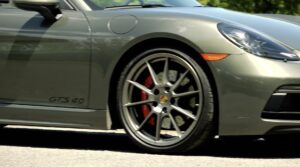 And though there's only a little stuff-it space in here, the dual trunks are especially helpful and provide more cargo space than you'd ever expect from a 2-seat convertible. So take that out of town trip and find the backroads because this car loves exercising its legs.  Its 394 horsepower is 44 more than the turbo Boxster S and its 309 pound-feet of torque is enough for easy take offs and spirited runs to 60mph in 4.3 seconds – 1/0th faster than the S model but if it's the quickest acceleration you're after the PDK chops a full half second off of that time.  But resist the temptation.  Because the manual – with its downshift rev matching feature in Sport mode and higher – more than makes up for that lack of time through its satisfying driver involvement.  And its top speed is higher at 182mph.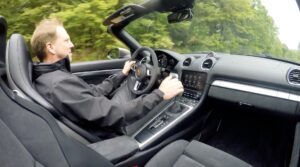 It's funny; not too long ago having a turbo was cool.  But over the years the turbo has become more an instrument of fuel economy and less so performance which has led to them showing up in almost everything and the subsequent cries to return to naturally aspirated engines – it's seems we always want what we can't have.  But whether it's the more direct connection between your right foot and the feeling of acceleration or the unique sound you get when turbos are left out, there's a case to be made for bringing the flat-6 back to the Boxster GTS.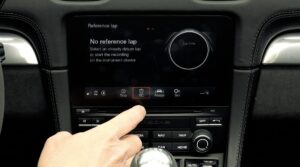 So what's the cost for this type of weekend pleasure?  Well, it's not cheap – surprise-surprise – the GTS starts at $26,900 more than a base 718 Boxster at about $91,000.  This one – with a shockingly small list of options for a Porsche – checks in at $100,600.  One of those extras is the Aventurine Green paint which mostly looks gray until the sun hits it and one of options not here which I would certainly get is Entry and Drive because I'm not into keys anymore.   Equipped with cylinder deactivation gas mileage is rated at 19mpg.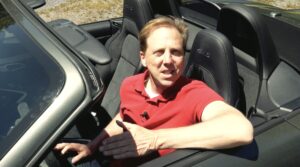 Oh, how I'd love to own a car like this for those early morning weekend jaunts and trips to the shore.  It's a lot of money but for some a Miata just isn't going to cut it.
2021 Porsche 718 Boxster GTS 4.0 TEST DRIVE By Car Critic Steve Hammes  |  testdrivenow 2021(c)
Tagged with:
2021
,
718
,
boxster
,
Cabriolet
,
Car Critic
,
Convertible
,
gts
,
latest video
,
Porsche
,
reviews
,
road test
,
steve hammes
,
test drive