5 NEW ELECTRIC CARS ARRIVING
5 NEW ELECTRIC CARS ARRIVING – SPECIAL REPORT BY CAR CRITIC STEVE HAMMES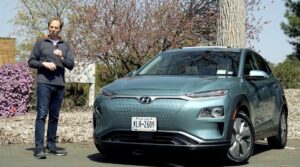 There's no denying it: the electric car revolution has just begun as more or more manufacturers make commitments to a carbon neutral future.  And if you're shopping for one you might want to pump the regen brakes for just a moment: here are 5 new EVs arriving in dealerships this year.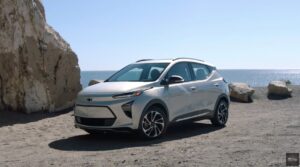 You're already familiar with the Bolt – Chevy's cutting edge EV which has sold more than 100,000 units since its introduction in 2017.  But now, it's joined by the Bolt EUV.  The U is for utility turning this Bolt into a mini-SUV.  About 6" longer than a standard Bolt, the EUV offers a roomier interior and ample rear legroom.  And get this: it's the first Chevy to offer GM's hands-free highway driving technology called Super Cruise.  The Bolt EUV returns approximately 250 miles of range and Chevy is covering the cost of home charger installation.  Pricing starts at $34,000 but remember GM models are no longer eligible for federal EV tax credits.  Reservations for the 2022 Launch Edition are already full but that doesn't necessarily mean you won't be able to grab one later this summer.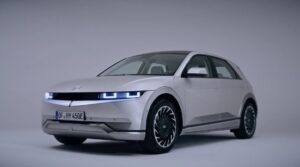 When Hyundai introduced the IONIQ compact car they took a 3 pronged approach by offering it as a hybrid, a plug-in and a full electric.  But later this fall, the 2022 Ioniq 5 will offer EV shoppers a midsize crossover that can specified in rear or all-wheel drive with 2 battery power options bringing a maximum driving range estimated to be over 250 miles.  And because of its innovative multi-charging system that supports 800 volt fast-charging with no need for additional adapters, the IONIQ 5 can re-up to 80% in under 20 minutes.  It also has 2 ports which can be used to charge other electric devices such as camping equipment.  The current Ioniq Electric starts at about $34,000 and is eligible for the $7,500 federal tax credit.  Pricing for the Ioniq 5 has yet to be announced.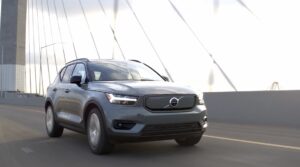 Over at Volvo, Recharge is the name of their electrified sub brand but this one here is their first in a series of full-electrics.  It's the XC40 Recharge P8 AWD and it starts at about $56,000 before the $7,500 federal tax credit.  Because there's no engine, this XC40 benefits from a frunk for extra storage under the hood.  It's also the first Volvo to come equipped with their new infotainment system with improved levels of intuitiveness – something Volvo desperately needs.  It's also updatable over the air.  Output is strong at 408 horsepower and the XC40 can fast charge in 40 minutes.  But at 208 miles range is on the low side.  It's hitting dealerships now.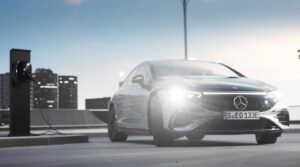 Over at Mercedes-Benz, they're starting at the top – the 2022 EQS, going on sale this fall – will be a 6 figure Tesla Model S fighter with a 400+ mile driving range and brisk performance.  The EQS 450+ boasts 329 horsepower and the EQS 580 4MATIC ratchets that up to 516 horsepower.  A 630 horsepower model is also in the works.  Related to the S-Class but built upon its own dedicated EV platform, this is a technological tour de force with the new Hyperscreen sweeping across the dash integrating a variety of new EV features such as interactive Sound Experiences and a Power Nap mode for weary travelers which ensures a sleep-promoting atmosphere by moving the driver's seat into a rest position, closing the side windows and panorama roof sunshade, activating air ionization, and adjusting the ambient lighting accordingly. Soothing sounds and the depiction of a starry sky on the central display support falling asleep.  Rapid charging takes 31 minutes.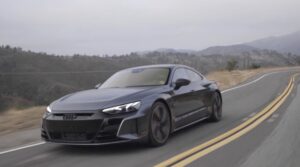 And lastly, how about a performance EV?  That's what Audi is bringing us this summer with the 2022 RS e-tron GT  – an overboosted 637 horsepower, all-wheel drive Porsche-derived 4-door that can go from 0-to60mph in 3.1 seconds.  That's right there with the Audi R8 with which the e-tron shares an assembly factory.  A 2-speed transmission splits the difference between acceleration and efficiency.  An 800 volt electrical architecture allows this battery to fast charge in 22 minutes and the driving range is 232 miles.  You can also get this with the RS treatment but why would you?  Pricing starts at about $140,000 before the $7,500 federal tax credit.  
So which is the right one for you?  Leave your comments below and have a great summer.  
5 NEW ELECTRIC CARS ARRIVING – SPECIAL REPORT BY CAR CRITIC STEVE HAMMES  |  TESTDRIVENOW 2021(c)
Tagged with:
Audi
,
Bolt
,
Chevy
,
DEALERSHIPS
,
Electric cars
,
etron
,
EV
,
Hyundai
,
latest video
,
Mercedes-Benz
,
Volvo