2022 KIA CARNIVAL TEST DRIVE
2022 KIA CARNIVAL TEST DRIVE BY CAR CRITIC STEVE HAMMES
2022 Kia Carnival SX Prestige
We all know the stigma that minivans carry and for some that's simply enough to deter a purchase even though deep down we know they're more comfortable and versatile than SUVs.  So Kia decided to design one that flips the script on what's cool and what isn't.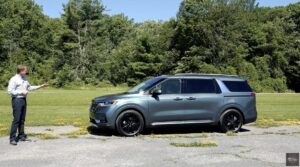 This is the first-ever 2022 Carnival MPV.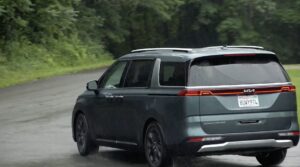 Mazda did this back in the day too but they took it a step further by actually calling their minivan the MPV.  Short for multi-purpose vehicle it's akin to other automotive euphemisms such as estate instead of station wagon; it just sounds cooler.  But hey; it's got 2 sliding doors and 3 rows of seating so call it what you want.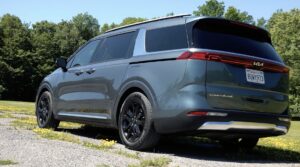 However, the Carnival does distinguish itself in other ways, mainly in its SUV-like styling.  And it totally works.  I can't tell you how many people have said "this is a minivan?"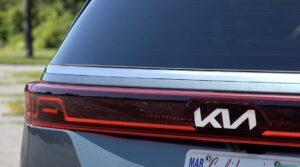 And the other aspect that's been throwing people off is this new Kia badge, making its debut on the Carnival.  No one has any clue what it is and for some reason the mysterious logo has attracted lots of attention.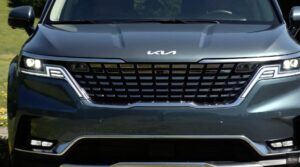 This top level SX Prestige trim is sharp, sporting upcharge Astra Blue paint, 19" black wheels and a matte chrome grille.  I like it and so does everyone else that sees it.  Until now the Pacifica had cool design firmly in its back pocket but now the Honda Odyssey is really the only one left out of the cool kids' club.  If you take the Carnival all the way to the top like this one you're looking at a $47,770 MSRP or a $582/month lease. 
That's cheaper than a range-topping, front-wheel drive Odyssey and Sienna and about the same as a Pacifica.  It's powered by a 290 horsepower V6 and an 8-speed auto.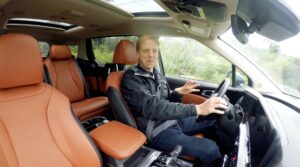 Before you immediately go for the highest trim level you should be aware that these VIP Lounge seats are standard and they're pretty cool with a one touch relaxation mode that provides weary travelers first-class comfort.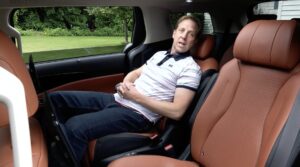 But they don't act like normal minivan seats so they don't push forward for easy access to the 3rd row; anyone getting back there must cut here through the middle.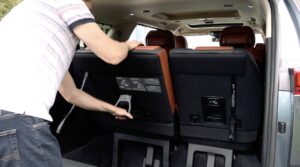 They also don't fold like you might expect for carrying cargo and they're non-removable.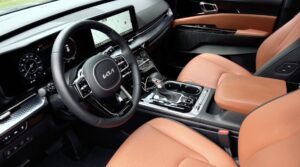 Other SX Prestige exclusives include full LED lighting both inside and out, unique dual sunroofs – yes they both open, the biggest and best center display and meter cluster available, real leather seats, a heated steering wheel, dual blind-spot view monitors which display when you signal a turn, and adjustable front headrests just like in the VIP.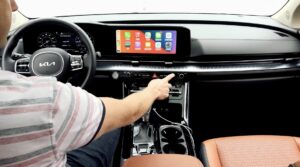 But the one weird thing nagging Hyundai/Kia's showcase infotainment system is that it doesn't support wireless phone projection.  I've made this point before but it's worth mentioning again, only the 8" unit without navi does wireless CarPlay and Android Auto which is only available on the base Carnival LX which of course makes zero sense unless Kia's just trying to throw a bone to the bottom feeders.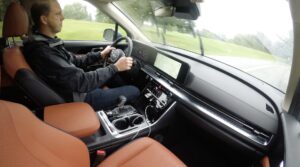 But what really stands out about the Carnival is how high-end it feels from inside.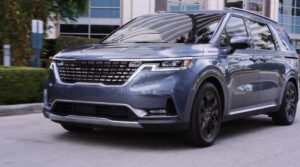 This is the 2-tone Tuscan Umber/Off Black leather and it looks like it could have come out of an Audi.  The 3D satin chrome garnish matches that found on the C-pillar, tailgate and skid plates and it adds an unexpected flourish.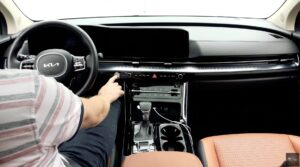 The touchscreen is huge and easy to use with features such as passenger view – a camera aimed at the rear seats so you can check in on the kids, quiet mode which kills the rear speakers for those sleeping in the back, passenger talk allowing easier communication between those in the front and the rear, sounds of nature – soothing audio for a more relaxed drive, and an around view monitor.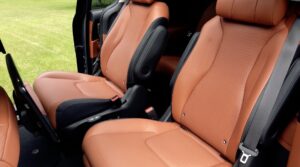 The features are robust with heated and cooled seats in the front and 2nd rows, a Bose 12-speaker audio system with subwoofer, and a rear seat entertainment system kids of all ages will love because it customizable for little ones or teens and this screen – unlike the one in the front – does allow for mirroring of your smartphone. It's really well equipped with all kinds of inputs available.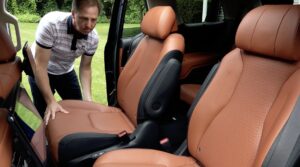 Now remember, the lounge seating isn't meant to be used when the Carnival is in motion – that's unsafe –  and to use the legrests you've got to move the front seat all the way forward and your seat all the way back otherwise your feet have nowhere to go.  These seats also slide side to side to allow for a wider passage into the rear which isn't nearly as accommodating as that of the Sienna's – it's much narrower with less legroom in the way back.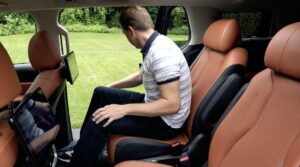 All the rear doors have smart, no key necessary operation and the 3rd row seats tumble easily into the floor with a series of levers and straps.  But those other seats aren't going anywhere so if you use your minivan like a lot of people do as a quasi-pickup truck the VIP Seating isn't for you.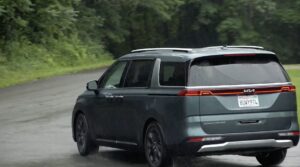 This is actually my second Carnival tester.  The first van had a little skipping sensation in the transmission so I requested a second one to see if it was an actual issue or an anomaly.  And lo and behold it's here, too.  And it's very noticeable; I even had a passenger comment on it yesterday.  Now, I don't know quite what to make of that other than to see it's a repeatable problem.  Otherwise, the drive is pretty nondescript; it's okay.  It's not as accomplished though as the Sienna's or the Pacifica's.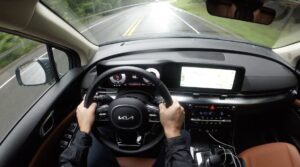 The best part of the driver assistance tech is the highway driving assistant which recognizes that you're on a multi-lane road and can do some of the steering for you.  It's not Super Cruise but if the road is straight it goes a while before asking for your hands.  There are also numerous drive modes but they're barely perceptible in a vehicle that is pretty much one note – it's a minivan after all.  It can tow 3,500 pounds – same as Sienna.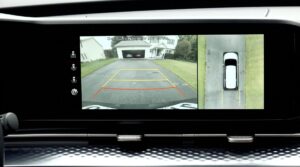 So what are the Carnival's shortcomings?  Well, unlike its newest competitor the Toyota Sienna there is no hybrid powertrain here so you can forget about 36mpg and try more like 22mpg.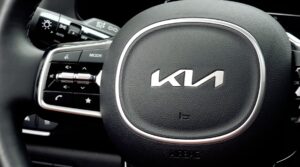 Secondly, all-wheel drive is not on the menu so chalk one up for Toyota and Chrysler.  Next, the VIP seating on this top trim model cannot be removed and it does not fold into the floor; it's a permanent fixture.  And as we all know, Stow 'N Go is king in this segment.  And lastly, it's missing a couple of features like wireless phone projection and, if you care, a vacuum.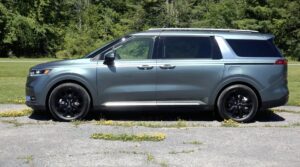 So for most shoppers, the EX or SX trims are likely the best choices.  Though there are few of them, the available minivan models have never been better and now that the Carnival's come to town it's worth a visit but in my book not as compelling as the Sienna.  
2022 KIA CARNIVAL TEST DRIVE BY CAR CRITIC STEVE HAMMES  |  TESTDRIVENOW 2021 (c)