2021 CHEVROLET SUBURBAN TEST DRIVE
2021 CHEVROLET SUBURBAN TEST DRIVE BY CAR CRITIC STEVE HAMMES
Earlier this year I had a quick go at the all-new Tahoe; a transformative evolution of Chevy's big boy SUV.  And now I've got the even bigger Suburban for a few days, but this time with diesel power.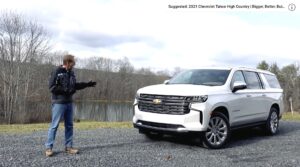 I'm sure Rudolf could never have imagined during the invention of his eponymous engine that 120 years later well-heeled American families would be driving 19-foot long trucks powered by a motor bearing his name that is but a fraction of its original size and 16 times more powerful.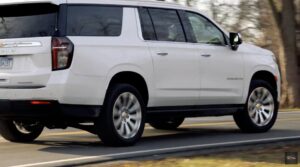 But here we are with the 2021 Suburban and indeed this aluminum, 3.0-liter in-line 6-cylinder Duramax turbo-diesel is an attractive option for high-mileage drivers.  Equipped with 4-wheel drive, this Suburban is rated at 20mpg city and 26mpg highway.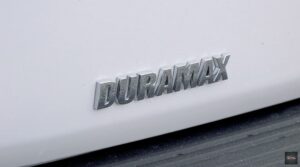 And as is the case with these types of engines it's all about the torque and this one produces the same 460 pound-feet as the mighty 6.2-liter V8 but does so beginning at only 1,500RPM.  It's even paired with start/stop engine technology that's as smooth as butter.  And you can barely even tell that it's a diesel under the hood.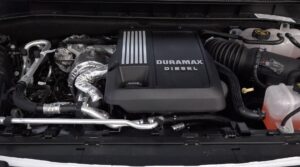 Chevy offers 3 engines on this new Suburban.  So how do you know if the diesel is the right one for you?  Well, if you tow, this one can't quite match the capacities of the gas engines but they're all very similar at about 8,000lbs.  And the diesel offers the most torque at the lowest RPM which is beneficial to moving your trailer.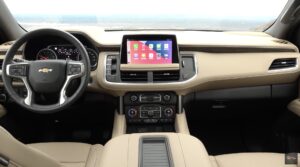 It also delivers up to 35% better fuel economy and owns the lowest annual fuel cost of the trio.  Plus, the 644 mile driving range can probably outlast your bladder.  And though none of them is what you would call environmentally friendly the diesel emits fewer greenhouse gas emissions.  It's a $995 upgrade over the 5.3 and a $1,500 discount from the 6.2.  And you can get it on almost every trim, just not the rugged Z71.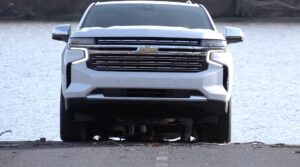 You can score a 2WD Suburban Duramax for about $54,000 but that's not what I have here.  This is a heavily optioned, 4-wheel drive, high level Premier trim featuring big ticket items such as these 22" wheels, power retractable running boards, a very modern dual screen rear seat entertainment system and a premium package full of trailering and driver assistance features.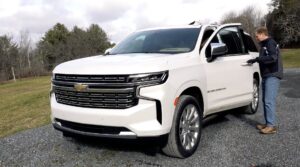 MSRP as-tested is $82,085.  So yeah, this is about as expensive as a Chevy gets.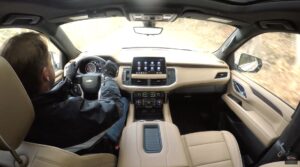 Both the Tahoe and Suburban drive markedly better than before – it's by far the most noticeable advancement, lending credence to the big price tags. And this diesel feels great – no noise, no vibrations, no smells. So, choosing this motor really comes down to its credentials.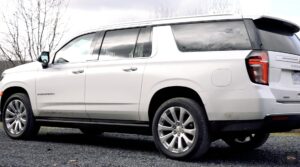 Even without the air springs these MagnaRide dampers are really smooth, imbuing the Suburban with a sophisticated drive backed by a slick 10-speed automatic.  It handles so much smaller than it actually is and the steering is totally on point.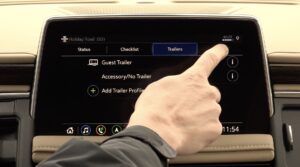 And I love having an Auto setting for the 4-wheel drive system which can also be deactivated altogether.  And while the cabin is really inviting with great tech and comfortable seats, I have the same question here as I did in the Tahoe?  Is this an $80,000 interior?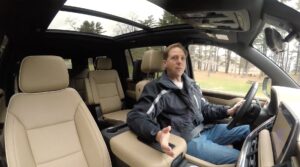 It lacks a little panache for my liking.  That being said, it will not leave you wanting for features – there's a huge head-up display, logo projection out back to help locate the kick sensor for the tailgate, every trailering trick there is and a user-friendly touchscreen with wireless phone projection, wireless charging and a surround vision camera but one that has its button only in here and not where it can be quickly accessed.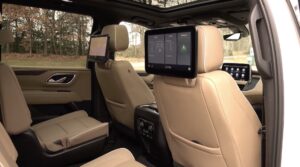 There's a rear view camera mirror, heated 2nd row seats, tri-zone climate control, and massive amounts of room in the 2nd row and adult-sized capacities in the much-improved 3-rd row.  As compared with the Tahoe the Suburban is over a foot longer so I hope you have a really big garage.  It's also a sharp-looking rig, particularly in iridescent pearl.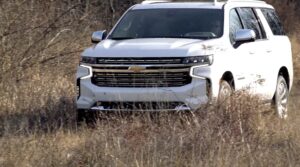 So if you want the biggest SUV on the market with better fuel efficiency than a Honda Pilot, the Suburban diesel is in a class of its own.  
2021 CHEVROLET SUBURBAN TEST DRIVE BY CAR CRITIC STEVE HAMMES  | TESTDRIVENOW 2020(c)