2019 Infiniti Q60 Red Sport Review
2019 Infiniti Q60 Red Sport Review By Auto Critic Steve Hammes
Now in year 3 of its current iteration, the Infiniti Q60 continues to be a visually stunning coupe with power in spades.
While the Germans are boring us to death with their spiritless designs, the Asian automakers have become a bastion of audaciousness.  Now, you're not going to like them all but give credit where credit is due for originality.  However, this one from Infiniti is inarguably gorgeous.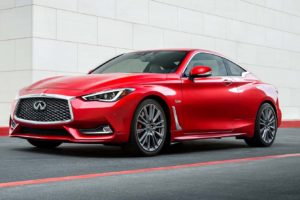 The Q60 Red Sport 400 is as sexy a coupe as you'll see on the road today. I've often said that I don't spend a lot of time on design in my reviews because you like what you like and vice versa so who cares but with an enchantress like this, attention is required. Thirteen-year-old me would have picked up this poster at Spencer Gifts back in the day it's that worthy.  And there are some real great reds on the market right now from Mazda, Ford and Land Rover but this Dynamic Sunstone Red from Infiniti doesn't play second fiddle to any of them.  It's a head turner with sporty elegance.  Bolt on the optional sport exhaust and you've also got one of the snarliest sounding rides going.  The Q60 Red Sport is beautiful, it's fast and it's loud and that combination can overcome just about any warts.
With the boost dial turned to 15, the 3.0-liter twin-turbo V6 blesses the Red Sport with 400 horsepower and 350 pound-feet of torque producing enthralling acceleration with a 0-to-60mph time in the mid 4s.  With the drive mode set to Sport + and the 7-speed in manual mode, the Q60 with the added grip of all-wheel drive loves to get after it all the while entertaining occupants and onlookers with outrageous sound. Low slung and planted, the Q60 gives you everything its got when you're driving for fun though the steering is apathetic and when left to its own devices, the transmission seems out of step with the action.  That's why paddle shifting is the way to go during times like this.  Otherwise, the Q60 is more than happy to tool along the boulevard with all systems ratcheted down, providing a compliant ride, perfect seating position and superior coupe comfort…unless someone shoved you in the rear seats that are not for claustrophobics.
Though the electronics are beyond dated, this cabin is nearly as sexy as the body.  And having previously experienced it in the Q50 Red Sport, I already knew this engine was killer, so immediately powerful and willing to rev the added boost is addictive.  I'm less enamored with the 7-speed auto which needs to be paddle shifted in order to remove its desire to prematurely upshift and the standard steering system, though better than the optional steer by wire setup, still lacks feeling keeping the Q60 disconnected by a degree or 2 from the driver.  But as a luxury GT car – the Q60 is a great drive.
The Sport Exhaust adds $700 but is totally worth it if you want more bark.  It's loud when you want it to be and quiet enough not to drone too much while on the highway.  I miss some of the rear drive shenanigans here but offering all-wheel drive with all-season tires is a nice option and imbues the car with excellent traction.  There are drive modes, an adjustable suspension for a fitting blend of comfort and handling and stop dead brakes.  The driver's seat also has adjustable bolstering to snug you in.
While this Silver Optic Fiber Interior Trim brings the sexiness inside I'm missing such simple things as a digital speedometer…a heads-up display would certainly be nice.  And not only isn't there Android Auto or Apple CarPlay, there isn't even Siri Eyes Free.  Wireless charging is absent and the dual touchscreen infotainment system is a throwback…ditto for the dated gauge display.  The welcome lighting under the car is awesome, however and illuminated kick plates are always a nice touch.
With options like blind spot warning, an around view monitor with dedicated switch, cargo package and copious amounts of carbon fiber, this Q60 Red Sport 400 AWD stickers for $65,628.  On premium gas, mileage is about 21 mpg.
So for those who yawn at the sight of another BMW, Infiniti's Q60 Red Sport is a 2-door ready to please.
Tagged with:
2-DR
,
2019
,
400
,
auto critic
,
AWD
,
DTwithSteveHammes
,
Infiniti
,
latest video
,
q60
,
RED SPORT
,
reviews
,
road test
,
sexy
,
test drive