2019 Volkswagen Arteon First Look
2019 Volkswagen Arteon First Look By Auto Critic Steve Hammes
VW pulled the wraps off of this one over 2 years ago which is why it already feels somewhat familiar, despite the fact that it's just gone on sale here in the U.S.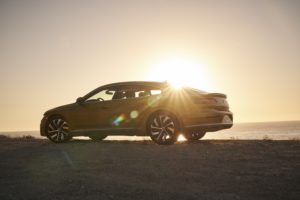 Following the tradition of difficult to pronounce names, this is the all-new 2019 Arteon.  Picking up the flagship banner that was vacated when the CC was discontinued a couple of years ago; the Arteon is one of those fashionable 4-door coupes, if you will, with fastback styling and sporty design.
Technically a 5-seater with large car proportions including a very spacious cargo area under the hatch, this is the brand's new halo even though the only engine offered is a 2.0-liter turbo.  It produces 268 horsepower and 258 pound-feet of torque via an 8-speed automatic transmission and can be paired with all-wheel drive.
Adaptive dampers aim to strike a balance between handling and comfort while VW's XDS+ limited slip-like setup aids agility and cuts down on any tendency to plow through corners.  Coupled with an expanded range of driving modes spanning from Comfort+ to Sport+, the Arteon is enabled to please the driver through a wider dynamic range.
The latest version of 4Motion can decouple the rear wheels when not needed in order to save fuel.  Gas mileage is rated between 23 and 25mpg in combined driving with a total range of at least 400 miles.
Pricing starts at $36,840 including destination with 5 trims from which to choose. A top-of-the-line Arteon SEL Premium R-Line with 4Motion closes in on $48,000.  This model features a number of interior design enhancements, a 12-speaker Dynaudio sound system, and the Discover Media infotainment system with navigation.
All of the safety features we've come to expect in this class are onboard too, including auto high beams and an overhead view camera.
With competitors such as the Acura TLX, Infiniti Q50, Kia Stinger and Nissan Maxima in its sites, the 2019 VW Arteon is an amalgam of gotta have it styling and capable dynamics.