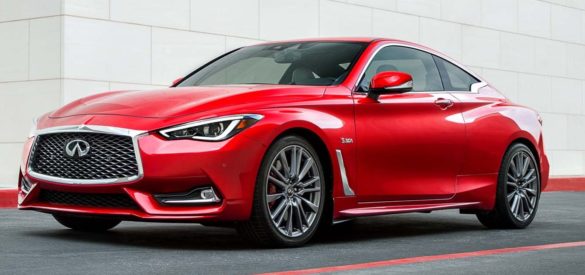 While the Germans are boring us to death with their spiritless designs, the Asian automakers have become a bastion of audaciousness.  Now, you're not going to like them all but give credit where credit is due for originality.  However, this one from Infiniti is inarguably gorgeous.  The Q60 Red Sport 400 is as sexy a coupe as you'll see on the road today. I've often said that I don't spend a lot of time on design in my reviews because you like what you like and vice versa so who cares but with an enchantress like this, attention is required. Thirteen-year-old me would have picked up this poster at Spencer Gifts back in the day it's that worthy.  And there are some real great reds on the market right now from Mazda, Ford and Land Rover but this Dynamic Sunstone Red from Infiniti doesn't play second fiddle to any of them.  It's a head turner with sporty elegance.  Bolt on the optional sport exhaust and you've also got one of the snarliest sounding rides going.  The Q60 Red Sport is beautiful, it's fast and it's loud and that combination can overcome just about any warts.
With options like blind spot warning, an around view monitor with dedicated switch, cargo package and copious amounts of carbon fiber, this Q60 Red Sport 400 AWD stickers for $65,628.  On premium gas, mileage is about 21 mpg.
So for those who yawn at the sight of another BMW, Infiniti's Q60 Red Sport is a 2-door ready to please.
Tagged with:
2-DR
,
2019
,
400
,
auto critic
,
AWD
,
DTwithSteveHammes
,
Infiniti
,
latest video
,
q60
,
RED SPORT
,
reviews
,
road test
,
sexy
,
test drive