2017 VOLVO S60 VIDEO REVIEW
2017 VOLVO S60 VIDEO REVIEW BY AUTO CRITIC HAMMES
One of the most underrated luxury sedans on the market moves into the 2017 model continuing to do what it does best – giving its owners a first class Scandinavian driving experience.
Last year, this S60 T5 AWD was powered by a turbocharged 5-cylinder engine, one of the final vestiges of the Ford Motor era at Volvo. Now, regardless of whether it's front-drive, all-wheel drive or long wheelbase, all S60's come with Volvo's own Drive-E 4-cylinder engine; turbocharged for T5 variants like this one, supercharged and turbocharged for the higher-performing T6 model. However, the Drive-E name has been dropped from the S60 descriptor in favor of the more exciting term "Dynamic" to describe the standard wheelbase T5 trims. Confusing? Yes. But the alphanumeric mumbo jumbo doesn't alter the fact that the S60 is an excellent compact luxury sedan – still one of my favorites.
Rated at 240 horsepower and 258 pound-feet of turbo-induced torque, the S60's acceleration is vivacious, taking only about 6 seconds to reach 60mph with the motor's peak twist available at only 1,500 RPM. Rounding out the Drive-E efficient powertrain is an 8-speed driver-adaptive automatic transmission with sport mode and an automatic start-stop feature. Complimenting that offering, is the optional $1,000 Sport Package which adds paddle shifters, 19" wheels wrapped in Pirelli Grand Touring, low-rolling resistance tires, adjustable electric power steering feel with 3 settings, and a lower and firmer sport chassis. Throw in Volvo's torque vectoring all-wheel drive system which redistributes power to the outside wheel to swing the car through a turn and the result is an S60 which embraces Volvo's hallmark softness with a keen sense of handling acuity. It's not just comfortable to drive, it's fun to drive.
With a helm as comfortable as this, you'll always look forward to getting in the driver's seat.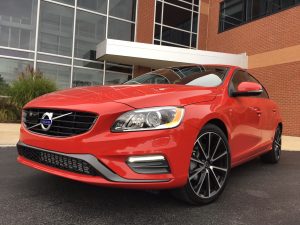 Speaking of which, the unusually high seating position defies sports sedan convention but speaks to Volvo's trademark focus on safety with an excellent view of the road ahead.
Though the S60 is getting on in age and will likely be redesigned within a couple of years when for the first time production moves to the U.S., it still looks and feels fresh. In particular, the exterior design continues to impress with its sport/luxury treatment. And though the Sensus system screen is small and void of Apple CarPlay and Android Auto, it's actually a smartly designed system with easy to use steering wheel controls on the right side allowing the driver to keep his focus on the road. It's packed with useful features like a handy albeit slow Wi-Fi connection and flush with relevant information. The system can also be controlled via the center console. The driver gauges are customizable based on 3 themes and the overall tech level is quite high. The Technology Package includes a feature which can read road sign information and packs in tons of safety items such as adaptive cruise control with queue assist, collision warning with full auto brake, pedestrian and cyclist detection also with auto brake, active high beams and more. And then there's the Vision Package with more of the same types of radar and camera tricks, including a backup cam though one with a very narrow angle view and blind spot monitoring. Fully loaded, this S60 T5 AWD Dynamic is priced at $44,195…a value proposition for the complete offering this car presents. Safety is front and center and extensive in its offerings. It's interesting to note however that gas mileage of 23mpg city/31mpg highway is off rather considerably from the front drive S60 but at least it happily takes regular unleaded.
I love the ride quality Volvo infuses into all of their cars – so forgiving yet not sloppy. The S60 is a turbocharged sports sedan and definitely fun to drive but it's also going to make sure everyone is comfy along the way. The steering could be sharper and the engine could use another degree of refinement otherwise this is an all-wheel drive go getter with understated attitude.
I never tire of driving the S60 and can easily put it on my recommended list. As the 60 series cars and crossovers await their redesign, they're still leaving very positive impressions.
Tagged with:
2017
,
auto critic
,
AWD
,
DT with Steve Hammes
,
Dynamic
,
latest video
,
reviews
,
road test
,
S60
,
steve hammes
,
T5
,
test drive
,
Volvo