2017 FIAT 124 SPIDER VIDEO REVIEW
2017 FIAT 124 SPIDER VIDEO REVIEW BY AUTO CRITIC STEVE HAMMES
Rival automakers sharing or co-developing models is nothing new and the primary reason it's done is to reduce costs. Right now for instance you've got BMW and Toyota working together on a sports car, Infiniti and Mercedes-Benz sharing platforms…the list goes on and on. Which brings me to this week's subject, the 2017 Fiat 124 Spider – the Italian flavored Mazda Miata.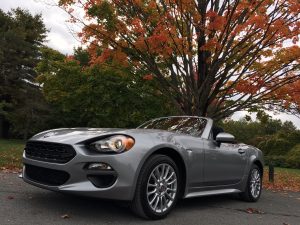 More than 170,000 124 Spiders were sold in the U.S. from 1968 to 1985. And today, there are nearly 8,000 still registered here. Reviving the storied nameplate for a new generation of drivers, Fiat turned to the roadster crackerjacks at Mazda. 75% of it derives from Japan where it's assembled, but the motor comes from Italy as does its heritage styling. Coincidently, it was exactly a year ago when I reviewed the all-new Miata and fall is certainly a great time for top-down driving. That car was better than ever and I expected much of the same experience here and by in large that's what I've had.
Contrasting my fully loaded Miata tester is this Spider Classica, the base level trim priced from $25,990 including destination. Optionally, this car comes with the Technology Collection adding this 7" display audio system with voice commands, music apps and a backup cam but despite what the button says no navigation. It can be installed by the dealer, however. This grouping also includes Keyless Enter 'n Go bringing the total price to $27,285.
Settling into the car can be a little challenging for the big and tall in part because the seats are not height adjustable. Even my knees are right up against it and the backrests are too narrow at the shoulders. My preferred driving position leads to some lower back discomfort on longer trips. The soft top is very easy to lower and raise right from the helm, with just one latch to operate in each direction and a small windscreen aids in keeping the cabin a turbulent-free and conversation –friendly place. You can comfortably hang your arm on the door and the 6-speed manual/clutch combo is a short-throw, low-effort delight with gearing perfectly suited for an engaging yet not overly taxing experience. Working between 2nd and 4th on the twisty roads gives you plenty of engine with which to play. And in fact it's this high revving motor which provides the biggest distinction between the Spider and the Miata. It's Fiat's own award-winning 1.4-liter turbo-4 outputting 160 horsepower and 184 pound-feet of torque at a relatively low 3,200 RPM. That's quite a bit more twist than Mazda's non-turbo 2.0-liter, reacting without delay and providing a strong sense of acceleration in the meaty gears. It has to move over 100 more pounds, can't match Mazda's sky high compression ratio and forgoes direct injection but uses Fiat's patented MultiAir Fully Variable Valve Actuation and a Garrett turbo to imbue a balance of responsiveness and fuel economy. 0-to-60mph hits in the lows 6s – enough to shove you back into your seat but not quite as instant off the line as the Miata. Gas mileage of 30mpg in combined driving can be achieved using premium gas, a little better than the Mazda's. 87 octane is OK but it will reduce results. It sounds better than the Mazda's motor too with less intake and more sports car, though nothing that'll leave a lasting impression. The electro-hydraulic steering ratio is the same which is more relaxed than you'd imagine and the touring tuned suspension riding on 16" max performance summer tires gives the Spider that compliant, lovably toss-able nature without any harshness. The available Abarth model will do more to satisfy the driver looking for a greater hooked-up handling experience. Rather, this Classica is about weekends with the wind in your hair, a country road to carve and enough storage space to get away for a few days.
Just like the Miata, the Spider epitomizes uncomplicated roadster fun.  It's not overly engineered so the driver retains the leading role, and its toy car dimensions harken back to the glory days of open air motoring. On a beautiful fall day like this, it doesn't get much better. But what Fiat does add here is a little more engine and the coolness factor of owning an Italian sports car.
When it comes to ownership, I prefer to have a car with some exclusivity and there will be far fewer of these running around than Miatas. And though standard equipment makes an apples-to-apples comparison difficult, the base price on the Fiat is $80 more but it comes with a 4 year as opposed to a 3 year warranty.  So if you're the type who chose the Equator over the Frontier, Ascender over the TrailBlazer or 9-2X over the Impreza the 124 Spider is waiting to satisfy your need for originality by tweaking the original.
Tagged with:
124
,
2017
,
auto critic
,
Classica
,
Convertible
,
DT with Steve Hammes
,
Fiat
,
latest video
,
reviews
,
road test
,
Spider
,
steve hammes
,
test drive