2017 MERCEDES BENZ E300 VIDEO REVIEW
2017 MERCEDES BENZ E300 VIDEO REVIEW BY AUTO CRITIC STEVE HAMMES
Let's face it; driving isn't really all that much fun anymore. Congestion combined with other knuckleheads can turn even a leisurely jaunt into a headache. But the all-new Mercedes-Benz E-Class helps relieve that stress with semi-autonomous features that can truly do some of the driving for you.
Inside, the E-Class is a beautiful, high tech environment. From these huge flat screen displays to the adaptive front seats with multiple massage settings this loaded E300 brings with it an amazing level of modern luxury. But it's this car's ability to assume a number of the driving responsibilities which grabs the headline.
The industry is all ablaze with talk about self-driving cars and when they may arrive. Well, there are a handful of vehicles on sale now that can assume some of the tedium from your commute but this E-Class is the best example I've driven of a car that can allow you to simply manage the drive as opposed to actually having to drive. It's called Drive Pilot and it comprises what Mercedes calls Distance Pilot DISTRONIC and Steering Assist combined with Active Lane Change Assist. Whether on the highway or back roads, the E-Class can follow the traffic in front at speeds of up to 130mph where the driver no longer needs to operate the pedals. Plus, even on moderate bends the car can steer while taking into account special situations like road construction. And on top of that, when it's time to make a lane change, just signal and the E-Class safely moves to the lane indicated. I took an hour's drive on the highway and never felt more relaxed and refreshed when I arrived at my destination, thanks largely to these semi-autonomous features. The car indicates both graphically and audibly when it requires you to at least touch the steering wheel to make sure you're still there…every few minutes or so…but then it's back to the ease of managed cruising. It takes some time to develop confidence in the camera and radar systems and occasionally it grabs your attention with how close it gets to adjacent vehicles but overall, it works extremely well. In order to get it, you must select the top tier Premium 3 Package priced at $11,250.
It truly is a beautiful car, with its coupe-like appearance accentuated by its 2 ½" longer wheelbase, elongated hood and restrained design elements. It's the best looking Benz to come our way in a long time. Interior dimensions and trunk room really haven't changed keeping it squarely in midsize territory, but this car is significantly lighter, a little quicker and 1mpg more fuel efficient in combined driving as compared with the previous E350. The V6 is gone, replaced here in the E300 with a 2.0-liter turbo-4 that surprised the heck out of me. For decades, the E-Class has by-in-large been a V6 or V8-powered car, but this motor's 241 horsepower and 273 pound-feet of torque is delivered in a quick, satisfying and refined manner befitting the car. Zero-to-60mph takes 6.3-seconds with gas mileage rated at 22mpg city/29mpg highway for this 4Matic all-wheel drive model, thanks in part to the new 9-speed automatic transmission. With Dynamic Select, you can choose from 4 programs and though the E300 isn't a sports sedan per se, its very driver connected. The active seats with deep side bolsters which inflate to counteract physics when cornering further the feeling of fluent handling. Those same bolsters however also make it a little tricky to get in and out gracefully. My car is equipped with the Sport Wheel Package, adding these classic 18" AMG rims wrapped in max performance summer Dunlops. The suspension is wonderfully forgiving but if you want more adjustability, you have to opt for the $1,900 Air Body Control with multiple modes.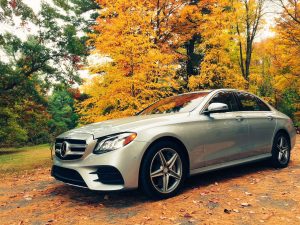 I'm incredibly impressed with the drive. First off, the 2.0-liter engine is enough and the ride quality is ultra-luxurious. And then there's the fact that I can jump on the highway, set the cruise control and relax while the E-Class does most of the heavy lifting…it steers, accelerates, brakes and even changes lanes with very little driver intervention. All the while you're enveloped in the chosen aroma while getting a massage. Now this is the future of luxury motoring.
The seats are heavenly with more adjustments than you'll ever need, the Burmester Surround Sound System is phenomenal, and the dual 12" high res screens are brilliantly detailed, colorful and highly customizable. Look up and the heads-up display is the clearest you'll find with detailed road sign information beyond what others are offering.  There are a number of ways to navigate all of this technology including steering wheel touch pads, a center console touchpad controller, assorted buttons and rotary knob and voice control.  But nothing trumps the ease of a good ol' touchscreen and this entire system, while incredibly comprehensive with high tech offerings, just isn't easy enough to access.  And another FYI – when Apple CarPlay is active, say for instance the Maps navigation feature, you can't access the Mercedes embedded navi and its features until you unplug your smartphone.  I've never seen that before.  But the cabin layout with its designo Black Piano Lacquer, 64 ambient color choices, and adjustable, wrap around headrests is a spa on wheels.  The only curiosities on my loaded $71,110 tester are a conspicuously cheap rear view mirror, faux leather trim, the absence of cooled seats and a heated steering wheel, parking assist that refuses to locate perpendicular spots and a very testy hands-free trunk feature.
Mercedes considers the E-Class the core of the brand and this one continues to push the technology envelope in the business-class segment.
Tagged with:
2017
,
4MATIC
,
auto critic
,
DT with Steve Hammes
,
E-Class
,
E300
,
latest video
,
Mercedes-Benz
,
reviews
,
road test
,
steve hammes
,
test drive