2016 RANGE ROVER TD6 VIDEO REVIEW
2016 RANGE ROVER TD6 VIDEO REVIEW BY AUTO CRITIC STEVE HAMMES
How do you eek out nearly 30mpg and a 600 mile driving range from a big, rugged honest-to-goodness SUV? You give it a Diesel engine. And that's exactly what Range Rover is now offering shoppers of their most lavish vehicle.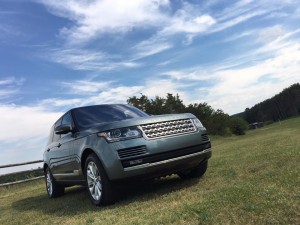 As the Land Rover lineup continues to expand, it's still the Range Rover model that resides at the top of the luxury SUV mountain. The $85,000 entry price says it all; this is the ultimate expression of a sport utility vehicle where no place is out of bounds and refinement is never compromised.
When you decide to buy, your first decision is whether you want the standard or long wheelbase. But if it's this new diesel that interests you, than you don't qualify for the added 7" of rear legroom. Tagged with a $2,000 price premium, this 3.0-liter turbocharged V6 diesel engine is particularly well suited to towing heavy loads and off-roading. It'll handle 7,716 pounds which, for some perspective, is about 400 pounds less than a comparable GMC Yukon. To what degree owners in this tax bracket care I'm not exactly sure, but the fuel economy is outstanding. Rated at 22mpg city/29mpg highway, this Td6 delivers a 32% improvement in mileage which in turn increases the driving range to a bladder busting 658 miles. I averaged nearly 28mpg for the week, a number you certainly don't expect from this class of vehicle. As you may already know, diesel fuel has a higher energy density than gas and it helps make spectacular low-end torque. This one is rated at 254 horsepower but 440 pound-feet of peak torque at 1,750 RPM. Prior to bringing the diesel option to America, Land Rover made improvements to this motor benefiting fuel efficiency and reducing emissions. An 8-speed transmission with full-time 4-wheel drive and an automatic stop/start system are standard.
If the TD6 badge didn't catch your eye on the way in, you'd never know this wasn't the gas V6 from the driver's seat. There's no clatter, no smell, no roughness. Just a torquey around the town driving feel and mileage usually associated with an economy car. The Performance minded will still prefer the supercharged engines but in the Range Rover, the diesel is a perfect fit for most drivers.
Dual-isolation engine mounts, a windshield with acoustic laminate and a bulkhead designed to minimize the transmission of engine noise into the cabin keep this diesel especially stealthy. Where it tips its hand is in full throttle acceleration from a standstill. It still only takes 7.4-seconds to 60mph but it feels reluctant and a bit sleepy whereas the supercharged engines are ready to rock and roll.
But that's not with the Range Rover is about anyhow. The high seating position, iconic stance and soothing air suspension make this ride the very definition of boss. It defiantly transmits the feeling of living large and in charge…like you're driving a safe with windows. Ride quality is the softest of soft. Invincibility manifests and with the Range Rover's litany of off-road tools why shouldn't it? Nearly 12" of off-road ground clearance, the ability to ford nearly 3' of water and a Terrain Response system that takes the guess work out of 4X4 configurations reminds you that this isn't just another pretty face…which in this gorgeous Scotia Grey, it also possesses. It can be a bit of step to get up inside but an easy access height button gets it to squat. I always love my time in this big, elegant rig and this diesel model is no different.
In the top HSE trim, the Td6 starts with an MSRP of $94,945. Chock full of options like the configurable mood lighting, surround camera system, adaptive xenon headlamps, Wi-Fi, all of the new safety tech, and panoramic roof, this sticker here is $102,595. Comfort is paramount but the infotainment and driver display could certainly benefit from some modernization. It offers lots of information, some even tailored for the SUV lifestyle, and Land Rover InControl Apps isn't Apple CarPlay but it mimics some of its functionality. Otherwise, this is the cabin you want to be in at the end of a long day.
I doubt Rudolf ever envisioned his engine in a buggy like this, but the diesel option is an intriguing one for Range Rover shoppers.
Tagged with:
2016
,
4X4
,
auto critic
,
diesel
,
DT with Steve Hammes
,
Land Rover
,
latest video
,
LUXURY SUV
,
off road
,
Range Rover
,
reviews
,
road test
,
steve hammes
,
SUV
,
Td6
,
test drive
,
video review