MERCEDES BENZ SL450 2017 VIDEO REVIEW
MERCEDES BENZ SL450 2017 VIDEO REVIEW BY AUTO CRITIC STEVE HAMMES
Is there anything more classic than driving around on a gorgeous summer day, top down in a Mercedes SL?  It's car nirvana. Everyone's dream luxury roadster continues to hone its craft with a number of enhancements for the 2017model year.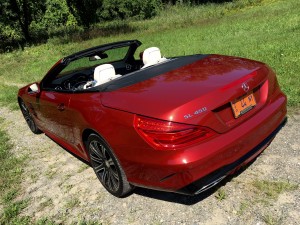 A revised front end with standard LED headlights, a more powerful engine mated to a new 9-speed automatic transmission, the inclusion of DYNAMIC SELECT driving modes, enhanced levels of connectivity and convenience features and expanded semi-autonomous driving technology, the newly named SL450 is the gateway SL and it's everything you could want from an opulent 2-seat convertible.
Now in its 6th generation, the SL has a venerable lineage dating back over 60 years. Abbreviated for Super Light, the SL is the model our minds imagine when thinking about Mercedes-Benz. Long since a favorite of mine, this updated 2017 model enriches the SL experience. A rise of 34 horsepower from the 3.0-liter biturbo V6 takes output to 362 horsepower and 369 pound-feet of torque resulting in a quicker, sub-5-second 0-to-60mph time. Mercedes introduced this engine a couple of years ago and it's my first time in a V6-powered SL and let me tell you, I'm not at all longing for the V8. The exhaust burble is surprisingly convincing and becomes richer as you climb through the drive modes. This includes a nearly silent ECO setting. But Sport + is where it's at when you're done relaxing, adding tension to the drivetrain, heft to the steering, tautness to the ride and off-throttle cackles through the exhaust. But it's this car's glued to the road handling combined with its telepathic steering precision that amazes me most, satisfying the driver in unexpected ways. Lending to that sensation are the Dynamic Multicontour Seats which apply lateral pressure to the side bolsters counteracting the physics of taking a tight turn…one of my favorite features. These staggered width 19" Pirelli P Zeros have never felt better and just like the car itself, play both ends of the luxury sport gamut with perfection. The 9-speed auto always does you right and includes a manual setting for paddle shifted fun. And the brakes stop this aluminum-intensive roadster with great pedal feel and authority, belying its 3,800lb. curb weight. Top down with the windscreen employed, the cabin is as turbulent free as you'll find. And of course, there are heated and cooled seats, and the awesome AIRSCARF neck-level warmers for cooler, top-down days. My tester even adds various massage programs for a spa-like environment.
I think there's a misconception about that the SL that's a not a true sports car; hogwash. The reason it's a hundred grand is that it has a huge dynamic range, from the softest, most comfortable roadster you've ever driven to a growling, handling beast and that's with this V6 model. AMG variants take it farther. And it's fun no matter which end of the spectrum you're at.
Travelling is definitely inbounds. The new automatic trunk separator adds another level of coolness to the entire roof operation and with the top up, there's 13.5 cubic feet of cargo volume, accessed with a kick of the foot. There's more space behind the seats and generously sized cubbies throughout. And this is a hardtop convertible that actually looks just as sexy with the roof up. But Mercedes doesn't stop there…this tester has the MAGIC SKY roof which with a press of a button goes from sun-blocking dark to let the light in transparent. It's quiet with the roof up, too. At night, there's changeable ambient lighting and a loud and a proud Mercedes emblem to greet you. Though I wish it was a touchscreen and a little bigger, the infotainment now includes Apple CarPlay and a full pantry of features and information screens. The Harman Kardon sound system with its space-saving Frontbass layout sounds OK but audiophiles will likely reach for the optional 900 watt B&O system.
The Driver Assistance Package includes a Steering Pilot which in conjunction with the camera and radar based Distronic Plus adaptive cruise control keeps the vehicle in the center of the lane, taking strain off the driver.
An auto start/stop system along with the new 9-speed helps keep the MPGs virtually unchanged from the previous SL400, rated at 23mpg in combined driving. Pricing starts at $87,875 while this gorgeous designo Cardinal Red example with nearly every option minus the costly fully active suspension stickers for $100,885; a figure that for most of us will keep this car only in our dreams.
Tagged with:
2017
,
auto critic
,
Convertible
,
DT with Steve Hammes
,
latest video
,
MB
,
Mercedes-Benz
,
reviews
,
road test
,
roadster
,
SL
,
SL450
,
steve hammes
,
test drive
,
top picks
,
video review