Jeep Wrangler Rubicon 2018 Video Review
Jeep Wrangler Rubicon 2018 Video Review By Auto Critic Steve Hammes
Few vehicles receive more hype leading up to their redesign than a new Wrangler. For some, it's still the only Jeep. Its image is tied to driving freedom like none other. So here we are with the highly anticipated JK replacement; just as rugged as before but smarter than ever.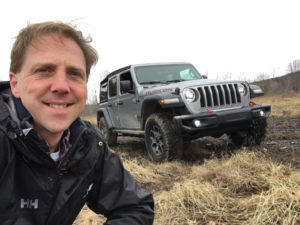 Code named JL, this is the first complete Wrangler redesign in over a decade. Ask any designer and they'll tell you updating an icon is their most difficult job.  So from the naked untrained eye, this could be just about any Wrangler since 2007.  But a closer inspection uncovers improved aerodynamics, a lowered beltline with bigger windows for better visibility, and other little bits that have modernized the appearance.  But it's once you open the doors that the newness truly begins.  To my amazement, lots of people use these as commuter cars and for them Jeep has made this Wrangler far more palatable, yet…
It's time for my typical Rubicon disclaimer. Now, if you don't do a lot of off-roading and simply plan on driving this to work every day please allow me to steer you to a different Wrangler model. Despite the high level of creature comforts in here these things drive like a drunken sailor. And for its versatility, it actually skews pretty low. Now if you do a lot of off-roading absolutely go for it. Otherwise, find yourself a different Jeep.
Whether Sport, Sahara or top dog Rubicon, each Wrangler has its own look and personality. But it's the Rubicon that gives the Trail Rated badge its greatest credence with heavy duty axles, Rock-Trac 4-wheel drive transfer case with the deepest low range, an electronic sway bar disconnect system for greater wheel articulation, highest ground clearance, steel rock rails, most durable all-terrain tires and most advantageous trail proportions.  Jeep says the JL's frame has been optimized to reduce weight through the use of aluminum doors and a magnesium swing gate.  And out here, it's a juggernaut of capability – up to 30" of water fording, nearly 11" of ground clearance, locking differentials – there's nothing more to say about what it can do than has already been said by me and countless others.  If this is your idea of fun, the Wrangler is the best tool for the job.
I've driven lots of these through the years and there's no questioning the Rubicon's off road credentials – it's ready to go straight from the factory; but whether or not this particular model is any less or more capable than the generations before it is difficult for me to discern because I've never had a moment of angst in one of them. They go just about anywhere a sane person would take them. So, for me, the biggest takeaway here is how Jeep has upped the Wrangler's usability quotient, less so for this purpose-built Rubicon model, but still, it is not wanting for features – there are things in here you never thought you'd see in a Wrangler. Plus, it's just really smart and well-conceived. Not to mention pretty darn quick.
The 3.6-liter V6 with stop start and the new 8-speed automatic give this Wrangler a real charge and added refinement. 285 horsepower and 260 pound feet of broad torque make it a nice fit here.  But if you're willing to try something new there's an optional 2.0-liter turbo with more torque, improved acceleration and better fuel economy for an extra $1,000 and coming later is a 3.0-liter diesel.  That'll be available on 4-door models only and boosts torque to over 440 pound-feet.  And don't worry manual fans, there's a new 6-speed as standard equipment while this auto is a $2,000 option.  As is, there's certainly more polish to the ride but with these knobby KO2 tires and other factors, you're constantly adjusting the electric assist steering to keep it straight.  If you've ever driven one you know what I mean.  It pivots on a dime though with a really tight turning radius. Gas mileage takes a leap forward, now rated at 20mpg in combined driving.
A number of roof options are available including the 3 piece hard top. This one here upgrades to the Premium Sunrider Soft Top that's quieter than the standard cloth roof and it comes with an easy to use spring-assisted mechanism to help lower and raise it.  And for those who prefer to remove doors and lower the windshield Jeep has made those chores easier, too.  Not so convenient is accessing the cargo area – small as it is.  But the rest of the cabin is very impressive.  It's a tall step inside with a commanding view of the road and once there the upgraded materials and clever design touches are instantly recognizable.
It's all the little details like this that makes these Jeeps even cooler.
Leather trimmed seats, wash out interior with all-weather floor mats – everywhere you look there are little Jeep Easter eggs for all to find. It's a great looking cabin with features galore including top-notch infotainment, big knobs and buttons, weather proofed USB ports…there're even heated seats, a heated steering wheel and Wi-Fi.  Notice the animated water on the navi screen. Mine has push button and remote start and you can even get smart key entry and side blind zone alert now…pretty amazing in a Wrangler.  It's certainly got the goods to better integrate it into an everyday use scenario – very smart and ergonomically sound.  Riding in the back I noticed 2 things – it was cold and loud.  But there is good room for up to 3 more.
Pricing? A 2-door Sport starts at under $29,000, an Unlimited Rubicon at under $43,000  and a loaded one like this for just over $53,000.  No matter, towing is maxed at 3,500 pounds.  The new Wrangler JL takes a big leap forward in terms of available powertrains, technology, and safety features – the rest is much like it's always been.
Tagged with:
2018
,
4X4
,
auto critic
,
DT with Steve Hammes
,
Jeep
,
latest v
,
latest video
,
off road
,
reviews
,
road test
,
RUBICON
,
steve hammes
,
test drive
,
UNLIMITED
,
Wrangler