Chevrolet Bolt EV 2017 Video Review
Chevrolet Bolt EV 2017 Video Review By Auto Critic Steve Hammes
When you gaze into the automotive crystal ball you'll see the continued rapid transition away from the internal combustion engine to electrically driven vehicles, most likely self-driving ones. Leading the way are cars like this; the Chevy Bolt can go nearly 240 miles on a single charge removing yet another Obstacle to An EV purchase.
When it went on sale a year ago, Chevy hailed it as the first affordable long-range electric car. And with a starting MSRP of $37,495 that claim was legit then and still holds true today, well depending upon your definition of "long-range."  The new Hyundai Ioniq Electric starts at around $30,000 but only takes you 124 miles and isn't available nationwide.  Tesla's Model 3 is similar to the Bolt in price and range but if you reserved one today it likely won't be ready until 2019.  And Chevy's previous all-electric car, the Spark EV only went 82 miles. Bottom line; there are handful of cheaper EVs on the market but none of them are bringing this kind of range so the Bolt is indeed a revolutionary car and as of this fall, it's available nationwide.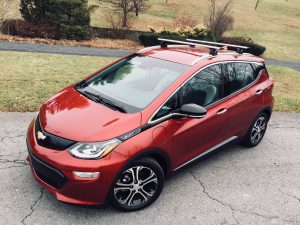 The 288 lithium ion cells which comprise the Bolt's battery span the entire floor. Its 266 pound-feet of torque is there from the get-go with a hyper-aggressive 7.05: 1 final drive ratio. And this is what makes driving an EV so satisfying.  0-to-60mph takes under 7 seconds and feels far faster than that.
Once you've driven on pure electric it's hard to go back. Why? Because the power commanded by your right foot is instantaneous. No turbo lag. No waiting around for the transmission to downshift. The quickness and immediacy provided is addicting making it crazy fun when darting through city traffic or merging on the highway. And it does so oh so quietly.
Another cool Bolt driving feature is the ability to use only one pedal. Regenerative braking during deceleration means that when you lift your foot from the accelerator there's far greater slowing down of the vehicle than you're accustomed to in a gas car.  A Regen on Demand paddle located on the back of the steering wheel can be held to slow the vehicle to a stop without ever touching the brake.  And the braking feels great, unlike in most hybrid vehicles.  GM engineers nailed this perfectly.
Now, lithium-ion chemistry performs best in moderate temperatures. Unfortunately, Albany's weather didn't cooperate this week with temps dipping down into the 20s.  So while a 238 mile range is possible, this Bolt never gave me more than about 160 miles.  Plus, cold weather adds to recharge times.  As I've said many times before, let this be a cautionary tale for those who live in locations with real winters.
So you won't be going to the gas station anymore but you need to know your charging options. Using a typical 120-volt household outlet isn't going to cut it this time. It takes about 50 hours to get s full charge from a completely depleted battery.
These 240 volt chargers are the most common ones found in public and the most cost effective to install at home. In my area they're free to use and will fill up the Bolt in about 9.5 hours.
And if you opt for the $750 DC Fast Charging Provisions you can use one of these big boys but it's going to cost you. In ideal temperatures it takes only 30 minutes to go from empty to about 90 miles but it's been taking me longer. And every hour you're connected to a level III charger costs $18 and that's never taken the Bolt above an 85% charge.
The electric propulsion components are warrantied for 8 years or 100,000 miles. This is the uplevel Premier trim with the safety-focused Driver Confidence II Package, priced at $43,905.  And yeah, the Thule rack is an official accessory and came in handy.  When you do your taxes in the spring, you can take a $7,500 electric car credit however, ostensibly reducing the cost of this fully loaded model to $36,405.  And there are a host of $40,000 features in here, like a heated steering wheel, heated seats front and rear, a rearview camera mirror, surround vision camera, the big 10" touchscreen MyLink system with full smartphone integration, WiFi, OnStar and a host of EV-specific pages – no built-in navi, however, remote start, a beautiful Bose 6-speaker audio system, wireless device charging, auto high beams and all of the driver assistive features.  What you don't get is a high quality persona …batteries are really expensive and GM had to cut somewhere so you get an interior with a sub $20,000-feel.  The seating is interesting in that you sit up higher than you'd expect, like in a crossover and the rear seating is even higher; theater-style for better forward visibility.
For what it's worth, the EPA gives it a 119 MPGe rating, a way of comparing EVs to traditional cars, meaning it can save the average owner over $4,000 in fuel costs over 5 years as compared to the average new vehicle. Minus the maddening shifter, the Bolt is real hoot to drive – quick, fun, quiet and easy.  And this is just the beginning.
Tagged with:
2017
,
auto critic
,
Bolt
,
Chevrolet
,
Chevy
,
DT with Steve Hammes
,
electric vehicles
,
EV
,
latest video
,
reviews
,
road test
,
steve hammes
,
test drive
,
top picks