Toyota 4Runner TRD Pro 2017 Review
Toyota 4Runner TRD Pro 2017 Review By Auto Critic Steve Hammes
The 4Runner is one of a trifecta of seemingly timeless Toyota SUVs that subscribe to theory "if it ain't broke don't fix it." And it's this one that possesses the most off-road worthy chops.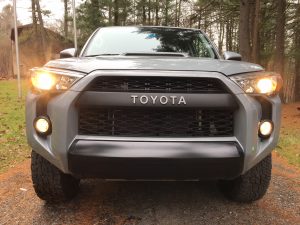 Introduced in 1984 and last redesigned in 2010, this 5th generation 4Runner is one of handful of body-on-frame SUVs left in the marketplace; even Land Rover doesn't build them like this anymore.  Preferred for its stoutness and broader off-road capabilities, ladder frame construction also weighs more and thus dings fuel economy as compared with a unibody platform – the way the vast majority of cars and SUVs are made today.  Though this particular one can't, some trims can be ordered in a rear-wheel 4X2configutration and with a 3rd row of seats accomodating up to 7.  You may recall a V8 option as well, but that's now reserved for the 4Runner's luxury cousin the Lexus GX.  Starting price is $35,405.
The TRD Pro Series, consisting of the 4Runner, Tundra and Tacoma were revealed in 2014, featuring upgraded suspensions, tires and other bits engineered to hit the trail, which for me proved to be snowy this week. Toyota Racing Development has a storied off-road racing heritage and the 4Runner TRD Pro aims to give you a taste of that.  The softer TRD-tuned front springs improve ride quality over harsh terrain while lifting the front end by an inch and a half permitting additional wheel travel.  Specially tuned Bilstein shocks with heat dissipating remote reservoirs in the rear provide better ride quality and off-road performance.  Connecting all of it to the ground is a set of Nitto Terra Grappler all-terrain tires mounted on 17" black TRD alloy wheels.  A TRD-stamped front skid plate with venting for the differential round out the key Pro Series goodies.  On top of that, you get the big TOYOTA grille, black bumper accents, TRD shift knob and floor mats.  Unlike the other 2, the 4Runner keeps its stock exhaust however mine has been fitted with an optional exhaust tip.   Throw in a handful of small options and this one rests at $45,069.  No matter which 4Runner 4X4 trim you choose you'll get 9.6" of ground clearance and a 5,000 pound towing capacity.
The 4.0-liter V6 made its debut in 2003 on the 4th gen 4Runner and makes a gruff 270 horsepower and 278 pound-feet of torque, returning 18 mpg if you're lucky.  The accelerator pedal requires a deliberate push to get the 4Runner to move – a nice trait when you desire off-road sensitivity – however plodding in everyday use.  And the 5-speed automatic harkens back to Bush 43's first term.  For some perspective, I recently tested a 10-speed equipped SUV.  The 4Runner's ride is trucky – soft, comfortable and surprisingly quiet when you're not revving the engine buy deliberate in its maneuvers.  This isn't the one for taking the back roads to grandma's house unless they happen to be straight.  The part-time 4-wheel drive system means you must choose between 2WD and 4WD operation…unlike an AWD vehicle it's not going to magically do it for you, so that's a negative.  It does possess a plethora of deeper controls such as a rear differential lock in case your spinning one of the rear wheels, Active Traction Control which helps get you going on slippery surfaces, the speed adjustable but noisy Crawl Control system that sounds like the ABS is about to blow a gasket, and Multi-terrain Select with settings for Mud & Sand, Loose Rock, Mogul, and Rock.  In lockstep with the 4Runner's throwback design is the 4-wheel drive lever – some trim levels come with a modern switch instead.  Due to our first snowfall of the season I didn't get to throw this 4Runner into my normal muddy, rocky trails but it feels really strong in the snow, just like this 2010 model I put through the paces in icier conditions.
As a body-on-frame SUV with upgraded shocks and tires the 4Runner TRD Pro is even more at home in serious off-road conditions and so it's a formidable truck. But it's baffling to me how Toyota skates on letting this thing sit in a suspended state. I haven't driven one in ages and yet almost nothing has changed. From the 5-speed auto to the manual 4-Wheel drive control to the utter lack of modern safety features a lot of this feels like a complete mail-in job by Toyota. Yet 4Runner sales are in the rise. Go figure.
Things like side blind zone alert, rear parking sensors, and collision mitigation are no comprende for this 4Runner as are host of other accruements expected in a 2017 model SUV priced in the mid-40s. I love the optional sliding rear cargo deck and amply sized rear seats but if you cherish new things like push button start, auto climate control and a navi screen bigger than 6" you can keep on walking.  The 4Runner crowd is a loyal one and they'll tell you the TRD Pro is lovingly basic but with a redesign likely another 3 years away I'm just going to call it old.
Tagged with:
2017
,
4runner
,
4WD
,
auto critic
,
DT with Steve Hammes
,
latest video
,
Pro
,
reviews
,
steve hammes
,
SUV
,
Toyota
,
trd