2021 Audi A6 allroad Test Drive
2021 Audi A6 allroad Test Drive By Car Critic Steve Hammes
Hey, look what's back!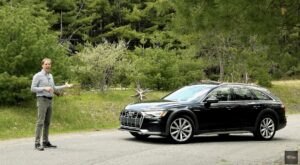 It's the Audi A6 allroad. So for those who've got some money and like to go glamping at the lake house, a luxury, quasi off-road wagon like this will not only make an affluent impression on the out of town neighbors, it's practically standard operating procedure.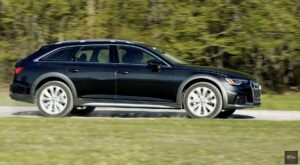 Every summer when I venture into the bougie coastal towns of New England I'm reminded of what a Mercedes exec told me many years ago; their most affluent customers buy the E Wagon.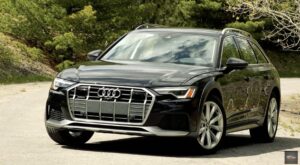 It's a sign of old money and you always see one parked underneath the port-cochere of some magnificent beach home.  But Audi hasn't been quite as committed to the wagon in the U.S. market with the A6 Avant quattro discontinued after the 2011 model year and it's been 15 years since the allroad name graced an A6 wagon – both of which I tested, back when stickshifts, superchargers and V8s were still on the menu.  But the new E-Class All-Terrain Wagon now has some fresher competition in the A6 allroad.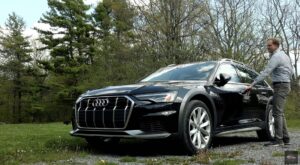 So here's your A6 allroad primer: it's an all-wheel drive, midsize station wagon with a turbocharged V6 making 335 horsepower and a 48 volt mild hybrid system which aids in fuel economy though it's still nothing to write home about at only 22mpg on premium.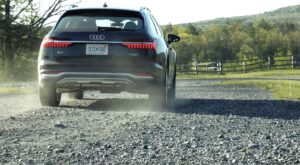 With the air suspension fully raised in its off-road setting, the allroad sits nearly 2" higher than the A6 sedan.  It's available in 2 trims: Premium Plus and, like here, Prestige, priced from about $67,000.  This one, with almost all of the goodies, checks in at $75,000.  For some perspective the A4 allroad is priced from over $20,000 less.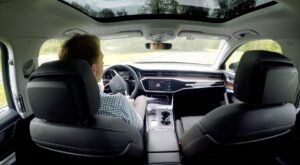 The Prestige adds a head-up display, fancier exterior lighting, 4 zone climate control, ambient lighting and adaptive cruise control with Traffic Jam Assist which can do some of the driving for you.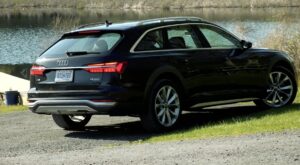 The basis of its allroad chops is quattro ultra; that's Audi's all-wheel drive setup that decouples the rear section of the drivetrain under normal operation to save fuel.  It's a predictive system which invites the rear wheels to the party shortly before they are needed.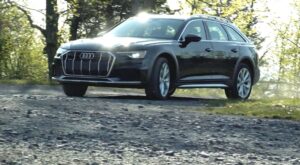 It works through a 7-speed dual clutch automatic with numerous drive modes that tailor the engine, suspension and steering feel. You can also raise the body manually, there's hill decent control and a screen that displays off-road geometry.  So for the gravel and dirt roads, a sand strewn driveway or the ski lodge's unplowed parking lot the A6 allroad is setup to confidently conquer light terrain.  Just remember; you've got grand touring tires and no skid plates so proceed cautiously.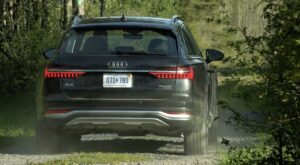 Driving the A6 allroad is all about luxury, comfort and quietness. Even though there's a sport mode the allroad doesn't pretend to be something it's not. Smooth as butter with no hint of a turbo except to say there's plenty of power on tap, this is the kind of car that melts away stress.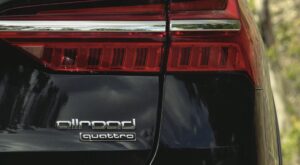 There's a Land Rover-esque fortress feeling inside and the 369 pound-feet of available torque pours out in a linear fashion that is 5.1 seconds quick but always graceful.  So activate a massage program, dial up some yacht rock and chill – the allroad is good for 425 miles between fill-ups.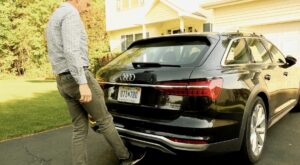 There's also a foot activated liftgate that includes an automatic cargo cover, an optional all-weather cargo mat, an elastic restraining strap, a small cubby and remote switches to lower the rear seats.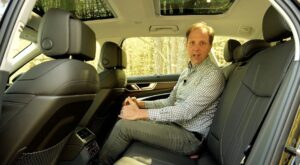 And because it's inherently easier to access than an SUV there's no need for additional air suspension controls back here to lower the body. Audi also sells a number of Thule hitch mount and roof-type carriers for bikes and cargo and accessing the allroad's lower roof is another wagon vs. SUV benefit.  Another cool option is the Audi Beam Rings – the brightest such projection I've ever seen, complementing the changeable ambient cabin lighting at night.  It really looks amazing after dark.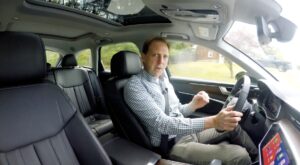 The MMI system is a good one with dual screens, haptic feedback touchscreen control, Google earth mapping and wireless phone projection.  But a wagon this size definitely deserves a bigger center console…this one stores the charge pad and very little else.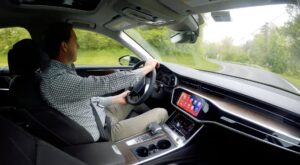 That mapping carries over to the Virtual Cockpit and there are numerous ways and themes in which this info can be displayed.  There's also a head-up display.  MMI is easy to use with the bottom screen primarily running climate controls and accepting handwriting for navigation input.  A bird's eye view camera with external button rounds out the modern tech.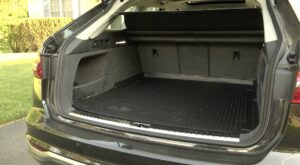 It's a stately wagon, here in upcharge Vesuvius Gray and far more attractive than the blah looking, facelifted E-Class.  If the Benz says old money then the Audi says I've got next. 
But money you will still need plenty of and if there's one thing I've learned about the rich it's that they want what few others have.  So even though a Q7 Prestige costs almost the same, they'll gladly overpay for the A6 allroad because of its exclusivity.  So welcome back A6 wagon and enjoy your time at the shore.  
2021 Audi A6 allroad Test Drive By Car Critic Steve Hammes  |  TestDriveNow 2021(c)
Tagged with:
2021
,
A6
,
allroad
,
Audi
,
Car Critic
,
latest video
,
Luxury
,
rich
,
road test
,
steve hammes
,
test drive
,
Wagon