2019 Volkswagen Jetta GLI Review
2019 Volkswagen Jetta GLI Review By Auto Critic Steve Hammes
2019 Volkswagen Jetta GLI Autobahn
Affordable, fun and frugal; the GLI has been fitting that bill now for a number of years.  And even though this model is all-new the GLI continues to deliver on that heritage.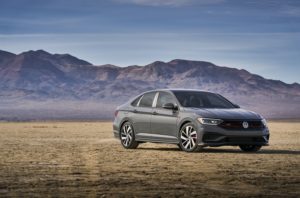 Perhaps more so than any other brand, Volkswagen has an instantly recognizable character, particularly from behind the wheel. Whether you're in a Golf, Jetta or Passat the family lineage is palpable; from the slightly astringent new car smell to the squared off windshield, VWs possess a set of personality traits that convey exactly who they are.
Priced at over $7,000 more than the Jetta from which it is based, the GLI sits lower upon a specifically tuned stiffer, sport suspension with Golf R front brakes, a torque vectoring electronic limited slip differential vastly improving handling and cornering performance, variable ratio steering for speed appropriate turning effort, and Driving Mode Selection with Normal, Sport, Eco and Custom settings that affect a number of variables including exhaust note.
You also get the GLI look with red accents, more aggressive styling and dual exhaust tips and inside there are comfort sport seats in the front and very thoughtful contoured seats in the rear so your passengers can enjoy your spirited driving without sliding around.  Oh, and of course there's a power upgrade where the Jetta's 1.4-liter turbo is swapped for the GTI's 2.0-liter turbo with considerably more output than the previous GLI; 228 horsepower and 258 pound-feet of torque.  And ironically, I find that VW's fuel economy estimates are more accurate than most and as you can see I've averaged about 30mpg this week with lots of sporty driving.  Again, the GLI offers a coveted balance of performance and efficiency, and that's with this standard 6-speed manual that actually returns the same mileage as the optional 7-speed auto…you don't see that much anymore.
Speaking of the stick shift, I'm not one of those save the manual sycophants but I still enjoy one in the right car and this is definitely one of those times.  In lock step with the GLI's overall balanced nature, the manual throws and clutch pedal movements are satisfyingly easy…a good one for first timers to practice on. It is weird though to have an electronic parking brake and not a hand brake.
The GLI is also a car that might not shine on a quicky test-drive at your dealer.  It's not until you drive it every day in a variety of situations that you really start to appreciate the overall offering.  It's comfortably simple and relaxed yet sporty and excitable when you want it to be…a very nice dynamic range for $30,000.  This is the top-of-the-line GLI Autobahn with real leather seats, a panoramic sunroof and the cool-looking Digital Cockpit but it doesn't have the desirable adaptive chassis control feature of the 35thAnniversary Edition slotted just below it.
Even so, this GLI rides with the trademark compliance of VW's sporty cars while engaging the driver in a more organic and fun natured way.  You really feel like you're driving this car and not the other way around and this limited slip, cross-differential system is the real deal doing a yeoman's job of neutralizing understeer and surefootedly powering out of turns.  It's light and nimble with great steering feel and simply put, a fun way to get around without sacrificing practicality or comfort.
Getting into a VW is like going to visit your grandparents; familiar, welcoming, but kind of stuck in time. You know exactly what you're going to get and that's not necessarily a criticism because VW's formula for building fun to drive cars simply works. The GLI still offers a stick shift and it's as easy as Sunday morning, the flat cowl provides excellent forward visibility and the turbo adds zip. It's not groundbreaking stuff but put it all together and it just feels right. Spacious, efficient, reasonably priced and dialed in the GLI is the right Jetta for the driver who wants a little more.
Yes, VW's atavistic styling opens itself up to scrutiny and their cabins are not exactly the most current or exciting but they do work with a quaint simplicity.  The new infotainment is a competent touchscreen replete with a couple of knobs and interesting features like the performance monitors and 10-color ambient lighting.  And the 400-watt Beats Audio System with 8 speakers and a sub is a bass blaster with big sound.
The rear seats are sculpted and play large but VW's giving passengers nothing back here; one seatback pocket, and no USB ports.  The center console is pleasantly large for a European car as is the trunk, speaking to the GLI's larger than most compact dimensions.  The Civic Si is awesome and the Elantra Sport is no slouch but the GLI just feels like the veteran player that sets the bar for prudent, German-engineered, automotive entertainment.
Tagged with:
2019
,
auto critic
,
Autobahn
,
DTwithSteveHammes
,
gli
,
Jetta
,
latest video
,
reviews
,
road test
,
steve hammes
,
test drive
,
Volkswagen
,
VW