2020 Hyundai Venue First Look
2020 Hyundai Venue First Look By Auto Critic Steve Hammes
Just when the Kona thought it had the small end of Hyundai's SUV lineup all to itself in comes its just born little sibling;  the all-new 2020 Venue.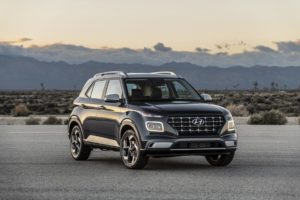 This entry-level utility vehicle gives Hyundai a total of 7 from which to choose and the Venue will be the most affordable when it arrives at dealerships this fall.  Hyundai says this one is "for those constantly on-the-go", accommodating busy lifestyles in a fast-paced urban environment.
Knowing fuel economy is an important consideration for customers in this segment, the 1.6-liter 4-cylinder engine is estimated to deliver up to 33mpg in combined driving mated to either Hyundai's excellent CVT or even a 6-speed manual – both driving the front wheels.  No all-wheel drive option here.
Providing interior volume not too dissimilar from the Kona, the cabin has been designed for "adequate space for the versatile urban commuter, making it an ideal alternative to a subcompact car, according to Hyundai.
And because it's Hyundai you know they won't skimp on "stuff" and indeed a suite of advanced safety features, connectivity and multimedia systems are offered.
And joining the 2-tone paint fad, the Venue offers a number of color combinations for the roof, mirrors and trim.
More details including pricing will be revealed closer to the Venue's on-sale date.
Tagged with:
2020
,
Auto Shows
,
crossover
,
DTwithSteveHammes
,
first look
,
Hyundai
,
latest video
,
nyias
,
previews
,
SUV
,
venue