2019 BMW i8 Roadster Review
2019 BMW i8 Roadster Review By Auto Critic Steve Hammes
2019 BMW i8 Roadster Tera World Copper
If you're not famous but seek instant rock star status this car can get you there without ever learning a chord. It's the BMW i8 and it's one of the most magnetizing cars I've ever driven, now available in top down style.
When I first drove this car 4 years ago, I became enamored with its Tomorrowland styling, road-hugging handling and Sheldon Cooper-engineered powertrain.  It's a low slung, plug-in hybrid all-wheel drive sports car that's dripping in swagger. And for the first time since its 2014 introduction the i8 has been updated and expanded with this new Roadster model.  More power, greater range, better tech – the 2019 i8 sees incremental improvements but most of all, it now offers a wind in your hair driving experience.  It doesn't come cheap, however, as the new Roadster carries a nearly $16,000 premium over the standard Coupe.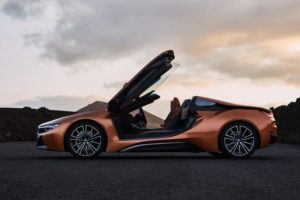 The power operated soft top partially resides where the rear seats used to making this one a 2-seater and because it carries an extra 132 pounds and doesn't slip through the air quite as fluidly as before it's not as fuel efficient.  As with any plug-in hybrid, results will vary widely but for a baseline figure the EPA rates the Roadster at 69MPGe with 17 miles of all-electric driving and a total range of 320 miles.  The previous i8 was good for only 14 miles of EV driving.  Advances made in BMW's battery cell technology also ratchet up the electric motor's peak output by 12 horsepower.  Combined with the 3-cylinder turbocharged gas engine total output is bumped up to 369 horsepower while its enthralling 420 pound-feet of torque remains unchanged.  If you need a refresher, the i8's highly technical running gear comprises a 1.5-liter gas engine and 6-speed automatic running the show in the rear while an electric motor with its own 2-speed transmission resides upfront.  Depending on the selected mode and how you're driving it, the i8 can vacillate between rear-drive, front-drive and all-wheel drive. At only 3,500 pounds with a low center of gravity and carbon fiber passenger cell, the i8 effortlessly glides though turns with little need for the brakes.  And have you ever heard a 3-cylinder that sounds this good?  A sportier soundtrack is part of the 2019 upgrades.  It's 2/10ths of a second slower than the Coupe but can still launch to 60mph in a very matter of fact 4.4 seconds.  Top speed is limited to 155mph.
Bar none, this is the most difficult car to get in and out of on the market today.  As a matter of fact, in a few years I would probably have to be airlifted in.
The scissor doors are a huge part of the i8's shock and awe factor and there's smart key entry now but these thick sills will dirty up your Sunday best, especially if it's been raining.
Weekend getaways with the Roadster? Well, I guess it's possible. This is a standard airline-sized carryon bag and that's all that will fit back here but there is a little more additional room behind the rear seats.
It's deep and subdivided so you can carry more than you'd expect but otherwise smaller stuff it spaces, say for your phone and wallet are at a premium. So pack your sunglasses and a hat and not much more than that.
Once inside the cockpit is very comfortable and the touchscreen infotainment system with the very desirable wireless CarPlay, but not Android Auto, is fresh and packed with useful information about the hybrid system and much more.  Immediately, the gauge display lets you know the i8's charge status and how many miles of EV driving to expect once you juice it up.  Much to my surprise, I've been getting numbers in the high 20s on a full charge…much more than advertised.  BMW says the number of driving situations where the electric motor is solely responsible for powering the car has been significantly increased now up to a raised speed of 75mph.  At 240 volts its takes about 3 hours to charge.  Much like my last i8 test drive and mostly charging at just 120V, I averaged a little under 40mpg.  When you do need gas, BMW recommends premium.
So what's it like to drive? Well, the ride quality if quite firm so you do feel every road anomaly. But the seating position and general cabin comfort are spot on. And with the top down wind intrusion is kept to a minimum. Now, in its default comfort mode this is mostly an engine-off EV driving experience with plenty of torque. But then, and then kick the shifter to the left to engage Sport mode which immediately fires-up the engine with its accompanying sounds which are both pleasing and shockingly realistic. Now, the steering is not as connected as it could be and the brakes though immediate show hybrid tendencies that tend to be a little grabby and strange but the best part of this car is definitely the handling. This is the definition of glued to the road with a low center of gravity, biting all-wheel drive and a lightweight passenger cell. In many ways, it's a rails-on experience that reminds me of a Nissan GT-R; totally unflappable.
The i8 Roadster isn't a car that needs to be driven hard to be enjoyed. The quiet EV driving is just as cool. A configurable heads-up display and precise top view camera are welcome additions but no side blind zone alert is a bizarre omission as is the fact that there's still no AM radio in BMW's i cars. At night, the Ambient Lighting looks fantastic as does the i8 logo projection.
Like music, cars evoke a visceral response within us often tied to memories and emotions that only we truly understand. And the i8 is just that kind of car; one I'd put on my top-5-to-own list if I ever had this much money. Sure, you can buy cars that are faster and more powerful for less but our love for automobiles is not born from a stat sheet. It's fueled by its coolness factor, its design and how it makes you feel from behind the wheel and the i8 has all of that and then some. Its combination of futuristic and fun is just perfect for me.
This top of the line i8 Roadster Tera World Copper with everything as standard is priced at $166,795 and qualifies for a $5,700 Federal Tax Credit. 5 years after its release the wow factor is still off the charts and the i8 continues to strut an eco-friendly sport-car future.
Tagged with:
2019
,
auto critic
,
BMW
,
DTwithSteve Hammes
,
EV
,
i8
,
latest video
,
reviews
,
road test
,
roadster
,
Tera World Copper
,
test drive