2019 TOYOTA TACOMA VIDEO REVIEW
2019 TOYOTA TACOMA VIDEO REVIEW BY AUTO CRITIC STEVE HAMMES
The smaller, midsize truck segment as it is now called is red hot again with a trio of new entries about to shake things up. But no matter what the competition throws at it the Tacoma is the mainstay best-seller.
In full disclosure, I own a Tacoma; a 2001 Prerunner that's been in my family ever since I reviewed it for the show 18 years ago and then bought it out of the press fleet. So I have particularly high standards for this truck.  It has been the segment's sales leader for 12 years running so I can't really blame Toyota for their if-it-ain't-broke-don't-fix-it approach.  But…
…these were my words after I first test drove this all new Tacoma for 2016 And frankly, my opinion hasn't changed. There's a sense that Toyota isn't giving you their best with this truck and with Ranger, Gladiator and an all new Frontier on the way not to mention an already more compelling Colorado, the Tacoma is facing its stiffest competition to date.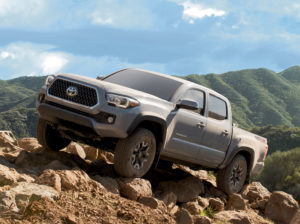 Let me first focus on the positive. What is the Tacoma known for?  Dependability.  And it ranks first in that department from the most recent J.D. Power survey.  It also retains its value better than any other truck in the segment.  And at 20mpg in mixed driving it's also the most fuel efficient body-on-frame V6-powered 4X4 pickup available.  The Cavalry Blue exterior color is magnificent and the optional hard tri-fold tonneau cover is well conceived; lockable and water resistant with easy to use latches and clips.  Other than the droopy front spoiler, I really do like the look, particularly on this non-TRD range-topping Limited grade, which flaunts a heavy dose of chrome.  With everything as standard equipment other than the tonneau cover, MSRP of this Tacoma is $42,310.  The Limited comes exclusively in the full 4-door double cab bodystyle with the smaller 5' bed, powered by the 278 horse V6 and 6-speed automatic with part-time 4-wheel drive.  The double-wishbone front suspension contributes to a steady on-road ride that's quite comfortable for a small truck.  Inside, having a strategically placed wireless charge pad for my phone is a welcome, modern touch. Standard safety features remain impressively high including collision mitigation, dynamic radar cruise control and auto high beams.  And now, for the rest of the story.
I've been really impressed with Toyota's latest crop of cars but what on earth is going on with their truck division? This Tacoma is so disappointing is so many ways, and it is by far the freshest truck they offer. It starts with a lousy 6-speed transmission that makes this zero fun to drive. And why doesn't this Limited grade offer height adjustable seats much less power? The driving position is very uncomfortable. Rear seat room is much tighter than in my 19 year old Tacoma. And then little things like not including the passenger side door for smart key entry, no CarPlay, the ancient looking switchgear, no automatic 4-wheel drive setting and heck for $43k you can't even throw in some floor mats? At least they're consistent…This latest Tacoma immediately fits right in with the rest of Toyota's dinosaur era truck lineup.
Transmission mapping prioritizes fuel economy so you're always stabbing at the gas pedal to induce a kick down to a lower gear. Lots of road noise makes its way into the cabin and if you're taller than 6'1" you'll be hitting your head getting in and out.  I'd also like to see a 4-wheel drive auto setting for changing road conditions.  New for the 2019 model year, Toyota gives you 2 more USB ports located in the center console.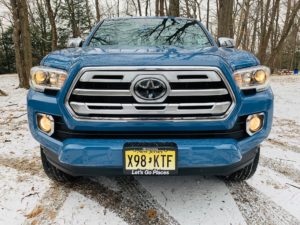 Not having a place to put my foot on the bumper while the tailgate is down still irritates me.
For $300 though, Toyota will sell you a BedStep.
It's anticipated that a refreshed Tacoma will debut for the 2020 model year at which point the competition will be coming fast and furiously.
Tagged with:
2019
,
4X4
,
auto critic
,
DT with Steve Hammes
,
latest video
,
Limited
,
pickup
,
reviews
,
road test
,
steve hammes
,
Tacoma
,
test drive
,
Toyota
,
trucks
,
V6