2019 Subaru Forester Review
2019 Subaru Forester Review By Auto Critic Steve Hammes
2019 Subaru Forester Touring
Better than any other automaker, Subaru knows its customers and brilliantly markets their products based on warm and fuzzies like kids, dogs and the great outdoors. Their vehicles definitely aren't for everyone but for those of a particular mindset the combination of legendary all-wheel drive and fuel efficient powertrains is just what they're looking for. Like this all-new Forester.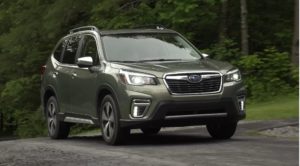 In full disclosure, I've never been a big Subaru guy.  But apparently I'm in the minority because their dealers are having trouble feeding the insatiable demand for their crossovers, especially the Crosstrek and Forester – 2 of their best-sellers.  Now, Subaru's version of all-new is tepid by industry standards…I parked this one next to a 2017 Forester the other day and had to stare for a while to discern the differences. It's really in the back where the new design is most prominent or you could get out your tape measurer; the wheelbase has been stretched by over 1".  While I view it as only slightly less dorky than before, I have to admit the Forester has received a lot of compliments this week, particularly about this new Jasper Green color.
My tester is the Forester that has it all…the Touring trim priced at $35,270 with everything you see as standard equipment, including power seats for the driver and front passenger, new heated rear seats and a heated steering wheel.  The Saddle Brown Leather interior is a perfect match and elevates Subaru's typically lacking cabin appeal.  The ease of getting in and out of it is one of the Forester's hallmark traits with its generous 8.7" of ground clearance lending to the ideal step-in height.  The rear door openings are also wider so getting kids settled in their car seats is easier on adults.  And in a day and age where windows are shrinking in favor of daring design, the Forester has greenhouse for days…anywhere you turn there's excellent visibility.  The front seats are more long-trip comfortable and the driving position is SUV-like in its command though I wish there was more lateral support to assuage some of the Forester's clumsy handling.  And cargo room is up with a flatter, much wider load floor, with underfloor storage, a cool cargo mat, cargo cover and switches for remote operation of the split-fold rear seats.  There's also a new button to lower the tailgate and lock the Forester from back here but still no foot-activated operation of it.  And the backseats are now very spacious with much more legroom and an overall sense of expansiveness thanks in part to the panoramic roof…unfortunately with a manual shade that's a little hard to reach.  The newly divided seatback pockets are also a nice get.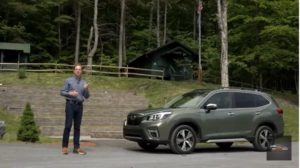 The powertrain is, well, very Subaru. The numbers don't jump off the page and are lower than all of the Forester's key rivals but the 2.5-liter boxer engine now has a little more to give, producing 182 horsepower and 176 pound-feet of torque while gas mileage is marginally better, rated at 29mpg. That, combined with a larger tank, also provides a greater driving range of over 480 miles.  Subaru's latest continuously variable transmission is generally pretty darn good but I don't like its logic here… like it's trying too hard to replicate a traditional automatic and in doing so creates some unusual sensations. Turbos and stick shifts are no longer an option.  But the best part of any Subaru is its all-wheel drive system which is in fact superior and pairs here with torque vectoring for individual wheel control and a new dual-setting X-Mode for tailored off-road settings including deep snow and mud.  Hill decent control is also part of the X-mode mix.  And even on these rather plebeian Falkens the Forester distinguishes itself as the small CUV you want when the blacktop disappears.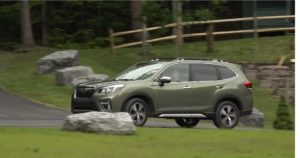 As with nearly all Subarus the Forester feels most at home on the trail to the lake and on the rural dirt road where it flaunts a rugged capability that's palpable from behind the wheel. Otherwise there's not much to praise here. The steering is some of the most artificial and disconnected you'll find, it's a Subaru so you know there's not much power or pleasing transmission, and the ride quality feels less than polished over rough pavement. That being said you know how many Forster owners care about such things? Probably zero.
And there's nothing wrong with it.  Just be mindful that if you consider yourself a driver than a CX-5 or CR-V is going to be a better fit.  This one is slow, and despite attempts to reduce extraneous noises, the Forester is susceptible to wind noise.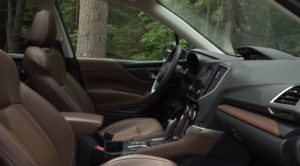 Subaru's camera-based EyeSight safety system is standard on all Foresters but the higher trims get a more extensive version including high beam assist and steering responsive headlights.  The adaptive cruise control works very well and there's even an attention monitor now; look at that navi screen too long while you're driving and you'll be scolded both visually and audibly.  Don't like it?  Like most of these electronic nannies they can be turned off.  The tire pressure monitoring system now registers each individual wheel and the new trailer stability assist makes towing that 1,500 pounds a little safer.  I also love having a vehicle hold function for times when I'm sitting in traffic in order to give my leg a rest.
Though I like the outdoorsy look of the Touring's cabin its functionality has frustrated me all week. First off, there are too many buttons everywhere. Look Subaru you've got great safety tech but there are buttons for it up here and on here and a complete bank down here. You're not constantly changing these things so just integrate it into the electronics. And then there's this upper screen with good information but difficult to control with more confusing switches down here. This spot down here isn't big enough for a phone much less offer wireless charging and darn tailgate won't go up until you unlock the doors first.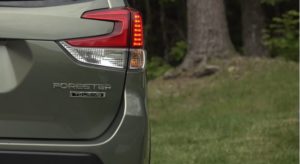 The Starlink system is one of the better setups including full Apple and Android integration, Wi-Fi hotspot, built-in Tom Tom navigation, and lots of connectivity options with a vehicle controlling smartphone app.  The Harman Kardon 9-speaker sound system also outperforms its 576 watts.
For the mountain biking, granola-eating, Vermont maple syrup aficionado the new Forester continues to adroitly facilitate the stereotypical Subaru lifestyle.  And for that it's a very good choice.
Tagged with:
2019
,
DTwithSeveHammes
,
Forester
,
granola-eating
,
latest video
,
lifestyle
,
mountain biking
,
reviews
,
road test
,
Subaru
,
test drive
,
Touring
,
vermont