2019 LEXUS UX REVIEW
2019 LEXUS UX REVIEW BY AUTO CRITIC STEVE HAMMES
So you've always wanted a Lexus. Your heart is saying go but your back account is saying no. Well, Lexus may have solved your conundrum with this all-new, subcompact-sized UX priced from the low $30s.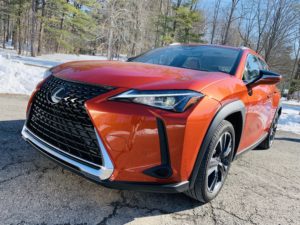 Going down-market is nothing new in this segment but manufacturers must show prudence so as not to water down their luxury marquee. The UX is now the gateway Lexus so it will introduce the brand to a younger group of customers. Last year, I tested this crossover's Toyota counterpart the C-HR and came away with a favorable opinion even though it needed some packaging tweaks…mainly more stuff and the option of all-wheel drive.  This UX – which stands for Urban Crossover – preserves the CH-R's funky, evocative styling with a healthy dose of Lexus luster including the choice of 4-wheel traction and even a hybrid powertrain.
The model I'm running around in this week is the UX 200 Luxury with front-wheel drive and a handful of options leading to an MSRP of $41,560. As compared with the base UX, the Luxury adds a power rear hatch with kick sensor for hands-free operation, driver's side memory settings, a blind spot monitor and much more to give its occupants a complete premium experience.  Utilizing a new 2.0-liter 4-cylinder engine that delivers more power and better fuel efficiency than the Toyota power plant, the UX is rated at 169 horsepower and 152 pound-feet of torque while using a trick CVT that's engineered to behave more like a traditional automatic transmission with 10 simulated gears.  In the urban environment for which it in intended, the driving experience is quite agreeable with enough grunt to move things along when needed, crisp steering and a chassis that profits from lightweight materials and a low center of gravity to imbue the UX with a dialed-in agility.  The fully independent suspension delivers a welcome feeling of driver control while preserving a Lexus-level of comfort.  It's also quiet but not to the typically high Lexus standard…you'll actually hear some road noise in here.  It's sized so neatly that maneuvering in traffic and finding suitable parking is a breeze…one of the best parts of owning a small car.  And if the Cadmium Orange paint didn't already awaken the senses this Glazed Caramel interior certainly will. It's in here where this UX comes closest to earning its asking price – beautiful to the eye as well as the touch, with synthetic leather that is soft and feels like the real deal.  It's a driver focused cockpit with an optional heads-up display, cool graphics and a new twist on an old theme.
You know I'm not a fan of how Lexus presents its infotainment but this new controller on the center console does make it better in that you can do more without having to use the touchpad which is aggravating to control. It also includes Apple CarPlay but not Android Auto and comes with an upgraded 8-speaker sound system that sounds OK.  There are heated and cooled seats with an auto setting that detects your presence, auto high beams and dynamic radar cruise control.  And as long as those in the front aren't giraffes rear seat head and leg room are just enough to keep your passengers from complaining.  There are also a couple of USB ports back here.
What seemed exciting and attractive at $25k is less so at over $40k. Now this platform is solid and the suspension likes frisky driving but this 2.0 liter engine and nouveau CVT just don't cut it in a Lexus. It's slow and doesn't entice me to drive for fun. On the other hand I really like the upscale cabin minus you know what and the sizing isn't prohibitive.
There are Eco, Normal and Sport modes but nothing really fixes the lack of enjoyment from behind the wheel or the droning sounds it makes when out on the open road, which is sad because you can tell this platform can handle a real powertrain which in addition to being a fine around the town performer would also make it a real driver's car. A hybrid variant of the UX is also available as is an F-Sport model but I doubt that either would change my impression. Gas mileage is quite solid at 33mpg on regular. In exchange you get a Lexus that takes nearly 9 seconds to reach 60mph.
So the UX is a simple case of a small luxury crossover with a lot of show and very little go. It'll appeal to the brand conscious and not at all to those who fancy themselves as passionate drivers.
Tagged with:
200
,
2019
,
auto critic
,
crossover
,
latest video
,
Lexus
,
Luxury
,
reviews
,
steve hammes
,
sub compact
,
SUV
,
UX