2019 Mazda CX 9 Review
2019 Mazda CX 9 Review by Auto Critic Steve Hammes
The family's growing. The kids have friends and sports no longer have an off-season. You're in the market for a 3-row SUV. Sure, the neighbors all have Pilots and Highlanders but you go your own way. And that's where Mazda fits in with the CX-9; a distinctly unique take on the family mobile.
I've always been a fan of the CX-9, even going back to its first generation which ended when this beauty arrived 3 years ago. It's about as handsome as a 3-row gets, is sized accordingly and drives with a passion not usually seen in this segment.  Mazda is a small company that knows if it wants to compete with the big boys it has to go its own way by offering something unique; wooing buyers to the Japanese brand as an exciting alternative.  And Mazda has visions of champagne and caviar in its head as exemplified by this CX-9 Signature with an MSRP of over $49,000.  It's so cool and exclusive it gets a new badge this year that kind of looks like 5 grams…you know, your typical Creatine Dosage for all you bodybuilders out there.
The CX-9 is a standout in the styling department and this range-topping Signature trim has a gorgeous interior made from authentic materials that elevates it into the luxury realm. It's quiet and very comfortable. But most of the updates for this year focus on electronics including a super helpful 360 degree camera.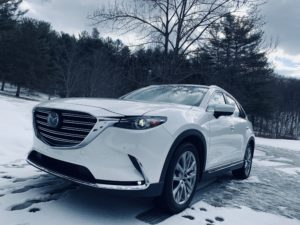 The surround view camera has joined my short list of must have items in bigger vehicles like this and I like that it can be easily accessed unlike some other setups I've tested.
Apple CarPlay and Android Auto join the mix this year and that's a good thing because Mazda's infotainment system is generally lacking and a bit cumbersome to use because its touchscreen functionality only works when the vehicle is stationary, leaving you to use a knob and buttons. SiriusXM Travel Link is a new addition for 2019 providing info such as traffic, weather and gas prices but just look at the interface and the graphics.  Maybe it works in a Mazda2 but not here.  Sorry.
The other new goodies include this configurable gauge display, ventilated front seats, power folding mirrors and updated wood trim. Speaking of which this Nappa leather-clad, aluminum and Rosewood interior is exclusive to the Signature and it's phenomenal.  A real talking point.  The 2nd row benefits from slide and recline seats, climate control, heated seats and sun shades.  The seats are slightly elevated too – good for kids.  They also tilt and fold for either access to the reasonably sized 3rd row or to create a big, flat cargo area.  I find it relatively hospitable back here so kids should be just fine.  But here's where the Signature trim drops the ball: there's no hands-free liftgate, no power folding seats, no panoramic roof, and no wireless device charging.  And then there's this…
The rear entertainment system is a nearly $2000 upgrade that feels very aftermarket and doesn't have any tie in with the head unit. And if there's one area in which the CX-9 still feels a step behind it's in innovative cabin technologies.
You know, like Honda's Cabin Talk or Chrysler's cool interactive kids' games. Something tells me these screens aren't long for this world.
The CX-9's turbo-4 really does get the job done in terms of power and refinement…even in a nearly $50,000 vehicle. But my mileage has been a bit disappointing. I guess it needs more SkyActiv. The suspension upgrades have added more polish to the ride and the handling is still a place where Mazda can hang its hat when compared to the competition. It's a great drive for a mainstream 3-row. But that price leaves me wanting even more.
No one uses a 6-speed anymore and even though I don't love the feature, the lack of start-stop certainly contributes to MPG you think would be better than the V6 competitors.
The all-wheel drive has done a yeoman's job in the snow and the 310 pound-feet of torque and 250 horsepower play particularly well. However, keep in mind that if you chose to use 87 octane horsepower drops to 227.  It drives and steers and moves through a backroad like a Mazda and that's the biggest compliment you can pay it.  It's not sporty per se but it sure is competent beyond what it needs t be.
You can score a CX-9 for under $35,000 but if you must have it all a fully loaded Signature is $49,230. Certainly good but not great.
Tagged with:
2019
,
3rd-row
,
auto crtic
,
AWD
,
CX-9
,
DTwithSteveHammes
,
FAMILY
,
latest video
,
Mazda
,
reviews
,
Signature
,
Skyactiv
,
steve hammes
,
SUV