2019 BMW X7 xDrive50i REVIEW
2019 BMW X7 xDrive50i REVIEW by Auto Critic Steve Hammes
It seems impossible that it would take BMW this long to bring a big 3-row to market but this is definitely one of those instances where good things come to those who wait. This is the first-ever X7 and it's packing everything BMW has to offer.
Mercedes has been building the 3-row GL for over a decade.  And seeing as how the Germans are always copycatting each other, the fact that BMW didn't checkmate until 2019 is shocking. But patience has been rewarded with a 6-7 passenger people mover that's as luxurious as any SUV ever produced.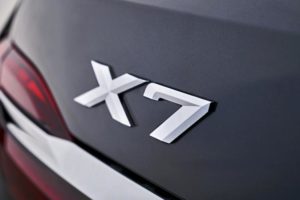 The tester BMW has provided is a dream machine replete with nearly every feature the X7 has to offer.  So keep in mind that for about $75,000 there's the X7 xDrive40i with 6-cylinder power.  This one however is the 50i and has a fire-breathing twin-turbo V8 and nearly $20 grand in options to arrive at an as-tested price of $112,245.  For that amount, every aspect of the X7 experience has been pushed to the limit.  This one leaves the off-road package behind in favor of the M Sport treatment such as the more vociferous exhaust, 21" wheels wrapped in all-season runflats, the aero body kit, and meaty M steering wheel.  To further the mechanical prowess the Dynamic Handling Package brings more stopping power, a limited slip differential with an electronic locker that takes advantage of the X7's rear-drive bias for powering out of turns and for improved traction, and Integral Active Steering that turns the rear wheels dependent on the speed of the vehicle to enhance stability in fast maneuvers while also decreasing the turning radius in the parking lot.  But the most interesting piece of this package is Active Comfort Drive that uses cameras to preview the road and then proactively makes suspension adjustments to elevate agility and ride quality.
And all of this wizardry truly works as advertised. Making a 5,600 pound vehicle handle like a sports sedan isn't a simple engineering feat and the fact that it also drives with the sumptuousness of a 6 figure luxury car is truly amazing.  No matter if you're in Comfort or Sport, the X7 never loses its grace.  The air suspension, which can be raised or lowered manually, does an amazing job of keeping the body level and isolation from rough road while the cabin has that Land Rover vault-like quality of quietness. And the 456 horsepower and 479 pound-feet of torque are excessively rich with a signature sound to match, dispensing of 60mph in nearly 5 seconds flat with available launch control.  It is crazy fast throughout its 8 gears. And gas mileage is a relatively respectable 17mpg in combine driving.
There is so much technology incorporated in here that even seasoned professionals will need some time to acclimate themselves to all of the functions. Unlike Audi's new simplistic approach the X7 still relies heavily on buttons, knobs and switches to get things done and it's a bit of overload. Most of them center around the various seating positions and these controls in particular you'll need practice with because I had a situation yesterday where my daughter and niece were actually trapped under the power folding 3rd row seats after pressing the wrong buttons. There could be a class on seating configuration alone.
Don't worry; no one was hurt.  Though the X7 is an incredible drive, 3-rows like this have to be spacious and functional to be worthy.  And here, in this optional 6-seat configuration with 2ndrow captain's chairs, the X7 has taken an all-electronic approach to sliding, folding and moving just about everything.
Just in this small area alone there are 10 switches that control the split tailgate and the power folding 2ndand 3rdrow seats.  It can definitely be confusing at first but once you get the hang of it the convenience factor is off the charts.
Deep underfloor storage is a nice touch and being able to lower the X7 from back here is helpful too when it comes to loading.  And though there is a max cargo button that drops the 3rdrow seats simultaneously, these captain's chairs aren't going anywhere so know that before you choose this $600 option.
Though your energy reserves will be higher having all of the moving around done for you, I've come to realize that some of these movements take too long so getting in and out of 3rdrow for instance leaves me wishing for old fashioned manual levers just to move things along.  And though adults are rarely subjected to the way back, my size 11 1/2s haven't much room though head and legroom feel substantial.  So kids will be fine while also having access to their own climate controls and plug-ins. Ditto for those in the 2ndrow who also can control the sunshades and sunroofs.
Once you start to feel comfortable with the controls the X7 is a haven of peace and serenity underpinned by a sleeping giant that is the V8. Such an incredible long trip vehicle for the occupants with true BMW dynamics for the driver this is the vehicle you want when the family is all aboard for a trip. It's nothing short of brilliant in nearly every way. Would I change anything? I'm starting to think the dual screen setup from Land Rover and Audi is the better way to go because there's so much in here. The instrument cluster can't match the awesomeness of Audi's virtual cockpit and the smallish heads up display looks like an afterthought. But if I Had the coin this is almost exactly how I'd spec the perfect X7 except I miss the ventilated and massaging seats.
Get a load of things at night.  Greeted with a long light carpet, awesome laserlight headlamps, changeable ambient lighting and this LED roof the X7 is even more of a spectacle at night. This is coolness dialed up to 11. The glass controls add even more bling.
iDrive is touchscreen capable and even reacts to gestures and natural voice commands to make it mostly easy to use…not the easiest but certainly getting better with every iteration.  And I love the wireless CarPlay integration so you can leave the USB cord at home.  And if you like your music the $3,400 20-speaker Bowers & Wilkins Diamond Surround Sound System is worth every dime.  And with the digital BMW expert you can speak things like Hey BMW I feel tired and the concierge adjusts things like mood lighting, music and temperature to make you feel more awake.  The X7 can also be locked, started and unlocked with your smartphone …no more key necessary.  With so much processing power it's nice to know software upgrades can be performed over the air.
There's seemingly nothing the X7 can't do and do extremely well including parking itself and adjusting the cruise control based on speed limit signs. But the Extended Traffic Jam assistant is as close as the X7 gets to autonomous driving permitting hands-off the wheel, slow, rush hour driving with no driver intervention needed…no Cadillac Super Cruise magic here.  Heated and cooled cupholders, heated armrests, soft close doors, etc., etc. etc. I think you get the picture. Other than not having the aforementioned Luxury Seating Package, night vision and rear seat entertainment this X7 contains the full pantry of BMW convenience and safety features.  I've been in the new Mercedes GLS but have yet to drive it…that being said it would take something beyond spectacular to beat what BMW has delivered here.
Tagged with:
2019
,
auto critic
,
BMW
,
DriveTime
,
DTwithSteveHammes
,
large suv
,
latest video
,
Luxury
,
LUXURY SUV
,
reviews
,
steve hammes
,
SUV
,
X7
,
xDrive50i