2018 CHEVROLET EQUINOX VIDEO REVIEW
2018 CHEVROLET EQUINOX VIDEO REVIEW BY AUTO CRITIC STEVE HAMMES
Chevy's wildly popular small crossover has been going strong for many years now. But as the competition steps up their game, the timing is perfect for a new generation. And this is what Chevy has crafted – meet the all-new 2018 Equinox.
Hotter than any other Chevy not named Silverado, the Equinox is GM's all-star. Now that our affair with small cars has flamed out, SUVs are back on the front burner which is why this launch is so important for the company. But Chevy didn't' play it safe; they've chopped its size, completely reworked the powertrains and hit it with its full array of indulgences. This top-trim Equinox Premier can be outfitted to over $40,000…reaching farther into the luxury realm and deeper into customer's pockets than key competitors. Mine is a front-drive variant with a handful of options such as the Safety Alert Seat, sending vibrations to your derriere to warn of possible dangers, a cooled driver's seat, a power passenger seat and heated rear seats. Otherwise, everything you see here is included in the Premier trim for an as-tested price of $33,580.
Much like in the way the Cruze skews towards a premium cabin experience while the Civic favors exciting style and drivability, the Equinox goes for the gusto in terms of accoutrements as compared to the CR-V's bent for fashion and driving dynamics. For a brand new 2018 model, why does the Equinox already look far too familiar? Not that the previous one was a looker but the 2018 Equinox's curb appeal is non-existent; chameleon-like, really. But, if you like a well-prepared steak and don't need the sizzle, the Equinox will no doubt satisfy. It's very user friendly. Like your favorite pair of jeans it just fits and feels comfortable. Whoever is leading the ergonomics front at GM deserves a huge amount of credit. Without reading one word of the owner's manual you can get into the Equinox and intuitively figure it out, and that's saying something when it's as loaded with as many features as this. Highlights include this awesome Surround Vision camera, automatic high beams, a hands-free liftgate, Wi-Fi, Apple CarPlay and Android Auto. There are connection points everywhere you look and the MyLink system is a breeze to use. This particular Equinox does not have embedded navigation but it is offered. However you can still use OnStar directions or your phone's mapping software. Memory settings for the driver's seat, a heated steering wheel, wireless device charging and an in-depth driver information display keep the features rolling. All the electronic safety nets are in here too including a rear seat reminder and teen driver features. Plus, these front seats fit my back like a glove…simply perfect.
What the Equinox lacks in visual pizzazz it makes up for in comfort and convenience. It's significantly shorter than before but you won't miss the extreme rear legroom of the previous model because this one is still quite generous. The MultiFlex sliding rear seat is gone but in exchange you get a flat load floor when they're dropped which can be done with remote levers. There's a sense of luxury in here and the tech is typical GM top notch. And this small turbo provides enough gumption to keep the bulk of owners happy. But if it's not your cup of tea a 2.0 liter motor is also available.
The drive is backed by a 170 horsepower 1.5-liter 4-cylinder producing a CR-V busting 203 pound-feet of torque to provide some tire squealing pep. The drive is completely competent but nothing to write home about…the fully independent suspension would benefit from a couple more degrees of road isolation, the 6-speed is a little too quick to upshift in the name of fuel economy and the handling is benign. Cabin noise levels are also middling. Gas mileage is rated at 28mpg in combined driving so it's also not at the top in terms of mileage.
But it has a roomy back seat with a flat floor, though my middle position passengers complained of discomfort and a lack of a headrest. The new flat load area is nice but at 63 cubic feet with the seats down and 30 with them up, the Equinox trails the CR-V, Escape, Rogue, and RAV4 in terms of luggage room.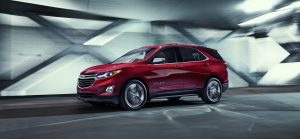 Regardless, this Equinox will win over shoppers with its stuff and agreeable nature. And while diesel has become a dirty word again at some automakers, one is on the way for the Equinox to complete the turbocharged trifecta of engines.
Tagged with:
2018
,
auto critic
,
Chevrolet
,
crossover
,
DT with Steve Hammes
,
equinox
,
latest video
,
Premier
,
reviews
,
road test
,
steve hammes
,
SUV
,
test drive