2017 LEXUS RC F VIDEO REVIEW
2017 LEXUS RC F VIDEO REVIEW BY AUTO CRITIC STEVE HAMMES
In the Lexus lineup, there are 2 models that raise the ante in terms of track-tuned performance and in each case they boldly end with the letter F. As opposed to the more plebian F SPORT, Lexus F models are the real deal.
Those were my words 2 years ago upon my inaugural RC F drive. Well guess what? Spring has finally sprung and I'm ready for our second date and this tester has 1 major upgrade since last time – a new adaptive variable suspension for the 2017 model year; but more about that in a minute.  As a quick refresher, the RC F debuted for the 2015 model year ostensibly replacing the IS-F.  It's the most affordable Lexus F model with a starting MSRP of about $65,000 and is 1 of only 3 Lexus cars stuffed with the big 5.0.
Much of the praise I bestowed upon the first tester you'll hear again here – this is a serious performance car but crafted with Lexus ethos meaning that with the prodigious power and perspicacious precision comes a heaping dose of pragmatism. Drive it every day if you'd like; as long as you can afford the premium gas and can enter and exit more gracefully than this, you'll find a well-behaved Lexus coupe.  There's even a snow mode to relax the powertrain – you'll just have to shed these staggered width 19" Pilot Super Sports first; super sticky to the warm, dry road – otherwise, not so much.
For me, I'm just excited to experience the RC F's full flavor: working the 8 gears, taking the race-bred V8 to its redline and experimenting with the various drive modes and differential settings. Plus, by adding independently controlled damping forces at all 4 wheels according to road and driving conditions, the RC F is now tuned for improved steering and handling control during cornering and enhanced ride smoothness.  In its most docile settings, you'd never guess this is an F car – it's that completely compliant.  But dial into SPORT S mode and better yet SPORT S + and downshifts happen earlier, steering feel is heightened, the suspension is more controlled in its movements and more onus is put on the driver.
Some car's paddle shifters; whatever? The RC F's are the gateway to manual-like fun. This high reviving V8 wants to be explored and using these meaty paddles is just the way to do it. Shifts are shockingly quick and 3rd is the go-to-gear for backroad playtime, providing instantaneous power and that sweet soundtrack. This car's capabilities are far reaching to the point where it can feel bored with public road challenges, but hustling it through the S turns is extremely rewarding. The RC F is Lexus confident but still puts the driver's skills on display.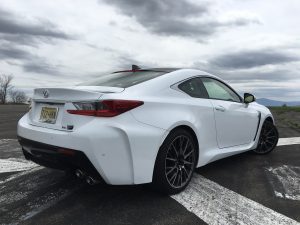 A limited slip differential is standard but adding torque vectoring costs $5,500 – available only in the Performance Package. To explain why you'd want both is Drive Time's technical expert Lance Lance:
Find the curvy roads and you can feel the difference. With 55% of the RC F's 3,900 pounds over the front, the TVD provides a more confident and agile tool for cutting them up.  You have to trust the process though because the initial communication to the driver is oversteer but in reality its simply the TVD doing its thing.  STANDARD, SLALOM and TRACK settings prioritize different driving styles.
With 389 pound-feet of torque peaking at around 5,000 RPM the RC F punches through 60mph at 4.4 seconds. But this direct – and port injected overhead cam V8 is a more of a horsepower maker – 467 to be exact – and the RPMs seem to climb forever.  Cross 3,000 revolutions and that's when Active Sound Control goes to work creating a stirring V8 rumble in the cabin.  Bump against the rev limiter however and you'll get an audible and visual warning.  Its ¼ mile time is 12.5 seconds with a top speed of 170mph.  Mileage is rated at 16mpg city but drive it hard and expect even less.
And when it's time to use the left pedal, large ventilated Brembo disc brakes assuredly suppress the speed.
My car is fully loaded at $80,519, including this weight saving carbon fiber roof and deployable rear spoiler, Orange Brake Calipers, 20 spoke wheels, and the full pantry of convenience and safety features though this infotainment system is woefully outdated and cumbersome to use. And don't occupy these seats unless it's an absolute must.
Just as I surmised 2 years ago, the Lexus RC F is a fun, rewarding, and totally legit sports car with commensurate looks. Whether for track day or a work day, this Lexus has got you covered.
Tagged with:
2017
,
auto critic
,
DT with Steve Hammes
,
latest video
,
Lexus
,
performance
,
RC F
,
reviews
,
road test
,
steve hammes
,
test drive