2017 JAGUAR XF S VIDEO REVIEW
2017 JAGUAR XF S VIDEO REVIEW BY AUTO CRITIC STEVE HAMMES
When you hear the name Jaguar you probably envision a sporty little coupe or roadster like the F-Type, tearing up some canyon road making menacing sounds. But the British brand's 4-door lineup is also ultra-impressive and comes in 3 sizes. This is the new middle child, the 2017 XF.
Any concerns about Jaguar's future after the Tata Motors takeover in 2008 have been assuaged by a bevy of wonderful new products and increased sales, anchored by the legendary design work of Ian Callum. This fully redesigned 2nd generation XF went on sale late last year for a short 2016 model run and moves into its sophomore year with the addition of an entry-level diesel model and a few minor design changes. The XF 35t models are powered by a 340 horsepower supercharged 3.0-liter V6 while models designated with an S take it to 380 horsepower, just like in the F-TYPE with which these engines are shared. Rear and all-wheel drive variants are offered throughout. Staying with the mechanical, there's an 8-speed automatic ZF transmission, brake-based torque vectoring to mitigate understeer on corner entry, predictive all-wheel drive which in normal conditions keeps the power to the rear wheels, Adaptive Surface Response – which replaces the previous Winter Mode – adding to the all-wheel drive capability by determining the kind of surface the car is driving on and then modifies the control systems accordingly. And then there's Adaptive Dynamics, now more advanced with a suspension that constantly adjusts between supple and firmer based on body and wheel movements. It's also configurable with the ability to individually tailor the throttle mapping, transmission shift strategy and steering feel. Gas mileage has improved by 15%, now rated at 20mpg city/28mpg highway on premium with the aid of a very active automatic stop/start system…sometimes to the point of annoyance.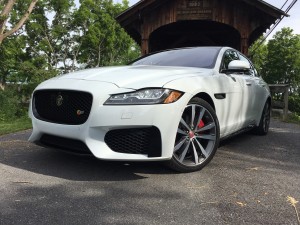 The XF S is a Jaguar for midsize shoppers who want it all; supercharged performance, outstanding style, and all weather capability. Where its competitors trend towards dull Jaguar flaunts an undeniable sexiness backed by a comforting ride quality that's always set for appropriateness. Its lightweight construction is palpable in the XF's agility and a muscle flexing Dynamic mode is only a button push away.
Jaguar's obsession with aluminum drops the weight of the XF by 265 pounds despite a 2" longer wheelbase. Exciting engine sounds are fed in to the cabin but are appropriately muted for this class of car, even during full out acceleration runs where this XF turns around 60mph in only 5.0-seconds. It's brilliance from behind the wheel where the supercharger provides an always-on feeling and the near 50:50 weight distribution aids in the car's exceptionally balanced handling, though it's far from overtly sporty. I still think of the XF first as a luxury car; but one with a chip on its shoulder.
What's not to love about this Brogue interior?…so rich and distinctive. You'll notice that the old infotainment system is gone, replaced by this wide touchscreen with built-in WiFi, smartphone-like controls and Jaguar's take on Apple CarPlay called inControl Apps…though I'd much prefer the real deal. It also includes a very helpful 360 degree camera view, a parking assistant for both perpendicular and parallel parking and a number of Dynamic Mode performance screens. It's still a tad slower than what we've become accustomed to on our mobile devices but it's a huge leap forward from Jaguar's previous offering. There's also a new laser based heads-up display, which despite Jaguar's assertions, does not look nearly as sharp or as bright as rival systems. On the electronics front there's adaptive cruise control with queue assist so all you have to do is steer, traffic sign recognition, a driver drowsing monitor designed to evaluate patterns of driver inactivity, lane departure warning, lane keeping assist and autonomous emergency braking…all thanks to a forward facing stereo camera and a long-range scanning radar.
The rear seats now have more leg, knee and headroom but this space feels far from generously sized. The trunk has been cut by 4 cubic feet but still presents itself as large and deep with rear seats that fold out of the way. Simple, elegant, beautiful…the inside of the XF perfectly matches the debonair personality the body radiates. The optional Black Design package adds a dose of gloss black on the outside for a delightful touch of sinister.
Loaded with nearly every available option, this XF S AWD starts at $66,695 and goes out the door like this for $76,535. For as much as I enjoy this car, that price point keeps haunting me.  It does come with the new Jaguar Elite Care which includes among other things, complimentary scheduled maintenance for 5 years or 60,000 miles.  A midsize maestro, the new XF will continue to give luxury shoppers a refreshing alternative.
Tagged with:
2017
,
auto critic
,
AWD
,
DT with Steve Hammes
,
Jaguar
,
latest video
,
midsize
,
review
,
road test
,
ROAD TESTED
,
S
,
Sedan
,
steve hammes
,
test drive
,
test driven
,
XF