2016 Volkswagen Passat VIDEO REVIEW
2016 Volkswagen Passat VIDEO REVIEW by Auto Critic Steve Hammes
VW's Passat is the recipient of a refresh for 2016 with an updated design, available LED lighting and new electronics.
To say things are a little topsy-turvy at Volkswagen right now would be a gross understatement. But despite the continued moratorium on their diesel vehicle sales, VW still has cars to sell and updates to discuss.  Case in point, their flagship car, the 2016 Passat; a midsize sedan with large car expansiveness.  Tennessee built and designed for American tastes, the Passat has been given a new front and rear design, an updated instrument panel and center stack and new driver assistance features.  Pricing starts at $23,260 – considerably less than the 2015 base model.  There's a revised trim structure centering around the 2 available powertrains; a 1.8-liter turbo-4 like I have here or VW's narrow angle V6 which is now capable of running on regular unleaded.  This model uses a 6-speed automatic transmission and generates 170 horsepower and 184 pound-feet of torque.  There's a big fuel economy difference between the 2 motors, with this one rated at 25mpg city/38mpg highway, an improvement of 1mpg in combined driving over last year's model, achieved via improved aerodynamics and advancements with the AC compressor and alternator.  The 5-speed manual is no more.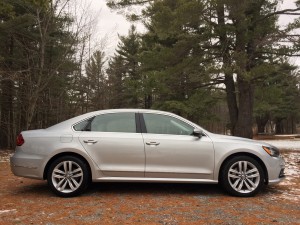 The standard infotainment system now includes compatible smartphone integration for Apple CarPlay, Android Auto and MirrorLink.
So those are welcome additions, for sure but in-car technology is moving so quickly that it doesn't much for a unit like this to look small and outdated. It's not a bad system with items like navigation, SirusXM Travel Link and the teenage-inspired Family Guardian capabilities and I like that I can plug in and completely stow my phone covered in this cubby.  Move your eyes over to the driver information display, however and the pixelated, colorless graphics are like a portal to the 1980s.  As usual, VW nails the seating position with their hallmark excellent forward visibility and the firm, sport seats are powered and have memory settings on the driver's side.  The Fender Premium Audio System is a sweet upgrade and I like the combination of dark wood and textured aluminum trim, the frameless rear view mirror and the new steering wheel.  It's all very Volkswagen – conservatively German without excess.  On the safety front, there's adaptive cruise control, forward collision warning and autonomous emergency braking – all using the same radar to help step in when the driver doesn't.  There's also a blind spot monitor and rear traffic alert.
The Passat's rear seat spaciousness has always been one of its biggest advantages and this SEL trim also comes with heated rear seats and a USB port.
There's big legroom back here and a sizeable trunk which can now be accessed with foot activated motion. Combined with the Passat's 536 mile driving range, this is an excellent long-trip car.
Behind the wheel, the 4-cylinder never left me asking for more and it feels refined enough to be in a car of this ilk. Plus it's quiet inside and the ride is pure VW – the very definition of Euro-tuned with feel and feedback but without the harshness.  My only drivability complaint comes in some light, less than perfectly connected steering – something I've come to expect from a VW.
But long before there was an emissions scandal, VW already had a nagging problem; styling or the lack thereof. And though it says 2016 on the sticker, the Passat neither looks new nor feels particularly fresh.  MSRP as-tested of this near top-trim SEL with the new Lighting Package is $32,410. Lacking sizzle, the Passat is emblematic of VW's lineup as a whole – competent but not exciting.
Tagged with:
1.8T
,
2016
,
auto critic
,
DT with Steve Hammes
,
latest video
,
Passat
,
road test
,
SEL
,
steve hammes
,
test drive
,
video review
,
Volkswagen
,
VW